Jump to Footer
Fellows Program
---
Developing faculty commitments.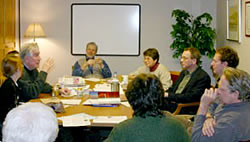 The institute supports SUNY Plattsburgh's efforts to inculcate in its students values of civic responsibility by providing fellowships for Plattsburgh faculty to spend a semester in residence at the Institute.
These fellowships provide release time from two courses, a private office in the institute's beautifully renovated space in Hawkins Hall, and most especially the opportunity to become a member of a small community of scholars engaged in common commitments. Typically, there are three faculty members in residence each semester. During the residency experience, fellows spend their time preparing to integrate questions of ethics and civic responsibility into their teaching. They do this in two ways. One is by working on scholarly projects of their own interest, which are germane to their fields, and which serve as a gateway into the exploration of a larger arena of significant ethical issues. the second is through working with other fellows and faculty in acquiring a well-grounded understanding of ethics as it relates to civic life, as well as skills in sharing these perspectives with students in the courses they teach.
As a result of funding from a grant from The Fund for the Improvement of Postsecondary Education (FIPSE) from 2001–2004, as well as support from the Plattsburgh College Foundation, we have been able to devise and implement a unique faculty development program, which we call a "Guided Inquiry Model." This program includes a semester-long series of seminars and luncheon colloquies.
Teaching Ethics and Civic Responsibility
---
Since the institute began in the fall of 1999, fifty faculty from twenty-four departments have served as fellows. (The fellows and their departments are listed under the section on faculty fellows.) Their academic fields range from anthropology, art, education, English, business, history, philosophy, and sociology to women studies.
At the conclusion of their residency experience, fellows are expected to give a public lecture or seminar describing the work they undertook as a fellow. Consequently, beyond the development and training opportunities for the fellows, the institute sponsors a great many seminars and lectures.
Additionally, the institute has aided in shaping shaping a number of books and grants, and several national fellowships, as well as a numerous professional papers and presentations.
More fundamentally, however, the institute has helped in generating many new courses and in reshaping many others that have been redesigned or altered to incorporate a more explicit focus on ethics. The ultimate impact of the institute, therefore, is on the countless students who benefit from the greatly expanded inclusion of perspectives on ethics in public life that former fellows bring to their teaching.
Responses of fellows to their experiences as the Institute can be found in the section on fellows evaluation of the institute.