Jump to Footer
University Police Pull Man from Saranac River
---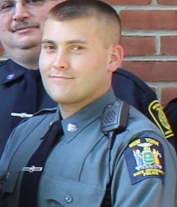 SUNY Plattsburgh University Police Officer Josh Coons rescued a 26-year-old man Wednesday, pulling him out of the 43-degree Saranac River behind Memorial Hall.
A call came into the station at 10:11 a.m. Nov. 7 from a student who had seen a man in the river near the Saranac River Trail. According to University Police Chief Patrick Rascoe, Coons and he ran down to the shore of the Saranac, which is in close proximity to the station.
"When we arrived at the river, we could see the man's face. The rest of his body was submerged. It was deep at that spot. He was holding onto the limb of a tree that was in the water," Rascoe said. "The man had entered the river upstream and the rushing current brought him downstream."
The man was able to catch onto the tree limb and hung on. That's when the student saw him and called UP.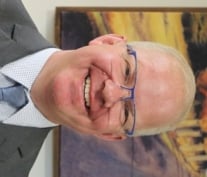 "When Officer Coons and I arrived, we could see he was starting to go under," Rascoe said. "Josh went right in; he didn't even take off his belt or gun. He didn't hesitate."
Maintenance and Operations employee Gary Barnaby had been working on the river trail and saw Coons jumping into the river, Rascoe said.
"He ran up, and we entered the water to assist Officer Coons," Rascoe said.
"When we got to him, Josh was under water as well. It was so deep," Rascoe said. "We wrangled the gentleman into waist-deep water, and with the help of other officers and people who had gathered on the shore, we were able to pull him back up onto the bank."
At that point, Dr. Kathleen Camelo, director of the Student Health and Counseling Center, arrived as did the City of Plattsburgh Fire Department. Camelo said the gentleman did have a pulse, but the rescue personnel used a rescue-breathing device and attached an automated external defibrillator before transporting him to CVPH.
The condition of the man, whose identity was not released, was unknown at noon. Coons was treated for possible hypothermia at the Student Health and Counseling Center and then discharged.
"It's a lot to take in. When the adrenalin drops, you realize what the outcome could have been," Rascoe said of Coons. "And if that student walking by hadn't reported it, that man would be dead."