Jump to Footer
Teach-In Draws Focus Toward Social Justice
---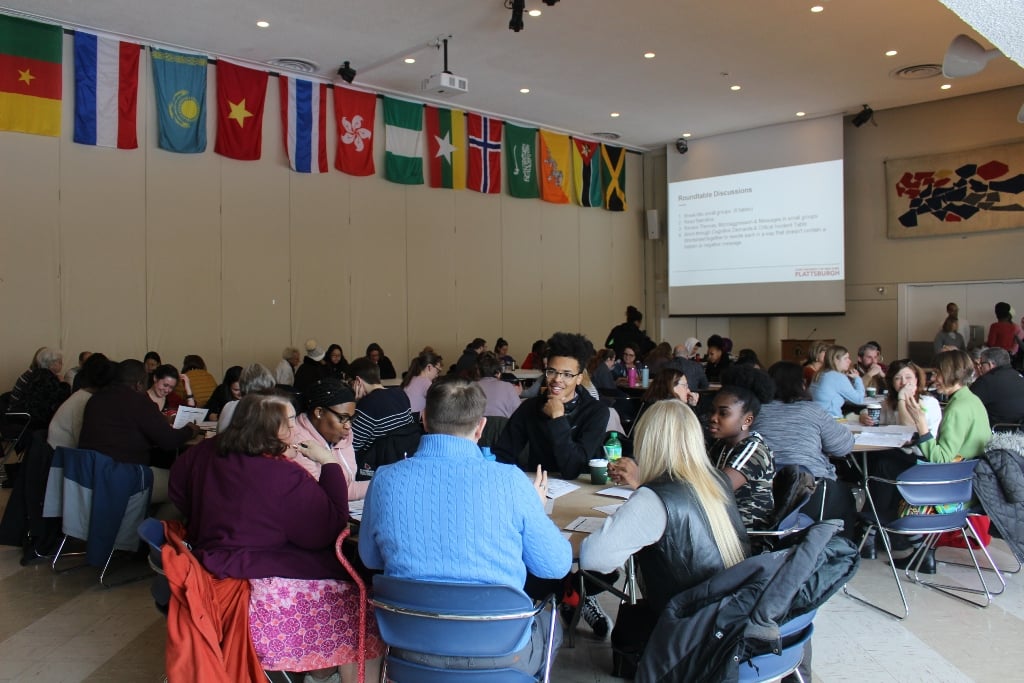 The Many Faces of Social Justice Teach-In held Feb. 27 on the SUNY Plattsburgh campus brought hundreds of students, faculty and staff together throughout the day to examine issues of diversity, inclusivity and activism.
Nearly 50 sessions touched on topics from immigration in the United States and social justice in education to inclusive classrooms, the historical trauma of slavery, and race and privilege. The programs were held throughout the Angell College Center and adjoining buildings. Students were released from regular classes in order to allow them, and their teachers, to attend the day-long event.
Poet Laureate Visits Campus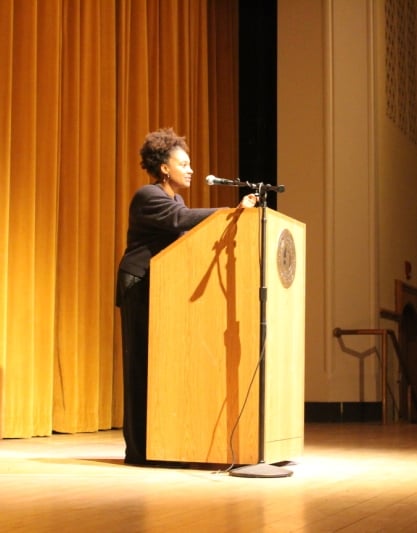 President John Ettling, who opened the teach-in with welcoming remarks, was among the last to speak Wednesday evening when introducing whom he called "the capstone to an extraordinary day on campus," U.S Poet Laureate Tracy K. Smith, who stood on the E. Glenn Giltz stage before a packed audience to read from her poems and talk to the students about their visions and hopes for the future.
Smith, the 2011 Pulitzer Prize winner in poetry for "Life on Mars," said she wished she "could have been here all day. It's been nice to speak to students, find out what's on your minds. I'm grateful to all of you for your passion and generosity."
The 46-year-old Smith said she was "eager to call myself a poet when I was 19 or 20. I liked the sound of words, looking at them through the eyes of a poet. Poetry is a tool for looking closely and slowly into things. Sometimes I feel like we're being dragged forward, so we only get a passing sense of what's happening."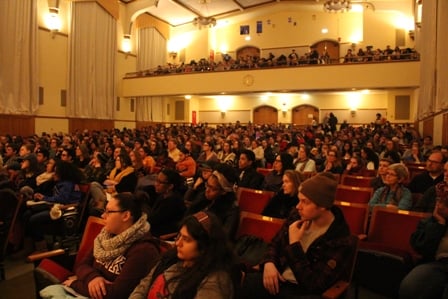 Poetry allows us to evaluate that.
She shared several of her works, including "Flores Woman," about a tiny species of human found on the Indonesian island of Flores, "The Searchers," a painful observation of the John Ford/John Wayne western of the same name, "Sci-Fi," an elegy for her father, who worked on the Hubble Telescope, and the powerful Civil War letters poem, "I Will Tell You the Truth About This, I Will Tell You All About It."
Critical First Step
Many venues were standing-room-only as professors such as Dr. Susan Mody, chair of gender and women's studies, and her students presented on "Feminist Activist Responses t Injustice," where they shared their insights and projects from a fall 2018 seminar.
Mody said the students' gathering of knowledge "is a critical first step to activism. If we talk about these issues, we can go forward," she said.
Sophomore Marie Alcis, originally from Haiti who grew up in Brooklyn, attended a number of sessions and found "Talk the Talk and Walk the Walk," by Dr. Jean Ann Hunt and Dr. David Stone in which participants practiced ways to communicate particularly helpful.
"Dr. Hunt's presentation, where we got to practice active listening, was amazing," Alcis said. "It helped you really hear what someone is saying by paraphrasing and repeating the words back."
Being Heard
Dr. Wendy Gordon, one of the organizers of Wednesday's event, turned her session over to the crowd, asking them how to make classrooms inclusive for all. She said she had always envisioned herself to be inclusive in her history classes.
"After all, I treated everyone the same; everyone equal," she said. But she started thinking about the curriculum "I teach American history — the history of the nation and the men who made the rules." She would include a day on women in history, African Americans in history; Native Americans. "But then I realized I was segregating my history class. What I'm working on is making sure every student in my class is reflected in what I'm teaching, that they're seeing themselves in the past." She then asked students what else can be done.
Many students said they just want to be heard and have their words be respected. One student said she just wanted to feel valued and to have her opinions valued.
A session on micro-aggressions — those verbal or nonverbal slights or insults people may use and not even know they're communicating negative messages — was facilitated by staff and students in the Educational Opportunity Program. Freshman Amoudiatou Aboudoulaye of New York City said she felt it was a "very important topic for people to learn about."
"Micro-aggressions are so easy for people to miss; people say things and may not even notice it's happened," she said. "You may not even realize that within a sentence you hurt someone."
Alcis said she hopes the teach-in will be continued.
"All the students were asking for something like this, and so many participated," she said. "I loved it and would love to do it again. I think it was very successful."