Jump to Footer
SUNY Plattsburgh Returns to Renovated Field House for Winter Commencement 2022
---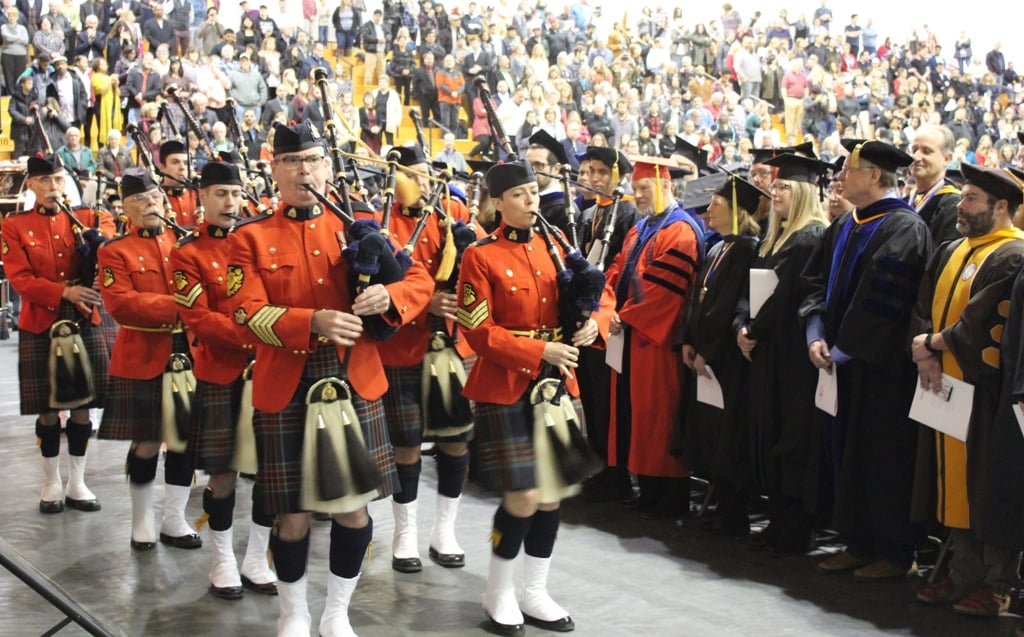 (NOTE: The start of Winter Commencement on Saturday, Dec. 17 has been pushed back to noon. While the forecasted snow is set to taper off that morning, the later time will allow graduates, participants, families and friends, more time to get to the venue.

The event will be held in the Field House gymnasium on campus, snow or shine. Graduates unable to attend may elect to walk in the Spring Commencement exercises on May 20, 2023.)


Nearly 300 SUNY Plattsburgh students are eligible to cross the dais Saturday, Dec. 17 during the college's winter commencement exercises in the newly refurbished field house gymnasium.
Between the restrictions of COVID, two virtual ceremonies, and field house renovations, this December's ceremony represents the first time in three years that graduates and their guests return to the gym, the traditional commencement venue.
It also marks the return of the Royal Canadian Mounted Police Bagpipers, who have played the processional and recessional since the mid-1990s. Their last appearance here was for the December 2019 ceremony.
Remarks from Award Recipients, Student Speaker
This year's ceremony includes remarks from Dr. Mohamed Gaber, distinguished service professor of accounting, and Linda Bourgeois, ceo/president, UFirst Federal Credit Union, recipients of the College Council's Distinguished Service Award, and Emily Reinhardt, an environmental science planning and management major from Newark, N.Y., addressing her classmates as student speaker.
Reinhardt, who will return to SUNY Plattsburgh next semester in the natural resource and ecology master's program in the Center for Earth and Environmental Science, said upon visiting the college for the first time in 2016 before she was accepted into the environmental science program made her feel "like Plattsburgh could be my second home."
"I visited campus twice before being accepted," she said. "Both visits helped me gain better insight into what it would be like to attend this college." It helped that on her second visit, she met some of the CEES faculty, "which further cemented my interest in the program. The professors in the CEES department have been the biggest blessing throughout my college career."
Faculty Mentors
She called out Eileen Allen, now-retired GIS support specialis, who "showed me a great amount of empathy when I needed it most; her big smile, heart and personality made an impact on me that I will forever be grateful for;" her academic adviser Dr. Curt Gervich, CEES associate professor, "one of the most caring people I know (who is) dedicated to his job and to the success of his students;" and Dr. Kimberly Coleman, assistant professor, CEES, and Patrick Korths, visiting lecturer in CEES, who "both take an interest in their students' lives, including mine, which is something for which I am very grateful."
Reinhardt nearly didn't make it to graduation. A rare abdominal tumor caused her to withdraw twice from the college, leaving her uncertain as to her future.
"The next four years would be the hardest years of my life," she says in her commencement speech. "I loved the program I was in; I loved my professors, my fellow students; and I loved this town. I always came back to Plattsburgh."
To her classmates, she'll impart two tenets to live by:
It is important to realize that you can never truly know what someone is going through
No matter what obstacles come your way, you can overcome them; you are strong and resilient
"My hope is that (they) keep these two lessons in mind as we embark on the next chapter in our lives," she continues. "They may not necessarily be useful today, tomorrow or the next day, but they will show up throughout the rest of our lives as lessons to keep close to our hearts.
'Treat Other with Kindness'
"Treating others with kindness, empathy, understanding, not being quick to judge and being thoughtful with our words and actions are some of the ways in which we can conduct ourselves in this world as being good people."
Reinhardt said she felt a great sense of pride when told she had been selected to give the commencement speech from a number of submissions.
"My college journey has not been easy or conventional, so I truly feel that addressing the Class of 2022 on graduation day is a great honor," she said.
For more information on commencement exercises, including a full list of December graduates and a link to the live stream, visit www.plattsburgh.edu/commencement.