Jump to Footer
SUNY Plattsburgh Professor Interviews Poet for 'Notable Books' Series
---
SUNY Plattsburgh faculty member Dr. Michael Devine recently interviewed for the Michigan Notable Books 2020 Series the housing-rights lawyer and poet he helped bring to campus in fall 2019.
Devine, associate professor of English, did a remote interview with Brian Gilmore to discuss his book of poetry, "come see about me, marvin," an homage to late singer and fellow Washington, D.C., native, Marvin Gaye. Devine's wife, Julia, adjunct lecturer in theater and English, participated as well.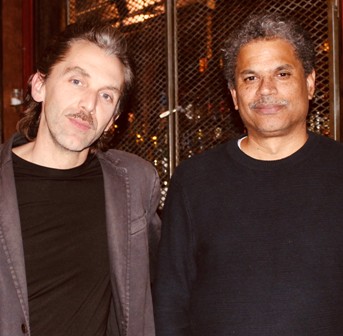 Devine has known Gilmore, who is also clinical associate professor and director of the Housing Clinic at Michigan State University College of Law, since meeting the poet as a teenager in D.C. and considers him a friend and mentor.
"Michigan's library system asked for a remote presentation of the work, and with everything happening (in the world), the book is just so timely and powerful. It's really a heartbreaking cultural geography of the Midwest, dealing with the violence and injustice that is on everyone's mind this summer," Devine said.
Gilmore chronicles the shootings of Minneapolis man, Philando Castile, and Cleveland youngster Tamir Rice in his poetry, "poems about injustice that can only be written by a poet-lawyer like Brian fighting for the poor," Devine said. Gilmore spent 15 years in practice, working for Neighborhood Legal Services Program and Washington Legal Clinic for the Homeless.
In October 2019, Devine designed a weeklong series, "Art (in) Justice: Conversations with Brian Gilmore," bringing Gilmore to campus and venues around the North Country.
Dr. Curt Gervich, associate professor in the Center for Earth and Environmental Science, helped Devine secure funding "since he was interested in the way Brian combined art with issues of sustainability, fair housing and equity," Devine said.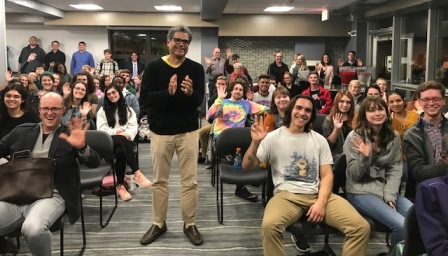 Gilmore met with students in the Angell College Center and in downtown Plattsburgh, where he served on a panel at "Late Night for the Planet," sharing his poetry and insights into housing, equity and sustainability. He also did a poetry reading in the Kyla Relaford Room on campus, among several other appearances.
Later on Instagram, Gilmore posted, "Last night @SUNY Plattsburgh students packed the house and asked great questions. It was pretty uplifting and amazing."
"Brian is an accessible poet," Devine said. "Our students really responded to his work. He writes about the fragile connections linking us to each other in a time of automation and 'progress' in an incredibly accessible, moving way. It's what makes him a true artist."
Devine hopes to collaborate with Gilmore. In his most recent book, "Warhol's Mother's Pantry," Devine has a piece called, "Charlie Parker Had a Daughter," a prose poem "that finds (jazz great) Charlie Parker writing a telegram in the early morning hours when his young daughter died," he said. "I probably got the idea from Brian's poetry, which is all about the most human, forgotten moments. He has a poet's eye, so he said if we do (collaborate), 'then let's just call it 'Charlie Parker Had a Daughter.'' I thought that sounded pretty cool."
To tune in to Devine's Gilmore interview, visit https://www.youtube.com/watch?v=YuhHyfQ5CW0.