Jump to Footer
SUNY Plattsburgh Art Major Receives Honorable Mention in 'Best of SUNY' Exhibition
---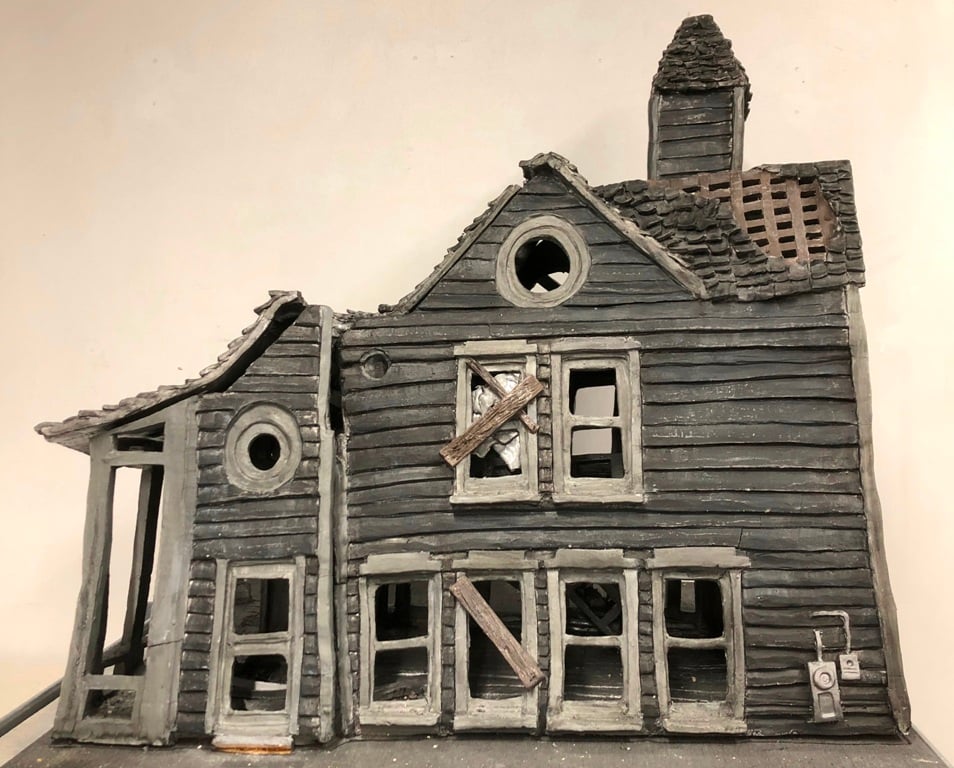 A junior art major's ceramic sculpture of an abandoned home, its shingles missing, rafters exposed, windows boarded up received an honorable mention at the 2019 "Best of SUNY" Student Art Exhibition, Chancellor Kristina Johnson announced at a June 25 ceremony in Albany.
The exhibition showcases work by student artists from across the State University of New York campuses. The artwork will be on display at he State University Plaza in Albany through Thanksgiving.
"Untitled-A," by Queensbury native Hanna McCasland, took one of the four honorable mentions, which included a scholarship award of $500.
"Ali Della Bitta, my ceramics professor, asked to submit my work last fall semester," McCasland aid. "I was notified of the award in April. I was excited and honored to have my work selected and even more so to receive an award. I enjoy being an artist because it allows me to bring my ideas to life. I have always been drawn to working with my hands and creating three-dimensional objects inspired by architecture."
McCasland is a transfer student entering her senior year at SUNY Plattsburgh. She previously studied at the Savannah College of Art and Design but switched schools "because of affordability and the ceramics program," she said. "I didn't realize how much I would like SUNY Plattsburgh, but the entire art department has been spectacular. Ali Della Bitta and my sculpture professor Drew Goerlitz have taught me a great deal in my time here so far."
Artwork Chosen by Departments
Artwork featured in the SUNY exhibit is chosen by campus art departments. The traditional areas of drawing, ceramics, painting, sculpture, photography and printmaking are included, as well as mixed media, graphic design and digitally produced works. This year's show includes 129 works by 120 students from 27 of the state's 64 campuses.
"The entire art faculty was so happy to hear the news that the jurors of the 'Best of SUNY' exhibition had singled Hannah's piece out for special mention," said Diane Fine, SUNY distinguished teaching professor and chair of the art department. "She is a hard-working student committed to a form of self-expression that invites courageous viewers to enter the visual world she has created.
"I am proud to say that the SUNY Plattsburgh art program is always well-represented in these semi-annual exhibitions," Fine said. "They are part of the many off-campus exhibition opportunities for our emerging artists that has grown over recent years to include shows at the Frederic Remington Art Museum in Ogdensburg, N.Y., the Strand Center for the Arts in downtown Plattsburgh, Pouring Light Studios in Malone, and the Lower Adirondack Regional Arts Council in Glens Falls, N.Y. This sort of experiential learning is at the core of our students' education that, ideally, happens in and out of the studio and classroom."
Take Pride Sharing Art Across New York
"Such creativity from our students is something we not only embrace but take pride in sharing across New York state," the chancellor said. "The art presented today is a reflection of the richness of talent and genius you will find on all 64 SUNY campuses. Today's ceremony and the scholarships for the award winners is one way we show our appreciation for their work."
The SUNY student art shows were initiated in 2001 so that the work of the system's most talented student artists would be seen by a wider audience.