Jump to Footer
Student Research on Display in 'And Still We Rise' Exhibit
---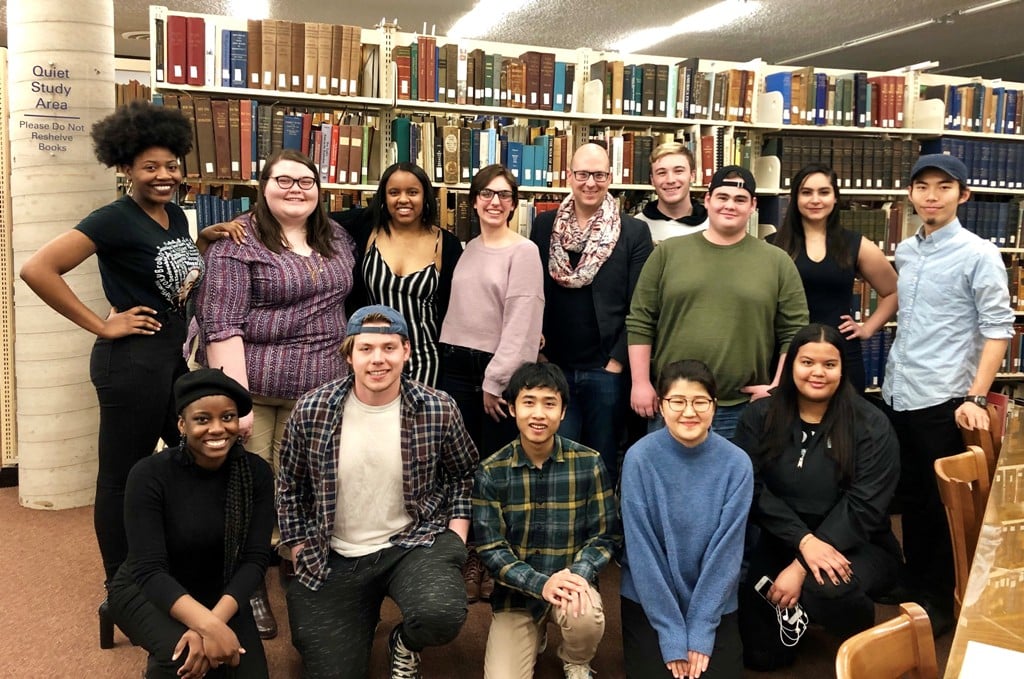 It was standing-room only in the lobby of Feinberg Library at the May 1 opening of "And Still We Rise: Celebrating the (Re) Discovery of Plattsburgh's Iconic Black Visitors" exhibit created by students in Dr. John McMahon's African-American Political Thought class.
Throughout the spring semester, McMahon's students explored, with the help of library staff, the impact that the numerous black activists and performers who visited campus throughout the decades left on the community.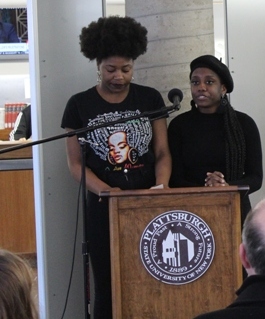 "I would like to thank these students, for it is their work, thought, care, deliberation and willingness to do something a little different that has brought this project to life," McMahon said. "I am incredibly proud of you and feel lucky to have learned from you this semester."
A few of them, such as sophomore Marie Alcis of Brooklyn, senior Keianna Noble of Plattsburgh, junior Josh Shaw of Granville, N.Y., and senior Alyssa Scott of Remsen, N.Y., talked about their experiences.
Tim Hartnett, associate library who assisted with the project, said McMahon "did a masterful job from start to finish."
'Thrill' to See
"It was a tremendous thrill to see it all come to fruition," Hartnett said. "What I enjoyed the most was seeing the students shine in the spotlight. Their sense of purpose, ownership, accomplishment and pride was so abundantly evident, and it was heartening to see such a big audience to witness it."
McMahon, an assistant professor in political science, said the exhibit "is a reminder, and a challenge, that Black Lives Matter."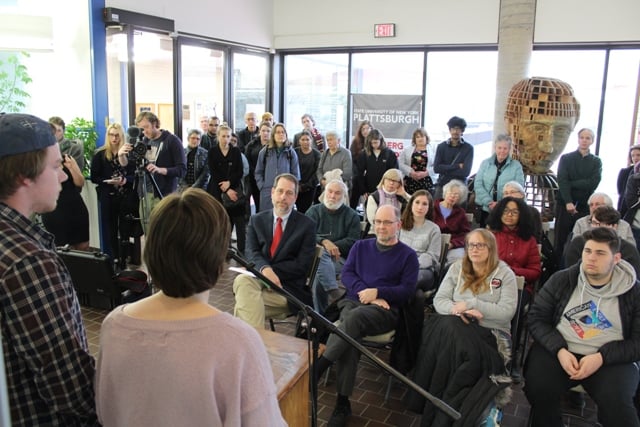 "These students present us the perspectives, the visions and the lifeworks of black political and cultural figures. This has been a predominantly white institution, and yet we have resources to rectify some forms of racial injustice."
Students unearthed publications, posters and news stories that advertised and featured stories on such campus visitors as singers Nina Simone and Odetta, activist Dick Gregory, poet Maya Angelou, rapper and actor LL Cool J, Congresswoman Shirley Chisholm and Dr. Cornel West, professor of the practice of public philosophy, Harvard University.
'Challenges Us'
"This exhibit challenges us to draw on these resources, to draw on the visions expressed by these black thinkers, to draw on the past of black political presence on campus, and to draw on the voices of our students," McMahon said.
Joshua Beatty, digital scholarship librarian, created an online site for the exhibit: http://tinyurl.com/plattsburghrise.
"Thanks to Joshua, this exhibit will continue to live on long after the display case is replaced with a new exhibit.
"And Still We Rise" will be on display in the lobby case through August. For more information, contact McMahon at 518-564-5831 or email [email protected].