Jump to Footer
Student Food Insecurity Incorporated in Classroom Lessons, Faculty Involvement
---
Two School of Business and Economics faculty members are connecting the dots between classroom and community, making sure students' nutritional needs are met while teaching them to be socially responsible on campus and beyond.
Wanda Carroll, lecturer in supply chain management and international business, developed a Cardinal Foundation Seminar for first-year students that examines hunger, poverty and agriculture from a global to a local level while teaching the importance of social responsibility.
During a recent class, Suzanne Van Arragon Spronk, a former adjunct lecturer in English, Zoomed in live from rural Gabon on the west coast of Africa where she and her husband, Dr. Wayne Spronk, have lived and worked for the past two years.
While Spronk works at the local hospital, treating patients and training surgical residents, Van Arragon Spronk provides support to the community and will be teaching English to village residents.
She spoke to the first-year students about malnutrition, which is common in the area since a large portion of the locals' diet is manioc, a starchy vegetable that has little nutritional value. She also told the curious students that local village cuisine can include bush meat like porcupine and monkey.
Students Volunteering at Soup Kitchen
Carroll wants to show students that even if the solutions are intricate and complex, each of them can personally have an impact on those who are struggling.
"I wanted them to learn that one person can make a difference," Carroll said.
Two students were inspired to volunteer at the soup kitchen at St. Joseph's Community Outreach Center in Plattsburgh after its affiliated church's pastor, the Rev. Scott Seymour, spoke to the class.
When social work major Jenna Medina of Westbury, N.Y., heard the soup kitchen serves some 300 families each week, she was "overwhelmed."
"The different types of people they worked with were also shocking. For example, the groups of homeless people that live not too far behind the church. I think this volunteer opportunity will be a good experience for me," Medina said.
Reducing Food Waste
Earlier in the semester, Christopher Mihalyi, campus dining resident district manager, came in to discuss how students can reduce food waste.
"So many students who eat in Clinton Dining Hall take 10 pieces of chicken and three pieces of pizza and they don't eat half of it," Carroll said. Mihalyi's goal was to make students aware of the problem and how that impacts the business model of campus dining, which could contribute to the rising cost of their meal plans, she said.
The seminar also incorporates hands-on activities to illustrate how difficult it is to grow food, for example, Carroll said. Students each planted seeds from one vegetable or herb to grow throughout the semester in their residence hall room.
Later in the semester, they will learn how to knit.
"They'll be learning a new skill and learning about themselves through something they created" while ultimately giving back to the community by making blankets for Hospice patients, Carroll said.
Projects 'Opened My Mind'
"The projects and research we've done has really opened my mind," said Thomas Konnick of Milford, N.Y. "I was aware there was poverty worldwide but I wasn't aware of the severity. It's not that there isn't enough food, it's that people can't afford it or the food can't be brought to them depending on where they live.
"There's a bunch of starving people and kids (locally) and Clinton Dining Hall is throwing away food at the end of the night" because students take more than they can eat, Konnick said. "It just makes you think.
Since learning about food waste, Medina said she is more mindful when eating at the dining hall, taking only enough food for herself, saying, "I really try not to throw anything out."
Konnick was surprised that food insecurity is so prevalent among students that the college maintains a food shelf specifically for them "but if there is a gap where students can't get what they need, it would be a necessity to have that."
'College with a Heart'
The campus food shelf, located in the HUB in the Angell College Center, was established more than 15 years ago by Student Support Services.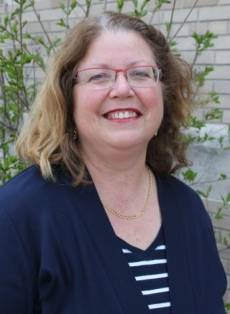 To help keep it stocked, Dr. Lise Heroux, distinguished service professor of marketing and entrepreneurship, started the annual School of Business and Economics food drive in 2018. So far this year, SBE faculty have donated 400 food items and 25 toiletry items.
"It is a good feeling to be able to relieve students of their food insecurity so that they can concentrate on the reason they are here: to get a great education that impacts their future," Heroux said.
The SBE faculty also donate professional clothing to the Career Development Center's Career Closet, which outfits students with free gently used business attire for interviews, internships and conferences.
"Providing supportive services beyond education such as a food shelf and professional closet that will make success possible distinguishes SUNY Plattsburgh as a college with a heart. We truly care about our students," Heroux said.
Different Perspectives
Biruk Assefa, a computer science major from Ethiopia, was well aware of the difficulties Africans like the Gabonese face, and said it was rewarding to expand his knowledge base by researching hunger in Honduras as part of an assignment for Carroll's seminar.
For Assefa, one of the best parts of the curriculum is how it engages students with a variety of guest speakers and discussion.
"We meet a lot of people on Zoom who offer lots of different perspectives" on poverty and hunger, he said.
Not only are students learning how to help others, but they are learning from each during class discussions, Carroll said.
"They're building connections with each other, and that's so important for first-year students."
— Story, Photos By Senior Communications Specialist Felicia Krieg