Jump to Footer
Student Excellence Awarded by SUNY Chancellor King
---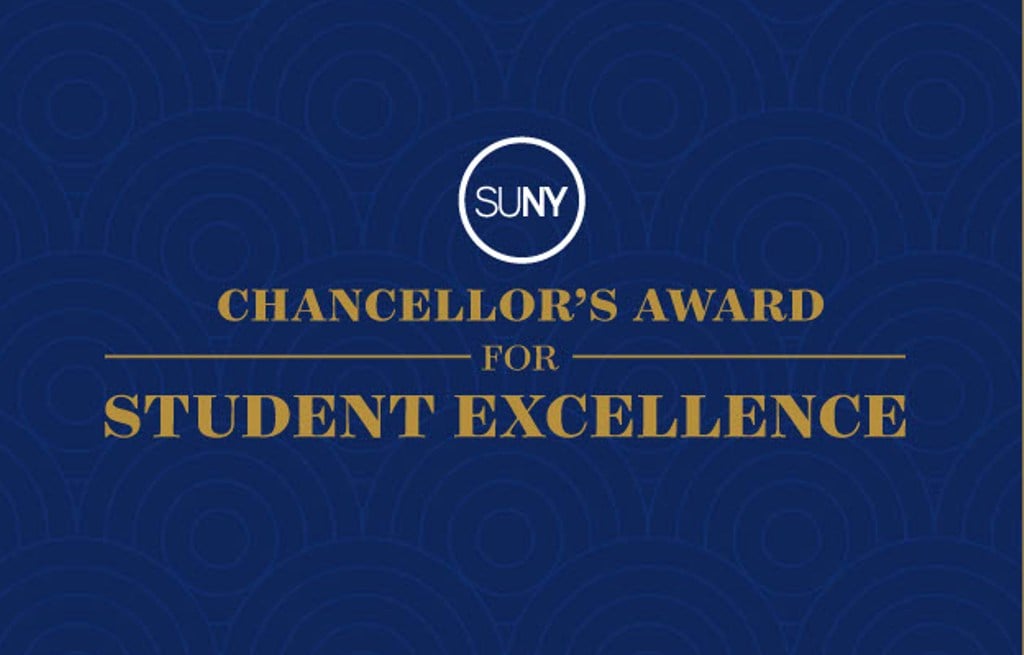 Two SUNY Plattsburgh students were among 193 from 63 campuses to receive the state university's highest honor for academic excellence and leadership.
Jerry Jean-Baptiste, a senior communication sciences and disorders major from Brooklyn, and Nina Serafini, a senior English writing and language arts and literature major from Schenectady, received the Chancellor's Award for Academic Excellence and were honored for their accomplishments by Chancellor John King at a ceremony held last week in Albany.
The Chancellor's Award for Academic Excellence recognizes students for their outstanding achievements throughout their SUNY experience in areas including academics, leadership, campus involvement, community service, and the arts.
"Nina Serafini and Jerry Jean-Baptiste represent what is most important about SUNY Plattsburgh: student success," said President Alexander Enyedi. "I am so proud of their outstanding achievements, and I congratulate them for earning this highest honor for their academic excellence and leadership."
Cori Jackson, interim vice president for enrollment and student success, accompanied Jean-Baptiste and Serafini to Albany for the ceremony.
Jean-Baptiste, who came to the United States from Haiti following a devastating 7.0 earthquake there when he was nine, said he "was excited but in denial" when he heard about the award.
Worked Hard
"I knew I worked hard throughout my past four years to receive that honor; however, I was still in disbelief that I actually won. I was truly filled with joy and excitement," he said.
Serafini was in her children's literature class when she found out through a notification on her watch.
"Initially, I thought it was an email from the Office of the President, but then I opened it and saw that it was from the president himself and that he was congratulating me on receiving the Chancellor's Award," Serafini said. "I was so blown away and showed my friend immediately. We were both so excited but so shocked. It was tough getting through the rest of class because all I wanted to do was tell my family."
It was that family that was partially responsible for Serafini coming to SUNY Plattsburgh. A homebody at heart, she thought for the longest time that she'd attend college closer to home. She was already familiar with the college — she has grandparents who live about 45 minutes south in Westport. So she decided to heed her mother's advice and look further afield, submitting an application and visiting during an admissions open house.
"I'm not sure what it was exactly, but something clicked for me on this tour, and I just knew Plattsburgh was the place I needed to be," Serafini said.
"I fell in love with the campus and the area, and the English program seemed very promising. I could tell that there were so many opportunities available to English students, and I had met a few professors at that open house and my orientation, and they were so kind and incredibly personable, which was exactly what I needed, especially since I would be further away from home than I initially expected."
Looking Away from Home
For Jean-Baptiste, he was looking for something away from home.
"I wanted to experience a different scenery for college," he said. A generous financial aid package became the motivation to apply, but it was a personal decision to enter communication sciences and disorders as a freshman.
"I knew I wanted to become a speech-language pathologist — I was drawn into this field through my early childhood experiences, from stuttering to being an English-as-a-second-language speaker in elementary school after moving to the United States from Haiti," he said. "I remembered what it felt like not wanting to communicate and have your voice be heard.
"I am passionate about helping individuals with the ability to communicate whether it is a child having difficulties producing speech sounds or helping an adult communicate with their loved ones after traumatic events such as a stroke or traumatic brain injuries, or helping patients with their swallowing impairments. It's such a cool and important career in the healthcare field," he said.
Attending NYU
After graduating from SUNY Plattsburgh in less than three weeks, Serafini plans to attend New York University for its Summer Publishing Institute and will then begin a master's program in publishing and writing at Emerson College in Boston in the fall.
"In five years, I hope to be working in the book publishing industry in some capacity, hopefully as an editor," she said.
Jean-Baptiste will be staying in Plattsburgh after graduation this month with plans to pursue his master's in speech-language pathology in SUNY Plattsburgh's graduate program. From there, he said he hopes "to be working in an acute care setting as a medical speech-language pathologist."
"I want to work with patients who suffered from strokes and other neurological disorders impacting their speech, language, fluency and swallowing," he said.
'A Place at SUNY'
"There is a place at SUNY for every New Yorker, and each of the students recognized today is an example of our extraordinary student body and their rich and diverse 'SUNY stories,'" Chancellor King said.
"Student success is at the core of everything we do," he said. "Every student can find their community at SUNY, and I congratulate each of the CASE winners for making the most out of their college experience."
— By Associate Director of Communications Gerianne Downs