Jump to Footer
STEM Faculty Publish Book of Research
---
A years-long interdisciplinary research project resulted in the publication of a book edited by two SUNY Plattsburgh STEM faculty members.
"Synthesis, Applications and Biological Impact of Nanocellulose" details original research by Dr. Karina Ckless, professor of chemistry and biochemistry, and Dr. Rajesh Sunasee, associate professor of chemistry and biochemistry, as well as other works by scientific colleagues from around the world.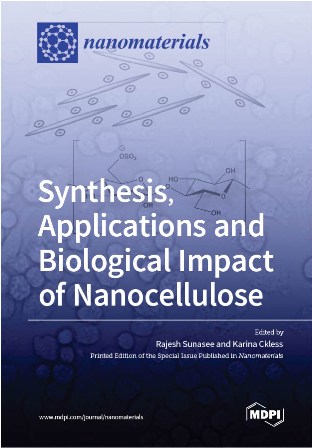 Their research has potential biomedical applications for nanocellulose as a vaccine adjuvant, Ckless said. Adjuvants stimulate the immune system to make vaccines more effective, she said.
Sunasee's research is nanochemistry-focused and includes designing and preparing the nanocellulose material. Ckless's biochemistry-focused research picks up from there, testing to see if exposing human white blood cells and other types of cells to nanocellulose will elicit an immune response.
'Designed for Student Collaboration'
A three-year, $330,000 grant from the National Science Foundation funded Sunasee and Ckless' research. They designed the grant for significant student research involvement, with each student research assistant spending at least four semesters in the lab.
The seven former research assistants are now young alumni who are listed as coauthors of one of the book chapters. Four are in graduate school working on doctorates, one is applying for a master's program, and two are working for chemical companies.
Undergraduate students rarely have the opportunity to participate actively in this type of graduate-level research, Sunasee said. He said it is even less likely that undergraduate students will get published in a scholarly journal alongside their professors.
"Having this type of (book) product — it is a very unique experience for us and certainly for the students," Ckless said.
Many Potential Applications for Research
Nanocellulose, the microscopic material the pair use in the lab, is fascinating compared with other nanomaterials, with many possibilities for application, Sunasee said.
"There's a lot of hype about nanocellulose," Sunasee said. Since it comes from plant cells, "it's renewable, sustainable, accessible and low cost."
Beyond vaccine adjuvants, portions of the research suggest using 3D printable nanocellulose-based materials, which could be used in food packing technology or have electrochemical or energy applications, Sunasee said.
Research groups benefit from the inclusion of not only the top students but students who find they flourish once allowed to thrive in a lab environment, Ckless said.
"They get engaged if you give them a real experiential opportunity to be part of something (bigger)," she said. "It's a sense of belonging. You belong to this research group, and you're going to contribute."
Research Continued Amidst Pandemic
In the early days of the pandemic, the two faculty members connected with the student research assistants in regular virtual meetings before later working alongside them in the Hudson Hall Annex lab.
"We continued to do research, engaging students remotely in data analysis, discussion of the data. The whole intellectual critical thinking (part) was done remotely," Ckless said.
Hoang Nguyen '22, an international student from Vietnam, first joined the lab group as a sophomore from his home country in the middle of the night because of the time difference, Ckless said.
"It was certainly intimidating at first since it was my first time being involved in something so professional, and I was afraid that I would mess up something important," Nguyen remembered. "However, with the professors' help, I was able to get used to the professional environment."
Mentorship 'Pivotal' to Graduate Success
Beza Tuga '22 is in her fourth year of graduate school in the chemistry department at the University of Minnesota in Minneapolis. But she might not be in graduate school if it weren't for her undergraduate research experience at SUNY Plattsburgh.
"I wouldn't have thought of going to grad school or working in nanotechnology if it wasn't for Raj's mentorship — he has been very pivotal to all my success," Tuga said.
A National Science Foundation Center for Sustainable Nanotechnology member, Tuga is working to develop new nanoparticle systems for sustainable agriculture.
"Raj and Karina are thoughtful scientific advisors, educators and researchers, but above all else, they are mentors that care about the success of every student who works in their lab," Tuga said. "Raj would always encourage me to follow my dreams and tried his best to provide me with all the tools I need to be successful as a professional."
Alexandre Bernier '22 was also in the research group. Bernier is a quality assurance specialist for SterRx, a company in Plattsburgh that manufactures sterile medical equipment using robotic automation.
Bernier said he assisted Sunasee for one semester and spent the other three semesters helping Ckless with her research.
"She became my mentor," Bernier said. "Almost every time I was in the lab, she was there with me. She's always there with her students, showing them techniques and making sure it makes sense. So, using it as a teaching opportunity … other professors don't always do that."
'Most Unique Experience'
Nguyen is currently applying to graduate programs. He said his time as a research assistant at SUNY Plattsburgh was pivotal to his future career.
"It was pretty exciting, surely one of the most unique experiences I have had, and probably will be a one-of-a-kind event for me," Nguyen said.
He said that working with Ckless and Sunasee not only made him a better scientist but a better person.
"Working with them and trying to meet expectations actually helped me become more observant, confident and diligent."
Working with Students 'A Joy'
In Ckless and Sunasee's lab, student research assistants learn the scientific method from seasoned faculty scientists, not graduate students. Sunasee involves the students in his group with the design process of the material when they're in the initial stages.
"The students being a part of that intellectual process is pretty amazing," he said. "They're undergraduate students, and allowing them to be a part of the initial design of the project and making the material has all its challenges, and they get to be a part of that — the ups and downs. It's a learning process about research."
Ckless said students start in the research group as interested in the mission but also ignorant of the difficulties they will encounter along the way. She said it's rewarding to see them grow as scientists through that process.
"They start very naïve and their thoughts mature during that process. Through frustration and mistakes, they get exposed to what real science is about," Ckless said.
For Ckless and Sunasee, the joy of mentoring their former students is ongoing. They stay in touch with many of their former research assistants long after they've left campus.
"The amount of thank you notes we receive from our students is pretty rewarding," Ckless said, adding that she can't measure the students' gratitude the same way she can her published research articles.
Even so, "(it's) really remarkable."
— Story and Photos by Senior Communications Specialist Felicia Krieg