Jump to Footer
Staying Active, Connected Takes a Strategy
---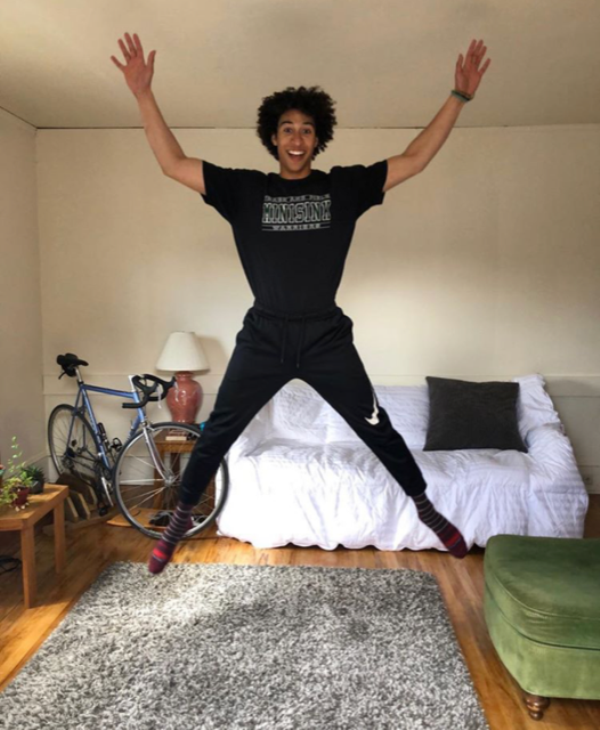 COVID-19 doesn't have to keep you away from your friends and colleagues or put the kybosh on staying active.
All you need is a new way of doing things.
Dr Kathleen Camelo, director of the SUNY Plattsburgh Student Health and Counseling Center, offered these tips to stay connected and stay active:
Take advantage of your internet search talents. "There are a variety of free fitness exercise classes that you can do at home," she said. "And our own Fitness Center has aerobic, yoga and strengthening classes provided online for free here."
Get outside for a walk. "Masked, of course," she said. "And if you want to make it more aerobic, use two- to three-pound hand-held weights while walking and move those arms. Or grab two cans of soup. Thirty minutes a day is a good goal. Work up to it.
Stay connected with your friends. "FaceTime with your friends or get a group together and Zoom," Camelo said. "You can alternate being the Zoom host, and this may allow you to Zoom for free."
Post a daily pet picture and check out how many "likes" you get. "This really helps those friends who don't have a furry friend," she said. "Pets decrease stress, even virtually. Check out our website for May 8 at 2 p.m. We'll be hosting 'Destressing with Donkeys,' which we had to postpone because of today's rainy forecast."
Karen Waterbury, director of recreation and club sports, shared tips for staying active and connected:
Get outside at a social distance. "I would encourage bike rides, walking at local parks and running," Waterbury said. "You can even do cool bike circuit training if you are creative, combining short bike loops with stairs or hill running and pushups and body weights exercises. We also have a great Frisbee golf course here on campus, located in Rugar Woods behind the Field House."
Stay indoors and stay active."Yoga and medication are No. 1 as far as inside goes," she said. "Body weight circuits and exercise classes or exercises you find online are good. Try to get into a routine with walks or workouts at the same time. Zoom, FaceTime or call your friends and family members to stay connected."
Putting It Into Practice

Lisa Hoang, a global supply chain management major from Vietnam, a Harrington Hall resident, has heeded much of this advice in her own life amid COVID.
She said when classes first went to distance learning, she was worried about her school work and social life.
"However, I knew that social distancing would not only keep us safer but also saves the community, especially those who are more vulnerable and bear more risks than us," she said.
Hoang took advantage of her organizational skills and started "writing down a new schedule/routine since the plan had changed, and I updated it on Google Calendar," she said.
"This has helped me always stay optimistic and overcome difficulties. I set my alarm for 7 a.m. and do some exercise in my room to make myself not lose the positive vibes I had and also to remain healthy," Hoang said. "I still keep the time frame for all classes like the usual physical ones. Instead of going to classes, I use that time doing assignments or reading books for those courses. I think this is helping me keep track of all my work.
Works Virtually with Classmates
"When it comes to group work, I and my teammates leverage some online tools to meet up virtually," she continued. "We set up the time to call and determine what must be done. Luckily, everyone engages and are on time."
As a graduating senior, Hoang said she's been using this time to look into future possibilities.
"It's given me more time to learn what I really want to do whereas before, I was packed with lots of stuff. I take advantage of LinkedIn.
"One fun fact about me during this time is I do exercise every day with the guidance of some beauty YouTubers," she said. "I was very lazy to do so before. And I have more time to treat myself better by cooking very good meals on my own, another 'talent' I never thought of."