Jump to Footer
Plattsburgh Native Finds Success After Transfer to SUNY Plattsburgh
---
Photo/Felicia Krieg
Initially, Plattsburgh native Sascha Menn wanted to go far away from home for college.
But after a year at a university in North Carolina, Menn started searching for a learning environment that would suit her better.
"I wanted a community that was much tighter and closer," said Menn, an anthropology major.
"After going there for a year and finding that it wasn't the best fit for me, I reached out to SUNY Plattsburgh."
'Transferred Back and Never Looked Back'
After speaking with Dr. Gillian Crane-Kramer, associate professor of anthropology, she said she knew SUNY Plattsburgh was a place she could thrive academically.
"After that conversation, I knew I was going to transfer back to SUNY Plattsburgh and gave them the ultimate trust," Menn said. "I've never looked back."
A true crime fan since age 11, Menn said she is interested in doing forensic and biological anthropology work after graduation.
Crane-Kramer specializes in biological anthropology and said the increase in forensic anthropology has steadily increased as the popularity of true crime podcasts, books, shows and films has accelerated over the past 15 years.
Undergraduate Research Opportunities
An anthropology major complements a variety of other majors since what's learned is applicable to many facets of career, interpersonal relationships and life in general, she said.
"Anthropology in general is focused on studying the human experience both from a behavioral perspective as well as from a biological perspective," Crane-Kramer explained. "I always say to my students that no matter what other major you may have, anthropology is going to be useful to you because it's the study of people."
She said that the major provides preparation for graduate school since students must complete a senior thesis project.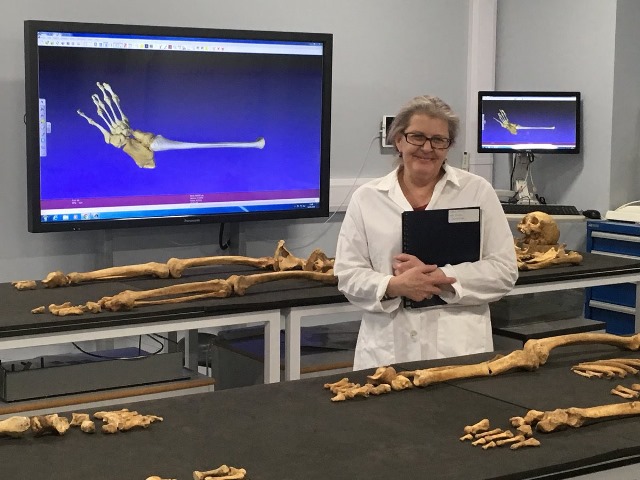 Crane-Kramer said that students have various undergraduate research opportunities available since faculty engage in original research. In fact, the associate professor is planning to hire full-time paid research assistants next summer for grant-funded research, she said.
Crane-Kramer shares a collection of human skeletons with the Department of Anthropology at the University of Vermont, and students who take her forensic anthropology class can work those remains.
Photo Provided
"They get the opportunity to work with real human skeletons, which is a very unusual experience for American students in general."
'Entire Department has Helped Me'
Menn said she has become close with faculty members in her major department.
"The entire department has helped me in more ways than one," Menn said. "It was the kind of connection that I didn't really feel with any professors down south."
Likewise, faculty said Menn has added a lot to the anthropology department.
"She is an extremely committed student," Crane-Kramer said. "She takes her academia very seriously. She is very bright and motivated."
Menn serves as teaching assistant in Crane-Kramer's forensic anthropology class.
"She is a wonderful, engaged students with an inquisitive mind who has enlivened my classes and anthropology community," said Dr. Deborah Altamirano, associate professor of anthropology. "Since joining our department last fall, she has been willing to take on academic and personal challenges that take her well beyond her comfort zone."
Miner Institute Internship
One of those experiences was an internship at the Miner Institute in Chazy, N.Y., that Altamirano called "very challenging."
Menn reviewed a map dating back to 1917 of the property and used geographic information systems technology to measure the coordinates of landmarks she used to remap the institute with better accuracy. Then, she digitized the map for the institute's records.
While she isn't looking to pursue GIS further, Menn said she gained communication and networking skills during her internship, which she will use going forward in her academic career.
'Student-focused Faculty'
Altamirano said all the anthropology faculty are student focused.
"We get to know our students very well. We strive to provide experiential learning opportunities for them, such as internships, and we support and advocate for them," Altamirano said.
"The faculty are supportive of their students, and we support them on many levels. Very importantly, we try to create for our students a sense of community and belonging in an environment that can often feel impersonal and daunting."
'An Open Community for Students'
Menn said that as a student who commutes to campus from her nearby home, she thought it might be difficult to meet fellow students. It wasn't.
"You can just bond with people over the (library) printer, the lunch line. It's a very open community. There's no struggle to find someone to talk to."
As a North Country local looking at colleges, it can be easy to dismiss SUNY Plattsburgh, Menn said. There's more to the university than meets the eye, though, she said.
"Give SUNY Plattsburgh a chance if you're local. There's so much to it than you can see when you walk through campus."
Photo/Felicia Krieg
High school students and their families can get an inside look at SUNY Plattsburgh at Fall Open House on Saturday, Nov. 4. Students can register for the event at https://www.plattsburgh.edu/admissions/visit/open-house.html.
— By Assistant Director of Communications Felicia Krieg