Jump to Footer
Personal Trainers Help Students Achieve Academic Success
---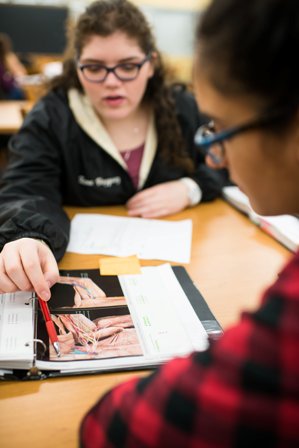 The Learning Center at SUNY Plattsburgh has a program designed to provide students with an individualized game plan for academic success.
Academic personal trainers are specially trained peer tutors who help students address general concerns about their academic performance. More than tutors, trainers "address broader issues students may face," said Sarah Henley, academic success adviser at the Learning Center.
"In a tutoring session, specific content related to a course being addressed is covered," she said. "Tutors are recommended by professors because they have the level of knowledge to tutor the content of that specific course." Although they are trained as tutors, trainers are peer coaches.
"Topics that could be covered in a training session are note-taking skills, test-taking skills, preparation and time management," Henley said.
Time Management a Struggle
"Many students struggle with managing their time, and a traininga training serves as a resource in establishing a semester-long schedule," said Karin Killough, director of the center. "In addition to time management strategies, trainers are supportive and encouraging. Some students may only need one session to develop a game plan, but many others rely on weekly meetings with a trainer where they can check in and make adjustments as needed."
Senior psychology major Clara Basasingohe of Washington, D.C., said the program "has been amazing.
"It has definitely helped me through this semester. I have the best trainer. I would recommend this program to other students regardless of their year in college. This program is helpful to everyone from freshmen to seniors. Time management 101 is something everyone needs."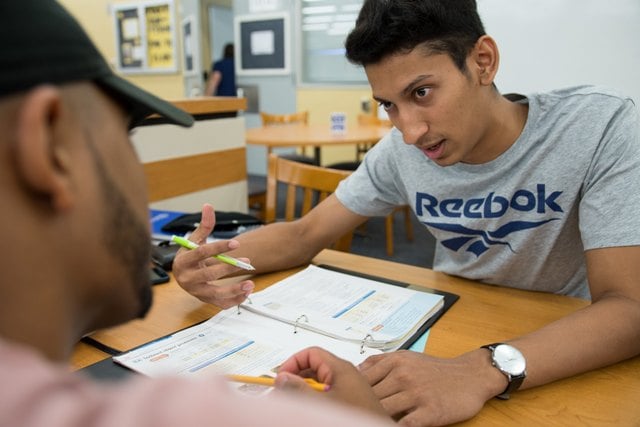 Killough said that while the majority of sessions focus on time management issues, "weak study skills are also a problem."
"Students may find that the notes they are taking — or not taking — in lecture aren't preparing them for exams," she said. "Reading college textbooks is a challenge for students, especially if a student has a learning disability that might impact comprehension or retention of key concepts. trainers share their own techniques for note-taking and reading as we as sharing helpful resources."
Killough said students seeking help from tutors or trainers sign a contract that outlines the center staffs' expectations as well as relevant policies and procedures.
"In a training session, that means coming with their course syllabi, different assignments, a planner — if they have one — and a positive attitude," she said. "That is a best-case scenario, to be sure."
Flexible and Supportive trainers
The trainers are taught to be flexible and supportive.
"If a student has trouble staying focused or is chronically overwhelmed, he may not have purchased the required textbooks or even know where he put his course syllabi," Killough said. Trainers have to be able to start where the student is and work on a plan from there that makes sense for that person, she said.
The model for the Academic Personal Trainer program was first established in 2004. The program evolved over the years and this fall, Kate Mulhollem, Learning Center assistant director and writing specialist, along with Henley, began a new collaboration in which certain writing tutors, representing a number of different majors, were selected to take on an additional role as a trainer, Killough said.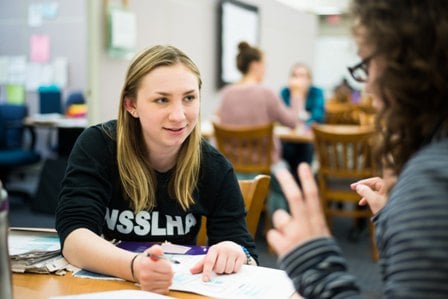 "We hand-pick top-notch students to be trainers," Henley said. Trainers must have completed at least one semester as a content tutor, maintain a 3.0 or higher gpa and have completed Theories and Practices of Writing Tutoring as well as additional training with the Learning Center staff. Trainers understand the Learning Center's services and operation so they can guide students and give them as much support as needed.
New Collaboration
"Through this new collaboration, our trainers will all have completed the same English class as well as ongoing training and support," Killough said. "One of the important outcomes of Theories and Practices of Writing is for students to develop strategies to explain writing concepts and deal with difficult situations across disciplines. That ability to explain concepts and deal with difficult situations serves out trainers well as each student presents a different challenge."
For more information on the Academic Personal Trainer program in the Claude J. Clark Learning Center, contact Killough at 518-564-6138, email [email protected] or visit https://www.plattsburgh.edu/academics/resources/learning-center/academic-personal-trainers.html.