Jump to Footer
Online Resources Enhanced to Assist Faculty, Students
---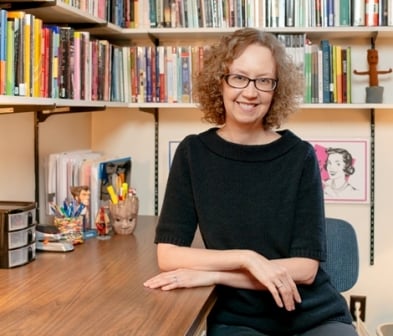 As the SUNY Plattsburgh community navigates the shift to remote, distance learning for the spring semester, faculty are guiding their colleagues and students to resources that will help them stay connected, engaged and successful.
Dr. Jessamyn Neuhaus, professor of history and pop culture and a spring 2020 teaching fellow in the Center for Teaching Excellence, and Dr. John Locke, coordinator of Technology Enhanced Learning and distance education, are teaming up to keep the lines of communication flowing both ways.
"As the spring 2020 teaching fellow, I've been trying to figure out what I could do to support teaching and learning during the emergency pivot to remote instruction," Neuhaus said. "I tried to post info on the CTE website, but that proved unwieldy."
So she created a dedicated Moodle site for faculty. Moodle is the college's primary online platform for classes. An acronym for "Modular Object-Oriented Dynamic Learning Environment it is used for e-learning at colleges and other educational institutions across the country.

"Anyone can self-enroll, and I'll try to keep it updated with info," Neuhaus said. "There's also a forum faculty can use for exchanging ideas and sharing experiences, hopefully staying a bit more connected and maybe even empowering each other to tackle the big teaching issues we're all trying to address."
Locke has been looking at distance learning from the student perspective.
"We must remember that many of these students didn't sign up for online learning," he said. "In fact, some made a conscious choice to learn in a face-to-face environment."
The reasons they choose face-to-face versus online or distance learning are varied.
But regardless, Locke said the college is working to "simulate the face-to-face classroom as much as practically possible."
The Technology Enhanced Learning Unit, in collaboration with Computer Systems and Desktop Support, has provided tools through which instructors can incorporate synchronous video conference sessions to provide students with a more familiar touch stone.
Locke, an adjunct instructor in communication studies, conducted a pilot video session prior to the release for spring break.
"Most of the 24 out of 26 students who showed up were appreciative and encouraged. I stressed flexibility and told them that if these synchronous sessions were unproductive, we would add to the class's existing asynchronous forum activities instead," he said.
Neuhaus said she and Locke hadn't had the chance to work together in the past.
"But I must say that one of the very few silver linings of this situation is building new campus connections. We've been talking via email about the best ways we can support faculty. I heard from a couple panic-stricken colleagues that John was going above and beyond to help them make these changes. He's got the skills in Technology Enhanced Learning that I don't have, and I can add perspective from the scholarship on teaching and learning and the scholarship on educational development."
Technology Enhanced Learning offers hundreds of hours of faculty development opportunities throughout the year, but Locke stressed "just-in-time" training is the method most in demand at the moment.
"In collaboration with computer systems and desktop support, (Technology Enhanced Learning) has been busy creating both step-by-step documentation in pdf format and short, task-based 'how to' videos to aid faculty in their course design work. This, in conjunction with fielding numerous email inquiries from faculty and staff has occupied their time since the epidemic was still in the 'what if?' stage," he said.
With social distancing, no gatherings and closures all part of the new normal, Neuhaus and Locke also recognized the importance of connecting socially even if it's through our computers.
"John was planning an informal virtual event for Friday and suggested it could be helpful for us to 'host' it together, and I was immediately all in," Neuhaus said. "I suggested making it a happy hour because even I, a huge introvert, am starting to feel the loss of regular social interaction."
A Zoom "Faculty and Staff Happy Hour" will be held Friday, March 27 at 4 p.m. In a joint communication sent the first day of classes March 23, Locke and Neuhaus said, "Bring your own beverage and swap stories about the first week."
Both Locke and Neuhaus will be on hand for any tech or teaching questions.
"But don't think of this as a workshop as much as a chance to get together as a community and share our experiences," Locke said. "As an incentive to use your webcam, we will be awarding a prize for the most and least frazzled-looking faculty members."
For more information on resources, distance learning or Moodle discussions, or to obtain the Zoom ID number, contact Locke at [email protected] or Neuhaus at [email protected].