Jump to Footer
Vaccine Research Draws National Funding for Chemistry Faculty | SUNY Plattsburgh
---
Two members of the chemistry faculty were awarded a $330,000 three-year grant for bio-medical research from the National Science Foundation.
Associate professors Karina Ckless and Rajesh Sunasee were awarded the grant for their research into cellulose nanocrystals — a new class of renewable materials that have applications in the manufacturing of vaccine adjuvants.
"Vaccine adjuvants are substances or molecules that activate our immunological system, causing the vaccines to be more effective," Ckless said.

Student Research Focal Point
Sunasee's work involves identifying materials in nature that can be synthesized in the lab. Ckless' work picks up from there, determining where — if any — potential biomedical applications can be applied.
Sunasee and Ckless made student research a focal point of their application for NSF funding, when they wrote, "This research project is impacting undergraduate student education, since they will be directly involved in original research activities.
Rachel Armony, a senior biology major with a chemistry minor, said her motivation for joining the research team was being offered "a great opportunity I couldn't turn down."
"I was intrigued by the topic of research," she said. Although Armony said she doesn't plan on going into research in the future, she'll be using her biology and chemistry backgrounds when she becomes a registered nurse.
"I became involved because I was a part of Dr. Sunasee's organic chemistry class and he approached me to join his research."
This research has given Armony and the other team members a sense of autonomy, learning how to work independently "with the occasional assistance from your mentor," she said.
Christopher Smith had Sunasee for several of his chemistry classes when, in the spring 2017 semester, he asked if Sunasee had any research opportunities.

Skills, Techniques Learned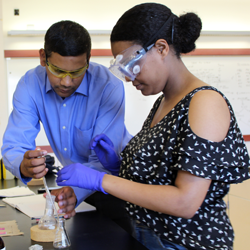 "He found out he received the NSF grant over the summer and told me this would be my project for fall 2017-spring 2018," the senior biology and criminal justice major said.
"Since I started working with Dr. Sunasee in the fall of 2016, I have learned the skills, laboratory techniques and have built confidence that I can carry with me on my pursuit of graduate school," Smith said.
Students are being trained on experimental planning and date collection, he noted, as well as data interpretation and research presentation skills. The experiential learning provided through this research project makes SUNY Plattsburgh students better prepared when seeking employment or graduate school opportunities following graduation.
"Students are testing the function of the materials to see if they can be used for vaccine adjuvants," Ckless said. "Initially, we take the cell cultures and conduct toxicity tests of compounds synthesized by Rajesh to see if they kill the cells. If they are not toxic to the cells, we further investigate if they act as stimulants of the immune system. Adjuvants stimulate the immune system to improve vaccine efficacy."

'True, Experiential Learning'
"It's true experiential learning," Ckless added. "We have two different fields, which has allowed us to show students how they intertwine and how collaboration works. You have to collaborate; it's impossible to know everything."
The pair has a long way to go, but if they are successful — and that means their students will also be successful — their research may be the stepping stone for developing adjuvants that help researchers develop more effective vaccines.
"The preliminary results are telling us we're going in a good direction," Sunasee said. "We need the money to do that — hire students, buy supplies and equipment. It's good for research, but it also gives our students hands-on opportunities to work with this sophisticated equipment."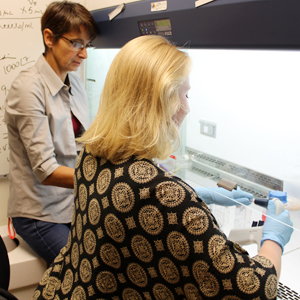 'Big Thing for Our Students'
"It's a big thing for us as researchers and instructors," Ckless said. "But it's also a big thing for our students because they will also be included on any publications that result from this research. That will go a long way when they are applying to graduate schools."
Smith concurred.
"I feel my time here at Plattsburgh has allowed me to find and obtain more experience opportunities that I never thought I would be able to achieve at school," Smith said. "My plan is to obtain my Ph.D. in toxicology or a similar field depending on the grad school programs. Working in Dr. Sunasee's lab, I have learned about thin layer chromatography, synthesis of various organic compounds and proper lab techniques. I am only continuing to learn more. Everything you learn in the lab, whether it is applicable toward your career goal or not, matters.
"This is a contribution to science, and even if it is not the largest project out there, it gives me pride to know that I am making a secondary contribution that someone may reference one day that will assist in their project, which may be even larger and extremely successful."