Jump to Footer
New Device Gives Speech-Pathology Students Valuable Field Experience
---
Photo by Felicia Krieg
Speech-language pathologists Kaitlyn Recny, Anthony Lewis and Doris Rible-Lacey stand with a flexible endoscopic evalutaion of swallow instrument at CVPH Medical Center.
Speech-language pathology students at SUNY Plattsburgh now have access to a new medical device, the only one of its kind in the University of Vermont Health Network, which services Northern New York.
The instrument, called Flexible Endoscopic Evaluation of Swallow, has a full-color video camera and light source on the end to assess swallowing difficulties, said Anthony Lewis '08, one of three speech-language pathologists employed by the college who work at CVPH Medical Center, located across Cornelia Street from Hawkins Hall in Plattsburgh.
'One-on-One Clinical Observation'
Graduate students in the speech-language pathology master's program complete 11 weeks of observation during the CVPH clinical rotation. For half that time, they work with Lewis as he treats patients at CVPH Outpatient Rehabilitation Services and the other half is inpatient observation with Doris Rible-Lacey '89 or Kaitlyn Recny, the other two who make up the team of three speech-language pathologists on staff.
"They're one-on-one with us evaluating and treating patients with a variety of communication and swallowing disorders, and it's a great opportunity for them to have a field experience before they leave campus," Rible-Lacey said, adding that the rotation is considered an off-campus experience. "They tell us it's really eye opening for them in terms of career exploration."
Hospital-College Collaboration
This collaborative relationship between the college and hospital has existed for more than 20 years, said Rachel Flemming, director of the SUNY Plattsburgh Speech and Hearing Center, located in Sibley Hall.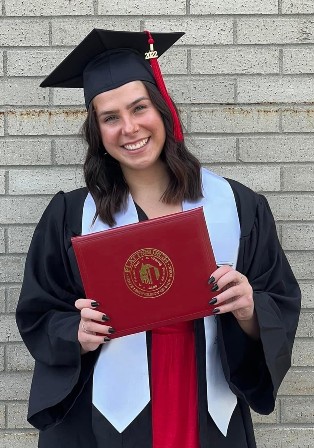 "My favorite thing about my graduate program is the actual real-life clinical experiences I get," said Kayleigh Merrill, who is set to graduate from the program next year. "I finally get to put all of my knowledge that I have learned in my undergraduate and graduate classes to use and apply the information to situations in real life."
Merrill graduate with her undergraduate degree in communication sciences and disorders from SUNY Plattsburgh in 2022.
'Real-Life' Data Instead of Diagrams
"Observing a FEES test in person and feeding the patient has given me insight on what patients who complain of swallow difficulties have to go through," Merrill said, adding that watching multiple tests allowed her "to see the structures of swallow in real life rather than on a drawn diagram."
In addition to the hospital rotation, students work under faculty supervision in the Speech and Hearing Center, assisting them with evaluating and treating speech and voice disorders like stuttering, delayed speech or auditory processing disorder.
The Foundation of CVPH purchased the $10,000 FEES equipment last summer and students started observing Lewis, Rible-Lacey and Recny perform the exams in the fall 2022 semester. The foundation recently purchased a designated FEES exam chair.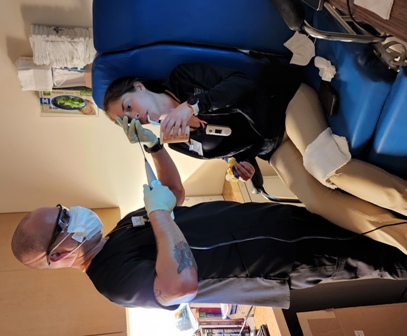 Lewis said a long-term goal is establishing a mobile FEEs unit that could travel to facilities like area nursing homes.
'Superior View' of Swallow Mechanisms
The exam equipment includes a single-use 3-milimeter flexible endoscope that the clinician guides into the patient's nasal passage, which projects a view of the anatomy onto a viewer that looks like an oversized iPad.
"You have a superior view of the pharegeal swallow mechanisms, so then we can give them (patients) some food and drink mixed with food coloring and determine how the swallow is functioning, where the food and drink are going, determining what is safe for them," Recny said.
The FEES exams are recorded so physicians on inpatient units or patients and their families can view them, Rible-Lacey said.
'Increased Flexibility and Portability'
Before the new device, Lewis, Recny and Rible-Lacey had to coordinate with the CVPH radiology department to conduct video fluoroscopic swallowing studies, which are like moving X-rays, Rible-Lacey said.
Patients too ill to move to the radiology unit or those isolated with COVID-19 couldn't be evaluated, she said.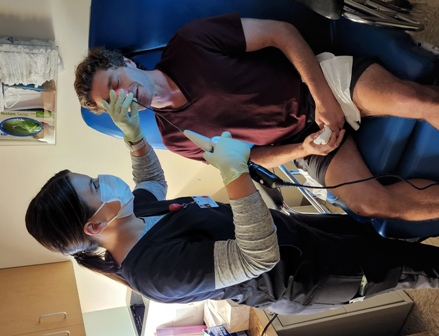 "With FEES, it's a lot more flexible, it's portable, we can see them right at the bedside. We're not depending on any departments other than our own," Recny said.
Difficulty swallowing or dysphagia affects about one in 25 people and is common in older adults and people who experience strokes or have conditions like Parkinson's, cerebral palsy, multiple sclerosis, traumatic brain injury, head and neck cancers, ALS and more, according to the American Speech-Language-Hearing Association.
Students Feel 'More Prepared' For Externships
Rible-Lacey said some students enter the graduate program thinking they want to work with children in a school setting because that's the only aspect of the profession with which they are familiar.
The CVPH rotation allows students to experience an alternative clinical venue.
"It can be challenging for students in speech-language pathology programs to obtain medical experience" because of a limited number of site available and health staffing shortages, Flemming said.
"At SUNY Plattsburgh, however, we have a unique opportunity to send most of (the) graduate cohort for a medical practicum experience several semesters before they begin their externships," she said. "Students have reported that they felt more prepared to treat patients in medical externships and their future careers because of their rotation at UVM/CVPH."
— By Assistant Director of Communications Felicia Krieg