Jump to Footer
Model OAS Provides Rich Experience for SUNY Plattsburgh Senior
---
SUNY Plattsburgh senior Jessica Skelly took an unusual path for a nursing major.
Despite the demanding nature of the program, with grade requirements for every class and many hours of clinical work across nursing specialties, she opted to add a major in Latin American studies.
"I had to give some typical college things up to get to where I want to be," the Hadley, N.Y., woman said.
But she said what she's learned made all the extra classes and studying worth it.
Skelly hopes the skills from her three Spanish-language courses will help her assist any Spanish-speaking patients she might treat.
"I'm hoping to be more inclusive with patients and one way to do that is speaking their language and understanding their culture," Skelly said, adding that the Latin American studies major "makes me a more well-rounded person, which is the goal of the nursing program."
Meetings with Ambassadors
This semester, she embarked on two trips associated with her Latin American studies major – one to Washington, D.C., where she recently traveled with students Gabriella Boschetti, Isabella Perrini and Angelina Livingston for Model Organization of American States where they represented Mexico.
Model OAS is a simulation educational experience meant to mirror the annual sessions of the General Council of the OAS. Students from universities nationwide ask questions and vote on resolutions.
Earlier this semester, Skelly was part of a group of students who traveled to the Canadian capitol to meet with various ambassadors. The students asked diplomats from Mexico, Honduras and Canada questions to help them better represent Mexico's interests in Washington, D.C.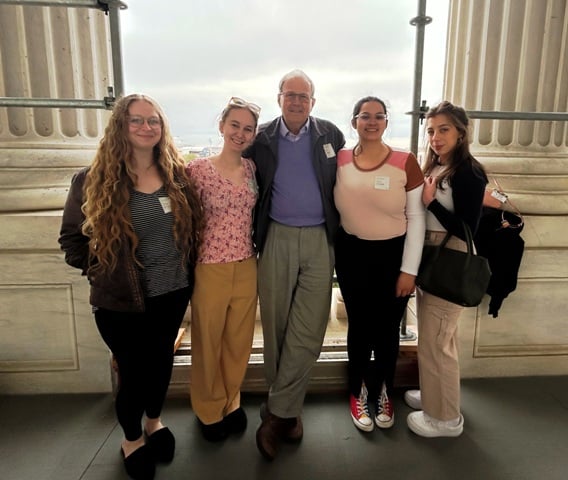 Joining the students on both trips was Dr. Stewart Voss, distinguished service professor emeritus of history and adjunct professor of Latin American studies.
2023 is Skelly's third year in Model OAS under Voss's mentorship.
"Jessica, as head of the delegation, has shown outstanding leadership in commitment and dependency; she sets the example," Voss said. "She maintains focus on the rest of the delegation and the only one with experience, she mentors the others."
Funding specific to Model OAS covers hotel expenses and main meals for Latin American studies majors, Skelly said, adding that there's also funding available for majors who wish to live in a metropolitan city for an applied learning experience through the Career Development Center's Applied Learning Grant.
Emotional Intelligence, Analytical Skills
According to Voss, Model OAS students learn to be prepared and think on their feet.
"Our graduates have been able to pursue creative, often interconnected careers because they have those skills; they can respond to the unanticipated situations they face," Voss said.
He said students who participated in the program go on to have successful careers across a wide variety of sectors.
For instance, Rebecca Block '22, who served on the delegation alongside Skelly as a student, is completing an internship on Capitol Hill in Senate Majority Leader Chuck Schumer's office. Block was a human development and family relations and Latin American studies double major.
First Nursing Job Lined Up
Skelly's first nursing job awaits her after her May graduation.
Over winter break, she interviewed for a nursing position at Saratoga Hospital in the medical-surgical unit and accepted the job a few days later.
"It gives me some kind of peace to know when I'm done here I have a path to go to," Skelly said.
Eventually, Skelly said she'd like to work in a maternity unit, perhaps at CVPH Medical Center in Plattsburgh.
"Every time I've gone there for clinical, they've always treated me kindly," she said. "It's been an accepting environment."
— By Assistant Director of Communications Felicia Krieg