Jump to Footer
Greek Life Director Receives National Recognition
---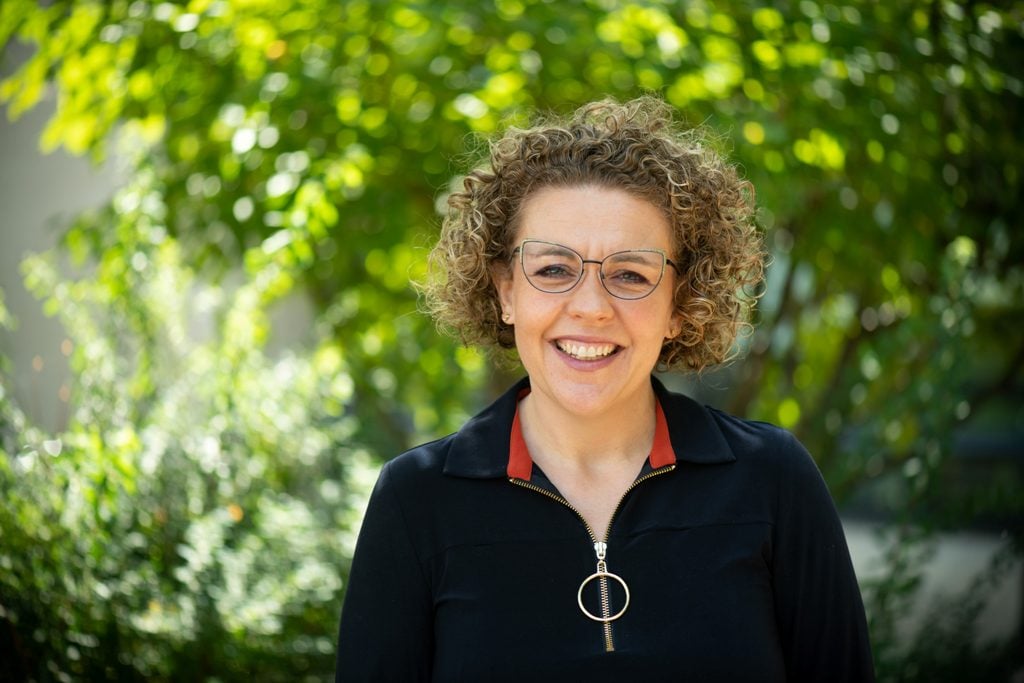 SUNY Plattsburgh's director of fraternity/sorority life and Project HELP was recognized for her contributions to Greek life by the Association of Fraternity/Sorority Advisors.
Allison Swick-Duttine, who has spent her career providing support for fraternities and sororities locally as well as nationally and internationally, received the Dr. Robert H. Shaffer Award, the late professor emeritus from the Indiana University Schools of Education who had served as the first executive director of the Center for Fraternity and Sorority Research. The award is the highest given to a campus professional by the association.
The association cited Swick-Duttine for her focus on "social justice, personal and professional development and crafting a meaningful and safe experience" throughout her 23-year career at SUNY Plattsburgh.
The award is announced as a surprise to its recipients, and Swick-Duttine said the association did a good job keeping the secret.
"I was in a state of disbelief all weekend," she said. "I have seen so many professionals who I have looked up to and admired get this award in the past, and I would never have imagined that I'd received this honor."
Sorority Experience had 'Profound Impact'
Swick-Duttine said she earned her master's degree in student affairs counseling "specifically to work on a college campus with fraternities and sororities. My own sorority experience made a profound impact on my personal and professional development, and I wanted to be able to provide a meaningful and safe fraternal experience for other students," she said.
Vice President for Enrollment and Student Success Lizzie Wahab congratulated Swick-Duttine, saying how the award shows "how very astute she is managing Greek life with civic and community engagements."
"At a time when we hear of only the gaps and not about the essential and impact-filled work our fraternal organizations are involved in, this award is timely in recognition of Allison's dedication to the Plattsburgh experience. These organizational members' strong work in the community lifts their academic standing as well," she said. "Allison's guidance has been key to this elevated platform of engagement, for which we are grateful, and congratulations to her."
Sam Tascione, an education major from Brewster, N.Y., is president of the Interfraternity Council on campus and works closely with Swick-Duttine.
'Inspiring Leader'
"Since I started working in the Office of Fraternity/Sorority Life in September 2020, I have gotten to see first hand how much Allison Swick-Duttine does for the Plattsburgh community," Tascione said. "She is an inspiring leader who is always there to help guide you through your journey of college. Allison has helped me become a more confident leader who is not scared to go out of my comfort zone and take up positions. With the amount of experience and passion Allison has, Plattsburgh is lucky to have her."
Kamille Dawkins, a senior business major from Brooklyn, works with Swick-Duttine in the Office of Fraternity/Sorority Life as the leadership development coordinator. She is also a member of Alpha Epsilon Phi sorority. She offered up "five words I would use to describe Allison Swick-Duttine: Diligent, caring, devoted, passionate and dedicated. She truly cares about the work she does and the students she interacts with on a daily basis," Dawkins said.
Swick-Duttine "has been influential in paving the way for a new era of fraternity/sorority life at SUNY Plattsburgh, an era that fosters leadership, friendship, scholarship and service within its members," Dawkins said. "She actively looks into new ways to promote the kind of community that SUNY Plattsburgh strives for. She constantly educates herself on new topics, workshops, opportunities and programs that she can bring back to the fraternity/sorority community. If you stop into her office, you'll often hear a conference going on in the background that she's listening to and participating in."
'Consistent Focus'
Cori Jackson, assistant vice president for student life and director of the Center for Student Involvement, attributes changes to fraternity/sorority culture to Swick-Duttine's "consistent focus on fraternal values and purpose."
"She is tenacious in challenging stereotypes and holding students to the pillars of fraternal life," Jackson said. "I also believe that students in fraternities and sororities are having some of the best leadership experiences on campus because of her. Allison is respected by the students she works with as well as professionals in the fraternal community nationally, and SUNY Plattsburgh is lucky to have her expertise, creativity and dedication to our students."
According to the association, Swick-Duttine's service to the fraternal movement "is consistent and far-reaching." She has served as a board member for the Northeastern Greek Leadership Association, the first chair of HazingPrevention.org, and executive vice president of the national women's sorority, Sigma Sigma Sigma, among others. The association honored her with two other awards in the past: the Shelley Sutherland Outstanding Volunteer Award in 2012 and the Sue Kraft Fussell Distinguished Service Award in 2007.
"This is my 23rd year working with fraternities and sororities at SUNY Plattsburgh, and I cannot imagine being in any other line of work," Swick-Duttine said. "It means the world to me to be recognized for this commitment and for the impact I have made both on this campus and in the fraternal experience across the nation."