Jump to Footer
SUNY Plattsburgh Offers First Undergraduate Ecology Major Program In SUNY
---
SUNY Plattsburgh's unique location has long been a draw to students who want to enjoy its proximity to Lake Champlain and the Adirondack Mountains.
That location now makes it stand out among SUNY schools for another reason: The College has become the first in SUNY to offer an undergraduate major in ecology. SUNY Plattsburgh students will have the opportunity to study and research forest, lake, river and wetlands ecology in areas that are literally on their doorstep.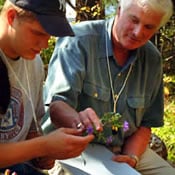 College Ideally Suited For Ecological Studies
"Plattsburgh is ideal for offering a major in ecology for two basic reasons," said Dr. Kenneth Adams G'77, distinguished teaching professor in the Center for Earth and Environmental Science.
"We have a strong cadre of ecologists on the faculty in environmental science and biology committed to teaching ecological sciences and supervising undergraduate research in ecology. Plattsburgh's location is perfectly suited for studying aquatic ecology in the local rivers and Lake Champlain and also studying the ecology of nearby northern forests, including those in the Adirondacks."
Students Participate in Research
Ecology majors will have the chance to work alongside faculty mentors through the Lake Champlain Research Institute and the Applied Environmental Science Program at the. W.H. Miner Institute where they will gain valuable experiences conducting ecological field research alongside faculty mentors.
Carrianne Pershyn, a graduating senior from North Tonawanda, N.Y., will be among the first SUNY Plattsburgh students to earn a degree in ecology.
"This new major gives students the opportunity to specialize in ecology within earth and environmental science," Pershyn said. "The faculty are great. They have so much to offer, including research opportunities for students. The major also offers many career opportunities for students like me."
Graduates Competitive in Job Market
"Students with a bachelor's degree in ecology will be competitive for entry-level jobs with private conservation organizations such as The Nature Conservancy, state-level environmental agencies such as the Department of Environmental Conservation and federal-level natural resource management jobs with the U.S. Forest Service, U.S. Fish and Wildlife Service and the National Park Service, as well as with the U.S. Environmental Protection Agency" Adams said. "Students with a bachelor's degree in ecology who wish to earn a master's degree will be well-prepared to succeed in graduate programs anywhere."