Jump to Footer
Film Festival Shines Light on Who We Are in the North Country | SUNY Plattsburgh
---
A sense of place is at the heart of a new film short by Julia and Michael Devine, adjunct lecturer and assistant professor, respectively, at SUNY Plattsburgh.
"Burgh" will have its premier Friday, Nov. 13 at the Strand Center for the Arts as part of the Lake Champlain International Film Festival, a three-day event featuring films from around the world and our own back yard.
The Devine duo began their film project at the beginning of summer, when Julia was creating a project for her Creative Communities Fellowship. The pair had wanted to create something that showcased Plattsburgh's sense of place.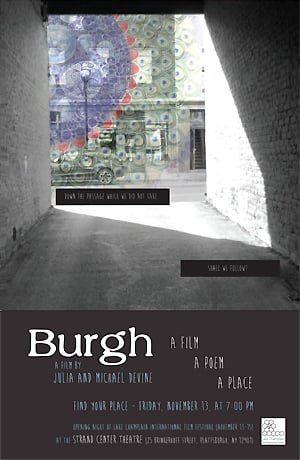 "'Burgh' is our effort to articulate what Plattsburgh is and how to find our place," Michael said. Since that time, the Devines have worked with community members, filmmakers, students and the college in shaping a film festival that will bring students the world, Michael said.
"The lineup is a remarkable celebration of pluralism in the North Country — a reminder we need now more than ever. With films from Iran, Germany, India, Serbia, Ghana, Canada and France, it's international, but it's also something more — it's about 'finding your place' here, now, in Plattsburgh and the wider world."
While "Burgh" focuses on finding one's place, the festival itself is seen by organizers as part of Plattsburgh's "broader cultural renaissance, led by the rebirth of the Strand Center for the Arts."
A free kick-off event will be held Friday, Nov. 13 and feature a preview of Mountain Lake PBS's newest documentary, "Arts in Exile: Tibetan Treasures in Small Town America," followed by "Manhatta," a 1921 short that uses Walt Whitman's poetry to re-imagine New York City, and then "Burgh." Julia and Michael will be on hand for a Q&A afterwards.
Saturday's slate of events begins at 10:30 a.m. with a short film showcase. Saturday afternoon will be devoted to films on agriculture, from a look at the new Hudson Valley distillery community in the film, "From Grain to Glass," to what it's like to be a farmer on a small Essex, N.Y., farm in "Small Ventures, Fresh Ideas." Students from Middlebury College and SUNY Plattsburgh submitted short films that explore the place of nature, adventure and play in the lives of children.
Other films on tap for Saturday evening include submissions from France, India, Germany and Ghana, among others, and a submission from Japan by 2000 SUNY Plattsburgh English alumnus Ian Thomas Ash called "-1287."
Sunday's line-up includes what organizers are calling the "Prison Block" —films that look at prisons, life behind bars, the families that visit from New York City, and more.
Panel discussions and Q&A sessions are planned for each of the three days. The film "Empire of Dirt," a Canadian entry about a young, single First Nations mother who struggles to bridge the generation gap with her daughter and mother, finishes the festival Sunday night. In addition, Dr. Breea Willingham, assistant professor of criminal justice, and Dr. Curt Gervich, associate professor of environmental science, will both be leading talkback sessions.
"Plattsburgh is in the midst of rebirth," Michael Devine said. "The Tibetan festival and the beautiful mandala mural downtown (on City Hall Place) are just some examples of that. The film festival, like the mandala, pursues questions of brokenness and wholeness, our fragmentation but also our essential unity. In finding our place, we end up finding each other. That's what these films teach us."
Tickets for the festival are free to students through the support of the Plattsburgh College Foundation. For other ticket information or more information on the Lake Champlain International Film Festival, call 518-563-1604.