Jump to Footer
Public Relations Program Powers Up Washington, D.C., with Interns | SUNY Plattsburgh
---
At any moment, on any given work day, Katie Garenani could look up from her desk and see President Barack Obama stroll by.
Garenani, who holds SUNY Plattsburgh degrees from 2006 and 2009, is among a cadre of public relations majors who have turned into rising stars in the nation's Capital. The 29-year-old earned her first bachelor's in sociology, and picked up a second bachelor's in public relations three years later. After a stint serving as director of fundraising and membership with the Champlain Valley Transportation Museum, she picked up dual master's degrees from the Newhouse School and Maxwell School at Syracuse University.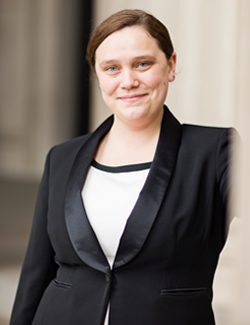 It was through an internship her last semester at S.U. with the Executive Office of the President that led to the position she holds in that office now, in its project management office. There, she assists various offices that need to work together so those involved know the scope, time frame and costs of their projects, among other things.
Although she doesn't work in the White House itself — "there are probably about 40 or 50 people in the White House, but there are other buildings on campus with probably 3,000 who support the president" — she has encountered the commander-in-chief when he has passed her in the hall or stopped into the office to thank staff for what they do.
"I get really jazzed up," she said. "I get a very patriotic feeling about walking into work some days. I can't get over this — I never imagined I'd be here."
Law Not Her Passion
The Plattsburgh native originally thought she might be interested in law. She graduated with her degree in sociology and worked in the law office of MaryAnne Bukholt-Ryder, but ultimately, it didn't play into what she was passionate about, although by her own admission, she wasn't even sure what that passion was.
"I was trying to figure out what I wanted to do," she said. She was employed. That was a plus. But it wasn't enough
"I spoke to a friend's mother who works at the college, and she told me to look at the college catalogue. I could go back to school and work at the same time," she said. Her first public relations class was with Colleen Lemza, assistant professor in journalism and public relations.
Assistant Professor a Mentor, Friend
"Colleen ended up being my mentor. She really pushed me to activated in my own career. She directed me to do as many internships as possible. She activated me to realize I wanted to go to grad school," Garenani said. "The teacher-student relationship at SUNY Plattsburgh is amazing. Teachers will take you under their wing, they'll talk you through where you need to be. I still speak with Colleen. She's always going to be my mentor — my mentor and my friend."
An internship with the Champlain Transportation Museum led directly to a job out of college. Soon she was named director of fundraising and membership.
Doors Were Going to Open
"I was fortunate to have that on my resume. (Ultimately), it wasn't where I wanted to be. Colleen helped walk me through my options, pushed me to know that whatever choice I made that would make me happy was the right choice. She told me the doors were going to open for me," Garenani said.
Doors to the Maxwell School of Citizenship and the S.I. Newhouse School of Public Communications at Syracuse University opened first. That led to the door at the Executive Office of the President. They hired her at the end of the internship two years ago.
"Colleen told me to take my time and enjoy this amazing opportunity. I really liked it, and they ended up hiring me."
Journalism, Public Relations 'Gave Her the Tools'
Maura Danehey '14 spent her last semester in Washington, D.C., as well, interning at the State Department. It wasn't Danehey's first time at the internship rodeo — she held interned twice with the State Department.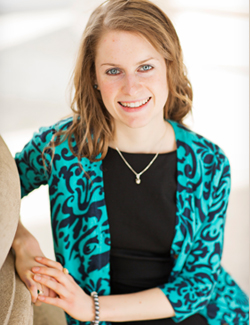 The journalism/public-relations dual major said SUNY Plattsburgh gave her the tools to perform — in the classroom and on the job.

"I feel so fortunate to have had the opportunity to study at SUNY Plattsburgh. The school offers us the opportunities to dive into many interesting, diverse areas. … I also believe we are fortunate to have practical experiences like working for clients, publishing magazines, creating television shows, writing for newspapers, conducting research studies — the professors are really invested in you."

The Dutchess County native calls herself "the proud product of the SUNY system," first attending SUNY Binghamton before transferring her last two years to SUNY Plattsburgh.

"Ultimately (SUNY Plattsburgh) felt right," she said.

'One of the Best'

SUNY Plattsburgh Journalism Professor Ron Davis called Danehey "one of the best — if not the best — writers I've known. She has a natural talent."

"I have a lot of respect for Dr. Davis," Danehey said. "I consider him a mentor and a friend. I admire him and really look up to him. We've had wonderful conversations about literature and writing and life. There were many times we sat together and just tore up my writing, making it stronger — 'increasing its density,' as we called it."

That talent brought internships, which were "both writing- and communications-heavy," she said.

"Each was challenging and a wonderful learning experience."

And The State Department post led her to Garenani.

"Colleen put me in contact with Maura," Garenani said. "She wanted somebody to be part of her support system. Maura and I met up with each other on a couple of occasions to talk what it was like to work here, to be in D.C." Garenani said it helps to know someone else who "has been here and has come from you've come from.

We'd bounce ideas off one another, talk about next steps, where we think we should be.

"Maura is amazing. She's super-activated within her career and has done some really amazing things. "

The feelings are mutual.

'SUNY Plattsburgh Alumni are Kind People'

"Katie is great. She is an intelligent, motivated woman who shared her time and experience with me," Danehey said. "SUNY Plattsburgh alumni are kind people, and they really want to help other alumni or current students."

"Both Maura and Katie are great," Lemza said. "Both are intelligent, focused, hard-working young women who are taking charge of their careers. They are such great examples of what SUNY Plattsburgh graduates can accomplish.

"In D.C., they're working alongside graduates from Ivy League and other prestigious schools, but Katie and Maura are succeeding because of their great education, down-to-earth attitudes and fantastic work ethic," she said. "It's so nice to have a small program where I get to develop strong bonds with students over the course of four years in numerous classes, practical and experiential opportunities, and then stay in touch with them as alumni. I'm so proud of them."

"I'm excited to continue learning — to explore and travel, to pursue higher education and to hopefully make a difference in this world," Danehey said. "I'm not sure where my life will lead. I am not someone who has had a 'dream' career her entire life. I have visions of things I enjoy and am learning how to incorporate them all into my life

"I want to live a meaningful life. I like to question, 'What am I contributing to the world?' I hope I'll be back to use my communication skills to help and advocate for others."

Unable to retrieve file contents for https://www.plattsburgh.edu/news/news-list.php
Warning: count(): Parameter must be an array or an object that implements Countable in phar:///var/www/staging/_resources/scripts/brei.feedmanager.ext/Filtering/FilteredObject.php on line 126