Jump to Footer
College's First Music Arts Management Majors Earn Degrees
---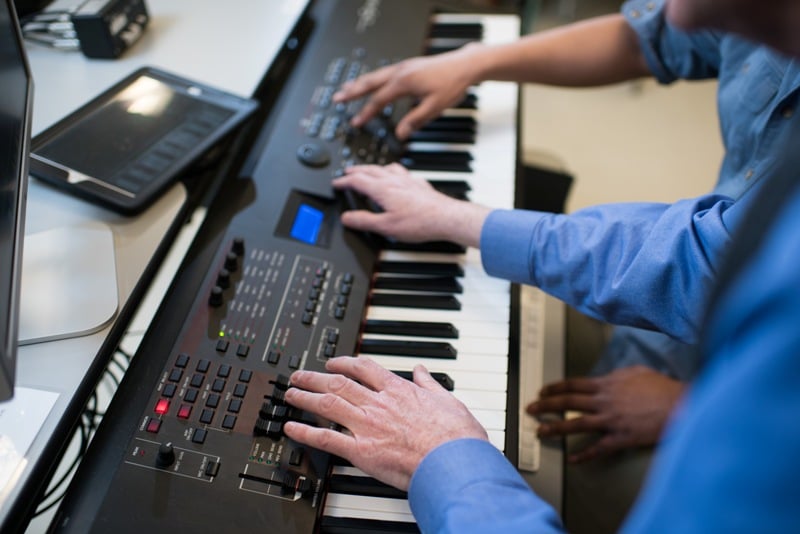 The first SUNY Plattsburgh graduates of the music arts management program crossed the dais at spring commencement May 15 and all three are parlaying that degree into three different careers.
And that's at the heart of the major.
Dr. Karen Becker, chair of the music department, worked to bring the major to campus because of its interdisciplinary attraction.
"It has core curriculum classes from business, public relations, marketing, English and music," Becker said. "It can easily blend with other programs as well."
The proof is in the varied experiences the graduating trio had as program participants.
Internships
"Sarah Apple paired it with a degree in communications, and did her internship at H&H Arts (music studio) in Plattsburgh helping to teach/manage students; George Hearn paired it with our music B.A. and is doing his internship working with (Artist Community Theatre) in Essex, N.Y., as they mount a production of 'Into the Woods.'" George will be involved in every facet of production — helping with marketing, playing rehearsals, and assisting with stage/sound tech.
"Tyler Dawson paired his degree with our music B.A. and a business degree," Becker said. "He did his internship at one of the big resort hotels in Lake George and is returning this summer as a full time office manager at that establishment."
Becker said in addition to adding courses like "History of Rock," they're looking at "Writing about Music," to "increase load in the area of program notes and liner notes," she said. Additionally, Becker said she would love to see a recording studio on campus that would allow students interested in music technology and recording as part of the major.
'Perfect Choice'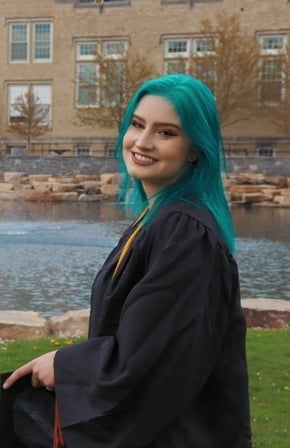 Apple is a multi-instrument musician who said for her, the music arts management program was a perfect fit.
"I've wanted to go into the music industry since 9th grade," the Duanesburg, N.Y., native said. "I've played clarinet for more than 12 years, and I also play guitar, ukulele, some piano, and some mandolin. Knowing that the odds of me making it as a performer were extremely low, the music business seemed to be a perfect choice."
Originally set to attend SUNY Fredonia, the major was a key draw. Once available, Apple was the first student who signed on. She added audio radio production as a dual major shortly after.
Nearly completely deaf in her right ear, Apple was told she may need to consider a degree other than audio or music.
"I decided to pursue audio/music production out of spite," she said. "Luckily, I genuinely love working with audio, so my spitefulness worked in my favor. I produced an album for one of my friends during the spring 2019 semester and since then, I have done work for other local artists and a lot of projects of my own. In the future, I hope to be working either in a studio as an audio engineer or as a tour manager for bands."
'Beautiful Campus'
Dawson, who served as student speaker at the 10 a.m. commencement ceremony, came to SUNY Plattsburgh from his hometown in Bolton Landing in part because of what he described as "the beautiful campus" and because of the music department.
"I heard from friends — and my brother (Mark '16), who also graduated from SUNY Plattsburgh — that the music department was amazing. After taking the tour and talking with the music faculty, I knew that it would be great for me," he said.
For Dawson, the switch to music arts management was an obvious choice.
"That was exactly what I wanted to do as a career, and I couldn't see myself in any other major," he said. "It had the perfect balance of everything that I loved, whether it was a business course, music or management. I wanted to get the most I possibly could academically in my time at SUNY Plattsburgh."
His plan is to get a master's degree in music business "and begin my search for a career in the music industry," he said. "I would really love to work alongside artists and create a name for myself."
Encouraged Piano Lessons
Hearn is no stranger to music and theater. The son and namesake of Tony Award-winning actor George Hearn Sr. of "La Cage aux Folles" and "Sweeney Todd" fame, and Broadway actress Leslie Simons Hearn, was exposed to music as a young child.

"When I was six, my parents and I agreed that it would be best to invest in piano lessons," Hearn said. "My interests in piano and music grew from that point on. My parents kept encouraging me to keep pursuing piano throughout elementary, middle and high school."

The Essex, N.Y., resident decided during his senior year in high school that it made sense to pursue a degree in music.

"We heard great things about the music department at SUNY Plattsburgh," he said. Additionally, his father received a SUNY honorary degree bestowed during SUNY Plattsburgh's May 2011 commencement. He reached out to Becker and enrolled as a double major in music arts management and music.

Despite his parents being Broadway royalty, Hearn is looking to turn an unexpected love of business and accounting into a career, but one that won't be that far away from the family business.

"I've been considering pursuing a degree in accounting and become an accountant for a music company," he said. "I was fortunate enough to take two accounting courses and this furthered my interest in this subject. In fact, I wouldn't have developed an interest in accounting if it weren't for music arts management.

"There are so many different directions you can take while pursuing this program and after you graduate," Hearn said. "Music arts management offers courses in music theory, music history, music technology, public relations, accounting, marketing, management, communication and economics. I've learned an incredible amount of information about all these subjects, and it wouldn't have been possible (otherwise)."

For more information on the music arts management program, contact Becker at 518-564-2471, email [email protected], or visit https://www.plattsburgh.edu/programs/music-arts-management-major.html.

Unable to retrieve file contents for https://www.plattsburgh.edu/news/news-list.php
Warning: count(): Parameter must be an array or an object that implements Countable in phar:///var/www/staging/_resources/scripts/brei.feedmanager.ext/Filtering/FilteredObject.php on line 126