Jump to Footer
College Continues to Place Well in State, National Rankings
---
SUNY Plattsburgh has been recognized for programs and overall affordability by several national ranking entities, including Money Magazine and U.S. News and World Report.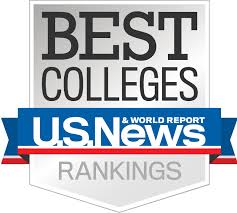 U.S. News ranked SUNY Plattsburgh 21 out of 62 top public schools in the nation, explaining, "Public colleges and universities typically operate under the supervision of state governments and are funded, in part, by tax dollars and subsidies from the state. As a result, these universities often offer discounted tuition to residents of their states."
Of those in the top public schools listing, they say, "Public schools (here) run the gamut from small liberal arts colleges to large research institutions."
They also rated SUNY Plattsburgh 51 out of 176 on social mobility for economically disadvantaged students, those less likely than others to finish college.
"But some colleges are more successful than others at advancing social mobility by enrolling and graduating large proportions of disadvantaged students awarded with Pell Grants," they said. "The vast majority of these federal grants are awarded to students whose adjusted gross family incomes are under $50,000."
Additionally, U.S. News and World Report ranked SUNY Plattsburgh 43 out of 73 in the "Best Value Schools" listing.
"The higher the quality of the program and the lower the cost, the better the deal," they wrote. "Only schools ranked in or near the top half of their categories are included because U.S. News considers the most significant values to be among colleges that are above average academically."
The college was also ranked as a best college for veterans, coming in 41 out of 49.
Money Magazine ranked SUNY Plattsburgh 187 out of 739. To make that cut, a college had to:
Have at least 500 students
Have sufficient, reliable data to be analyzed
Not be in financial distress
Have a graduation rate that was at or above the median for its institutional category (public, private or historically black college or university), or have a high "value-added" graduation rate (in other words: score in the top 25 percent of graduation rates after accounting for the average test scores and percentage of low-income students among its enrollees)
SUNY Plattsburgh also received favorable reviews from national publications and online sources, citing quality, affordability and reputation, including:
Washington Monthly, which ranked SUNY Plattsburgh 129 out of 397 in the northeast as a "Best Bang for the Buck" school and 108 out of 614 for the master's program
The Wall Street Journal/Times Higher Education College Ranking, which listed SUNY Plattsburgh in the 501-600 spread out of 797 institutions they ranked nationally. Within the Northeast, they ranked the college 166 out of 257.
EduRef.net, which ranked the college 16 of 24 colleges and universities nationally for online accounting degrees
Onlinedegrees.com, which ranked the college No. 1 out of 20 top online colleges in New York
TheBestSchools.org, which ranked Plattsburgh 20 out of 25 for best online colleges in New York
Affordableschools.net, ranking the college six out of 50 as a best affordable school for its degree in nutrition, 20 out of 20 for affordability in New York state, and seven of 10 for affordable online colleges in New York
Collegetotal.com, ranking Plattsburgh first out of 25 schools nationwide for its online accounting program
Intelligent.com, which ranked SUNY Plattsburgh for its online degree programs among the Top 50 Colleges in New York for 2021, based on curriculum quality, graduation rate, reputation and post-graduate employment
And for the first time in more than 20 years, Kiplinger's Personal Finance — which ranked SUNY Plattsburgh 85th out of 174 for out-of-state and 113th of 174 for in-state students last year — joined the rest of the country during the pandemic and put its rankings on pause.

"But this year, as the coronavirus forced schools to shutter in mid March and transformed the higher-education system practically overnight, we put our rankings on pause," they said. "Instead, we decided to focus on strategies for getting the most value out of a reeling higher-education system, including transfers, gap years and increased financial aid."