Jump to Footer
'As You Are' Graduation Ceremony Honors Student Communities
---

Class of 2019 graduates who self-identify within the LGBTQ+, black, Latinx, and international communities were celebrated at SUNY Plattsburgh's first "As You Are" ceremony Wednesday, May 1 in the Angell College Center ballrooms.
Jacob Avery, assistant director, Center for Student Involvement, was master of ceremonies, introducing President John Ettling to welcome students, faculty, staff and guests.
"I'm trying to imagine what this college would be like if we were only here to serve the students from North Country high schools," he said. "You make Plattsburgh a vibrant, more diverse place. Our campus is a better place because you're here; you stuck it out and you're graduating. We wish you well in your lives to come. I couldn't be happier and look forward to meeting you at commencement May 18."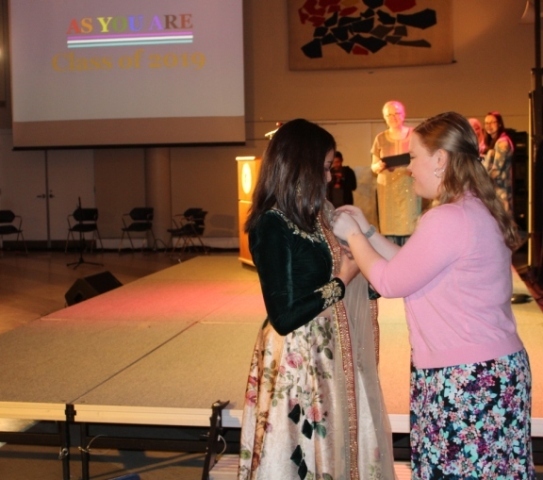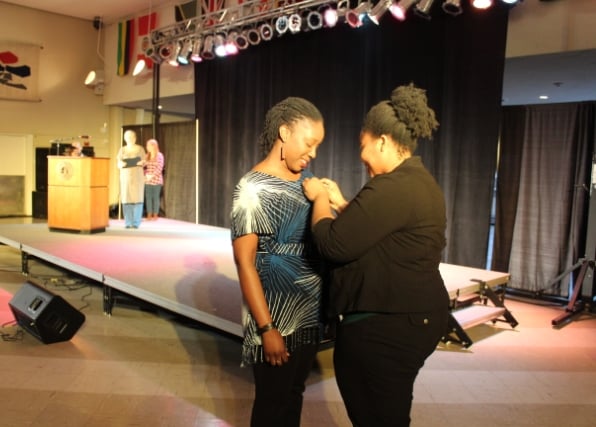 Students participating in the ceremony made pins that represent who they are and how they identify, and as their names were called, representatives from RADIUS, the HUB and Global Education Office, as well as friends, helped the students attach their pins before they then crossed the platform to accept certificates.
'Remain Authentically Ourselves'
Safara Wanjagi, a senior from Nairobi, Kenya, delivered the student address.
"Modern philosopher Alain de Botton once stated, 'Growth occurs when we discover how to remain authentically ourselves in the presence of potentially threatening things.' While it is a bit of an exaggeration to call Plattsburgh a threatening environment, I believe that college is where we have an opportunity to discover who we authentically are," she said. "Most of us are large distances away from home; some from across the state and others across the seas.
"Once in Plattsburgh, we shed our ties that used to be our main identifiers for most of our lives. We are no longer someone's child, so-and-so's sibling. We are just us. We find out what works and what doesn't. We grow mentally, emotionally, spiritually, professionally and socially. And this is just the beginning. May we continue to change and create ourselves over and over again throughout our adult lives. May we take each new challenge as an opportunity to grow."