Jump to Footer
Dr. James Armstrong of SUNY Plattsburgh Promoted to SUNY Distinguished Teaching Professor
---
Dr. James Armstrong, professor and chair of the anthropology department at SUNY Plattsburgh was promoted to the rank of SUNY Distinguished Teaching Professor, a rank above Professor. This year's awards were bestowed on just nine faculty members from the 64 campuses in the SUNY system.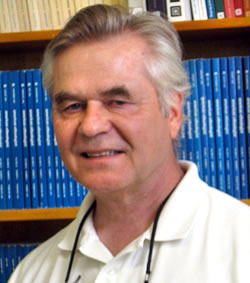 Dr. James Armstrong "Jim has done SUNY Plattsburgh proud in receiving this award," said President John Ettling. "On our campus, this award is especially prized, as it reflects our strong commitment to quality teaching and an environment that fosters close student-faculty collaboration."
Student Centered Approach
Armstrong said he is humbled by the honor. "My tenure at SUNY Plattsburgh has been dedicated to good teaching," he said. "I gauge my success on the achievements of my students in the classroom and after graduation; that is the greatest reward for me."
In accepting the award, Armstrong recognized the impact his colleagues have had on his teaching. "I'm surrounded by dozens of models and mentors who have helped me grow and become a better teacher," he noted.
Dr. Armstrong takes a "student centered" approach that is proven through the hundreds of friendships that he maintains with former students. Current students as well speak with praise about their teacher and mentor.
SUNY Plattsburgh graduate student Larry Dolan couldn't agree more, "Dr. Armstrong makes you feel like a participant in the learning experience, he doesn't just lecture at you," he said.
Another student, Robert Abel, a senior anthropology major, wrote in a letter supporting Armstrong's nomination, "I would not be where I am today had I not met Dr. Armstrong. Having known him for several years as a professor, anthropologist, and mentor, I have often been reminded of the enduring value of his counsel and instruction in every challenge, academic and otherwise, that I have faced since meeting him."
Excellence, Mastery and Growth
Presented annually by SUNY, the award is bestowed upon faculty that demonstrate consistent superior mastery of teaching; outstanding service to students and commitment to their ongoing intellectual growth, scholarship and professional growth; and adherence to rigorous academic standards and requirements.
Award recipients must also have attained and held the rank of full professor for five years, have completed at least three years of full-time teaching at the nominating campus and 10 years of full-time teaching in the SUNY System and must have regularly carried a full-time teaching load as defined by the campus at the undergraduate, graduate or professional level.
This year marks Armstrong's 25th as a member of the faculty at SUNY Plattsburgh. He also serves as the associate director for the honors program at the college. Armstrong earned his bachelor's degree in anthropology from California State University, Long Beach and his doctorate from the University of California, Riverside.
Armstrong and his wife Rachelle, an English teacher at Beekmantown Middle School, have two daughters and a son and reside in Plattsburgh.