Jump to Footer
Interim Academic Affairs Provost and Senior VP Joins SUNY Plattsburgh Roster
---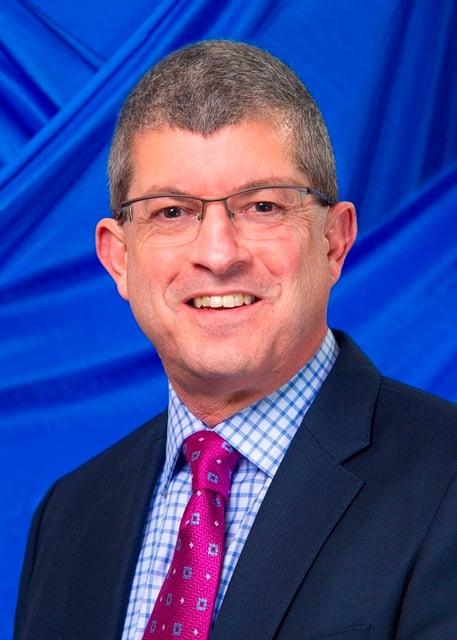 A former provost and vice president for academic affairs at Western Washington University will join SUNY Plattsburgh in a similar interim capacity.
Dr. Brent Carbajal, who served for nine years as provost and vice president for academic affairs at Western Washington University before retiring one year ago, will begin as interim provost and senior vice president for academic affairs beginning Monday, Aug. 14.
Carbajal's work at Western Washington, in Bellingham, Wash., 20 miles south of the Canadian border, spanned more than 25 years and also included roles as professor of Spanish, department chair and dean.
Depth of Experience
While WWU is more than three times SUNY Plattsburgh's size, the university and its surrounding community have many similar qualities and distinctions that parallel ours. Carbajal's depth of experience and his enthusiasm for the position will serve us well for the next academic year.
According to Dr. Alexander Enyedi, SUNY Plattsburgh president, priorities for Dr. Carbajal's year-long appointment include a focus on the budget and financial stability of the division, academic program development, student retention, shared governance, and an examination of the structure and organization of academic affairs.
For his part, Carbajal may be retired but is far from severing his ties to higher education.
"When I retired in August of 2022, I knew that I wanted to stay active in academia. I had also seen some external interim leaders at WWU help move us forward in important ways and sometimes complex situations," he said. "I thought to myself at the time that if my experience and knowledge of university administration could help another institution move forward, that would be work in which I would be interested during my retirement."
Mission, Values Aligned
Among the reasons that drew Carbajal to SUNY Plattsburgh are how closely its mission and values "aligned with WWU's and with my own sense of how we should be serving students and communities," he said.
"I feel very strongly about the importance of equity of access to higher education and also about equity of outcomes and success," he said. "Supporting people as they strive to solve problems and work toward solutions has always been one of my favorite aspects of the provost position. Along these lines, I look forward to collaboration with many new colleagues and to learning about challenges and opportunities associated with progress on the strategic plan.
"Universities are their people, so I'm looking forward to meeting Plattsburgh students, staff, and faculty, Carbajal said. "Then, I have never been to your part of the country. I'm fond of snow in the winter and I'm told that Plattsburgh might be able to provide some of that. I had a year to relax after my career at Western Washington - I hiked the Grand Canyon, read something like 15,000 pages, prioritized my running, and took some fun trips with my wife - so I felt like the Plattsburgh opportunity was one I should explore. I was honored and humbled to be selected for the interim appointment."
Priorities Connected
And as for the priorities outlined by the president, Carbajal said it's difficult to look at them as separate entities.
"Because all of (the president's) priorities are so connected, I don't necessarily see a 'first' priority," he said. "For example, the financial stability of academic affairs is critical to academic program development, which is tied to student retention — and recruitment, by the way.
"I will also say that I think that shared governance on campus can and should play an important role in all of this work. So rather than a rank order list, I see the priorities more as a coherent and interconnected grouping of goals for the year," Carbajal said.
Enrollment on Pace
Carbajal is entering the academic year with enrollment hitting its goal in new-student enrollment. According to President Alexander Enyedi, new-student enrollment for the fall 2023 semester is on pace to meet or exceed the university's goal of 1,700.
"We are still processing state-side funding from SUNY for the new fiscal year, but we will close the last fiscal year with revenues and expenses about even, giving us roughly the same $14 million carry forward balance as a year ago," Enyedi said in a campus-wide message. More will be known on both enrollment and the budget as the university enters the fall semester, he said.
Residence halls open for first-year and transfer students Thursday, Aug. 24 and Friday, Aug. 25 depending on the first letter of their last name. Returning students arrive Saturday and Sunday, Aug. 26 and 27 in the same manner depending on their last names.
Early Arrivals
Students who are enrolled in an educational experience such as an internship or student teaching that requires them to arrive early and those students with extreme situations will be considered for an early move-in date. They need to contact campus housing at [email protected] to explore this option.
On-campus students should log into the Housing Portal to see their fall housing assignment, roommate information, and information regarding their mailing address. Students and families will receive more information containing specifics related to the move-in process a week or so from the start of the Fall 2023 semester.
Activities opening week include:
Friday, Aug. 25
Fall 2023 Matriculation Ceremony, 4 p.m., Memorial Hall Gymnasium — The Matriculation Ceremony marks a formal entry into the SUNY Plattsburgh community and is a time for new students to connect with each other, faculty and staff at the beginning of their academic journey. All new students should attend this event.
Saturday, Aug. 26
Welcome Back BBQ, 11:30 a.m.–3:30 p.m., courtyard between the Angell College Center and Champlain Valley Hall. Lunch provided by CAS/Chartwells. All students and opening volunteers welcome
Involvement Fair, 1–3 p.m. inside and around the Angell College Center, Amite Plaza. Come find out more information about clubs, organizations, sports clubs, and other groups on campus.
Plattsburgh Palooza, 1–6 p.m., grounds around the Angell College Center. Activities include American Chaos Obstacle Course, an inflatable rock wall and Zorb Soccer.
Laser Tag, 8–11 p.m., Angell College Center Ballrooms
Sunday, Aug. 27
Academic department meetings, 11 a.m.– noon: A time for new students to meet their faculty members, interact with students in their major and learn about their degree program. Additional details will be sent via email. Meet at the location that corresponds to the school of your academic major. All new students should attend this event.
Arts and Sciences majors — Meet at Hawkins Pond
Business and Economics majors — Meet at AuSable Hall
Education, Health and Human Services majors — Meet at Sibley Hall
Undeclared and unsure majors — Meet at Angell College Center Lobby
Academic buildings open, 1–3 p.m. — All academic buildings will be open for students to "walk their schedule" and use this time to take a self-guided tour, find classrooms and learn more about the campus.
For more information about opening weekend, resources and campus life, visit https://www.plattsburgh.edu/current-students/opening-week-information.html or call 518-564-2121
Classes resume Monday, Aug. 28.
— By Associate Director of Communications Gerianne Downs