Jump to Footer
CACREP Accreditation
---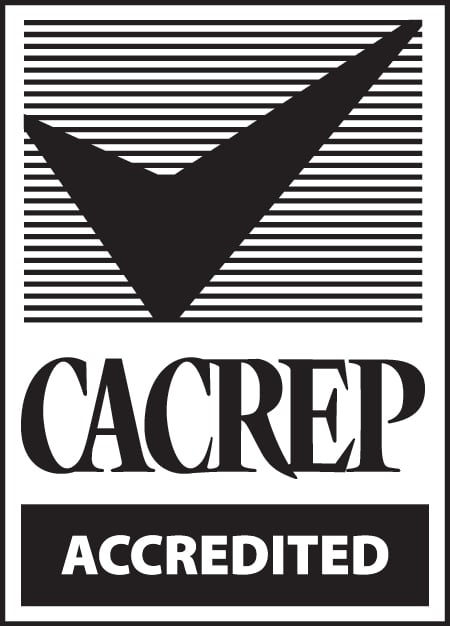 Our counselor education program is accredited by the Council for Accreditation of Counseling and Related Educational Programs. Accreditation extends through October 31, 2029.
Why is CACREP Important?
---
CACREP assures the quality of an academic program
CACREP graduates perform better on the National Counselor Examination (NCE)
Graduation from a CACREP program streamlines the licensure application process
CACREP programs are regularly reviewed against professionally approved standards
*From https://www.cacrep.org/
CACREP Reports & Assessments
---
What is Program Assessment & How is it Used?
---
As faculty members, we regularly assess our students on academic progress and professional dispositions. Part of this assessment includes our Key Performance Indicators (KPIs), which you can find above. As a faculty, we chose what we considered to be the most important CACREP standards to assess and created our KPIs, which measure both the knowledge and skills of our students. The KPIs are measured through a combination of classroom assignments, exams, and standardized test scores.
We also measure professional dispositions for each student in fall and spring semesters at mid-term using the qualities and behaviors listed in our Retention and Remediation (R&R) checklist, which can be found on our CACREP website as well. In addition to our formal R&R evaluation of every student each semester, we also have an agenda item for every department meeting called Student Concerns During department meetings, Student Concerns gives faculty time to share observations about students who may be struggling in or out of class; this gives the faculty the opportunity to reach out to assist students and remediate any problematic behavior without having to wait for a formal R&R review.
For our department, we assess ourselves through student progress, site supervisor evaluations, graduate job placement rates, and surveys of program graduates, employers, and site supervisors. The surveys are sent to graduates, employers, and site supervisors every 4–5 years to help inform us of how our graduates are doing as professionals in the field. We also take interest in suggestions received from our many constituents. All assessment information is reviewed by the department faculty during our pre-semester retreats and throughout the academic year to update and improve our curriculum and teaching/supervision methods.
Data from the 2019–20 academic year was collected, aggregated, and then analyzed by the faculty in Summer 2020. The faculty focused not only on the snapshot information from the academic year, but also data-over-time. Data was compared to previous years' data as well as national data available to make sure our students and our program were performing at acceptable levels. We found that both our student learning outcomes and our program objectives were being met and no curricular or program changes were needed for the upcoming year.