Jump to Footer
Alumni Profiles
---
See what our grads are doing.
Jeffrey DeChristopher, Class of 2010
---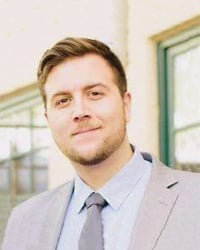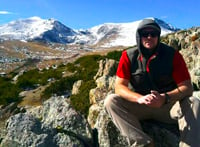 Investigator, Financial Intelligence Unit, Western Union
Certified Fraud Examiner
Jeffrey DeChristopher is a 2010 graduate of the political science program at SUNY Plattsburgh and a certified fraud examiner. He is lives in Denver, Colorado and is an investigator with the Financial Intelligence Unit at Western Union where he conducts internal investigation at the request of domestic and international law enforcement agencies to identify individuals potentially associated with terrorist organizations and other criminal enterprises.
Various Paths to Success Start Here
"I really enjoyed—and benefited—from the flexibility I had in choosing from a wide range of courses to satisfy my graduation requirements. Attaining core analytical and research skills in conjunction with cultivating a broad understanding of both domestic and global politics, were necessary in creating a firm foundation that have real world applications in multitude of industries. The true breadth of potential career paths a graduate from the political science program can take is evident when comparing my professional experiences to those of my classmates."
Great Professors, Mentors
"With no exception, the educators in the political science department are highly motivated and passionate about the topics in which they teach. They are equally as passionate about the success of their students. The advice and guidance I received from the political science department continues to help in my professional development."
"In the spring of 2010, I was an intern in the New York State Assembly Session Internship Program in Albany, New York. This was an excellent experiment in applying the skills and knowledge I attained into a real world scenario."
"Find ways to refine research, writing and analytical skills in every course you take. Enroll in some electives with a technology element so that you may broaden your horizons. Take the time to talk to your professors outside of the classroom. Above all, be open minded and let your brain be a sponge."
Danielle Freedman, Class of 2012
---

Organizational Efficiency & Oversight Management Consultant, Booz Allen Hamilton
M.P.P. in National Security Policy, George Mason University
After graduating from SUNY Plattsburgh, Danielle Freedman went on to earn Master's of Public Policy with an emphasis on national security policy from George Mason University's School of Policy, Government, and International Affairs. She is now an organizational efficiency and oversight management consultant for Booz Allen Hamilton, currently consulting for United States Customs and Border Protection at the United States Department of Homeland Security in Washington, DC. Danielle was the SUNY Plattsburgh political science department's 2012 Political Science Leadership Award recipient.
SUNY Plattsburgh is Home
"The political science program at SUNY Plattsburgh has provided me with more than an education; it taught me to believe in myself as both a professional and an academic, and to always reach for more. Those skills have stayed with me to this day—through Congressional campaigns, Capitol Hill, and federal offices.
"When I arrived at SUNY Plattsburgh, I was a kid looking for my place in the political/policy world like everyone else; however, the courses at SUNY Plattsburgh, along with the support from the professors, helped me become a leader and a professional. I truly could not have asked for a more supportive set of professors and peers.
"My advice for students is to take advantage of the opportunities presented to you! The staff is excellent and the courses are what you make of them. In other words, don't be afraid to ask questions. Don't be afraid to make the courses work for you instead of you working for the courses. I promise you that the staff at SUNY Plattsburgh want you to grow and will help you get to where you want to be in any way that they can. In addition, I'd like to note that this is not limited to the political science program – join a club, run for a Student Association position, or simply join an SA committee or board as a regular member. I was a student association senator, political advocacy and awareness ex-officio, and on a million boards and committees and it made all the difference!"
Brian Culligan, Class of 2009
---

Senior Admissions Advisor, SUNY
Co-Chair, Government Relations Committee, National Association for College Admissions Counseling, NYS Affiliate
Graduate studies in Industrial Labor Relations, Cornell University
Brian Culligan lives and works in New York City where he is an admissions advisor for the SUNY system. Brian works with high school students and their families to help them understand the SUNY system, and prepare for a college education. He also serves as the co-chairman of the Government Relations Committee for the New York State affiliate of the National Association for College Admissions Counseling. In this position, Brian is responsible for guiding the organization's legislative priorities, identifying and tracking emerging state and national legislation, and advocating in Albany and D.C. for (or against) those bills.
Why PoliSci?
"As is true of many students entering college, I had absolutely no idea as to what I should study. I entered Plattsburgh as an undeclared major, and bumped around through several departments until I eventually stumbled upon a political science course. While it was a gen. ed. requirement that brought me there, it was the real world experience of the faculty members that engaged me, and that sparked my passion for the subject. I truly felt as though each of my professors taught from their own experiences, rather than a text.
"My advice to current and prospective political science students is to realize that that politics is a whole lot closer to home than you may think. It is an investigation into the organizational structures of a society. It gives you a deeper understanding as to how things in that society come to be, and how they change—whether you're starting a business, or a movement. It's all political. The curriculum will give you the tools to operate in the real world. It'll teach you to think critically, to write passionately, to form an agenda and push it forward. These tools are invaluable in life and work."
Franco Bastida, Class of 2015
---

Franco Bastida triple majored in Latin American studies, journalism and political science at SUNY Plattsburgh. As an undergraduate student, Franco took lead roles in-and-out the classroom as an intern for the Aaron Woolf for Congress Campaign, a delegate for the Washington Model Organization of American State (WMOAS), and editor for Cardinal Points, SUNY Plattsburgh's award-winning newspaper. He is also a recipient of the 2015 SUNY Chancellor's Award for Student Excellence.
Why Political Science Matters
"I think both political science and Latin American studies helped me comprehend that there are no easy ways to achieving common solutions to an issue. The process of politics demands us to remain engaged, to question the evident, to reach consensus and to recognize our own bias when pushing an agenda, all wrapped in a certain degree of diplomacy."
The Plattsburgh Difference
"SUNY Plattsburgh has a good program. The courses require students to reconcile the past, present and future, whether in the study of political philosophy, international relations, law, policy and more.
"After graduation, I interned for the PanAm Post, an online newspaper covering the Americas. Later, I worked as a research fellow for the Center for International Policy, a Washington-based think tank, where I analyzed data and wrote about defense and security issues in Latin America and the Caribbean. I would not have succeeded at my internship and fellowship if it had not been for those classes on regional studies, political theory and foreign affairs."
"Do not wait to get involved in college. Take small steps towards your future each day. Try different classes and be open to consider all opportunities that do come your way, even if it is not exactly what you wanted. Cultivate meaningful relationships with your professors and classmates. They care about you and want you to succeed. Most importantly, take advantage of time!"