Jump to Footer
'Week of Caring' Gives Volunteers Virtual, Local Opportunities to Help
---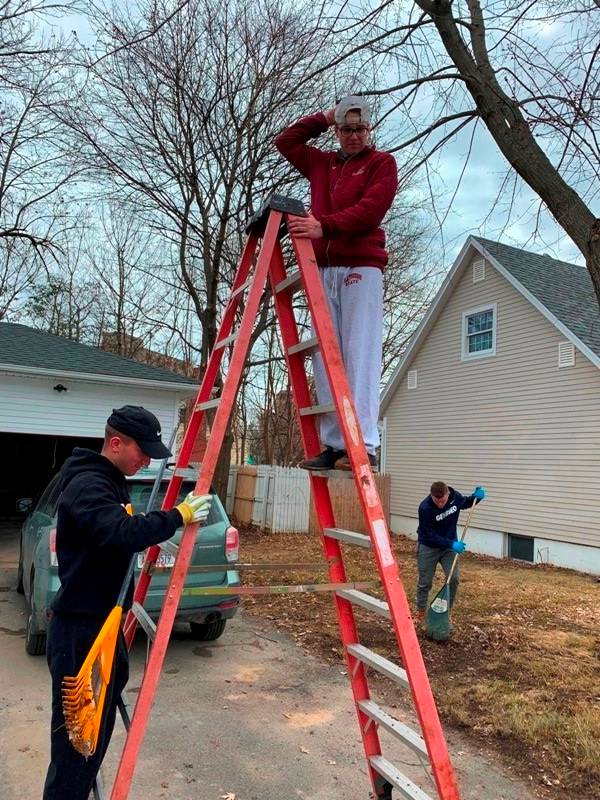 SUNY Plattsburgh's Project HELP, in partnership with United Way of the Adirondack Region, will host "A Virtual Week of Caring" from Monday, April 20 to Saturday, April 25.
Originally scheduled for just April 25 as the annual Day of Caring, the college and United Way created "different things you can do every day next week to make a difference in the lives of others in our community and beyond" in the wake of COVID-19, said Allison Swick-Duttine, director of fraternity/sorority life and Project HELP.
United Way chapters across the country began A Day of Caring more than 20 years ago as a way to honor Earth Day each April. Locally, student volunteers have contributed thousands of hours making a difference in the community at dozens of sites, including nursing homes, the Strand Center for the Arts, Plattsburgh Community Garden, various highway clean-up sites and more. Project HELP and United Way wanted to continue the tradition in another form in the midst of the pandemic, Swick-Duttine said.
"This year, we urge you to continue social distancing and proper prevention tactics — handwashing, hand sanitizing, face coverings, standing six feet apart, etc. — when doing any of these activities that may result in being outside of your home," she said.
Campus organizers have divided suggestions into daily themes:
Monday: Thank the Frontline
Thank healthcare, first responders, mail carriers, sanitation and utility workers
Tuesday: Help Cure Catastrophic Childhood Diseases with St. Jude
Participants are asked to send emails inviting people to donate to St. Jude's Children's Research Hospital through the No More Cancer Rally Participant Center.
Wednesday: Do a Random Act of Kindness
Contact a neighbor or friend and offer to get their groceries, do three acts of kindness, no matter how small and share on social media with hashtag, #projecthelp and #weekofcaring20, make notecards and send them to nursing homes, write three people you're grateful to and tell them why
Thursday: Donate What You Can
Donate jigsaw puzzles, puzzle books or games to Plattsburgh Housing Authority, drop off food, old blankets, cleaning supplies to the local animal shelters, collect recyclables and donate to a local drop box, donate shelter-in-place needs such as toilet paper, hand soap, sanitizer, socks, diapers, etc. to homeless shelters
Friday: Social Distancing Doesn't Mean You Can't Volunteer
Do yardwork for an elderly neighbor, donate blood or plasma, pick up trash, provide mentorship to middle- and high-school students
Saturday: Share How You Cared
Write a statement about the impact you made during A Week of Caring along with a photo and post it to Facebook, Twitter and/or Instagram with the hastags #projecthelp and #weekofcaring20
Junior human development/family relations major Lucas Draffen, a member of the Tau Kappa Epsilon fraternity from Canajoharie, N.Y., said he and his fraternity brothers will be participating in the week-long event virtually.
"I am the recruitment director for the great organization, No More Cancer Rally initiative, so I plan to be attempting to raise money for St. Jude," Draffen said. "Most of my brothers have gone home and are quarantining, but we will all attempt to raise as much money for disease research."
Sophomore psychology major and Burlington native Aquilas Lokossou is going to be "thanking the frontline, sending ecards to the health workers at CVPH in Plattsburgh, leaving candy in the mailbox for my mailman is also an easy task I will complete," Lokossou said. "I will also send out 10 emails asking for donations for the St. Jude's Research Hospital." Like Draffen, Lokossou is a member of a fraternity, serving as the director of member and community engagement for Sigma Tau Gamma.
"My mother is a health worker and she is very strict about social distancing guidelines; I am to stay home 24/7," he said. "This hinders me to try to complete some of the options on the task that includes leaving home to do day of caring tasks," Lokossou said.
Swick-Duttine said she hopes faculty and staff participate as well as students.
"I will be participating every day," she said.
Although touted as a virtual program, organizers stress there are many ways to make a difference, both remotely where many students are now and locally as outlined on the suggested list.
"As long as social distancing is maintained and other safety procedures are followed, there are plenty of opportunities to volunteer within our community," Swick-Duttine said. For ideas, contact Project HELP at [email protected]u.
Swick-Duttine said students can receive service hours credits for their Week of Caring work by logging into the Helper Helper app and selecting "Add Past Commitment."
The United Way of the Adirondack Region has its own similar week of daily themes. They can be found here: https://www.unitedwayadk.org/.
For more information on A Virtual Week of Caring, visit https://docs.google.com/document/d/1peNjtUovU0psC5U1NknGn7P7aKOk6upOMMc6Im-Oi5s/edit.