Jump to Footer
Upward Bound Brings Students Back to Campus for Summer Classes
---
The summer Upward Bound program at SUNY Plattsburgh is in full swing, and for the first time since 2019, students are back on campus.
More than 150 high school students are attending academic classes, electives and special talks now through program's end Aug. 6. Brian Post, director, said that students and faculty alike "are ecstatic to be here in person again."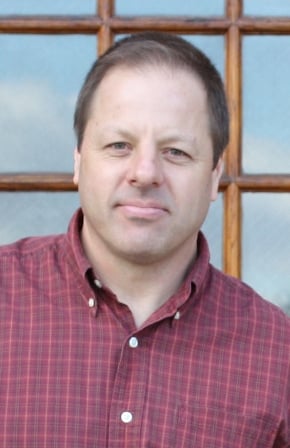 The program looks different than in years' past, when incoming high school sophomores, juniors and seniors would stay in the college's residence halls to give them a fuller collegiate experience. This year, they're participating as day trippers with two cohort blocks taking place Mondays and Wednesdays, Tuesdays and Thursdays. But Post said his staff has been working to provide students with as fulfilling an experience as possible given the COVID precautions that precluded their residency this year.
Academic and Elective Classes
"Mornings are filled with academic courses — they take three classes between 9 a.m. and noon — in a variety of mixed curricula," Post said. Those include math, science, English literature and languages, history and social studies. Electives include effective debating, financial literacy, genealogy, health and fitness, 3-D printing, poetry, journalism and more.
"There's a whole host of classes being offered," Post said. All students take a prep course based on grade level: sophomores take "7 Habits of Highly Effective Teens;" juniors take an SAT prep class and seniors take senior writing where they work on their college essays.
Seminars are held after lunch based on grade level. Later in the afternoon are fun, engaging activities students can participate in that help them bond with each other, Post said.
There's lawn games, outdoor sports, yoga and spin classes, kickball, soccer, volleyball and other physical activities.
In addition, students participate in community outreach during the afternoons. Projects include Adopt-a-Highway, community food drive, Plattsburgh Park Green-Up, the Saranac Riverwalk project, and volunteer work at the Strand Center for the Arts and Vilas Home.
Most Intensive
"The summer program is the most intensive piece of Upward Bound meant to simulate the college experience, to get them on campus so when the time comes, they're ready," Post said. "But we have so much going on during the school year. Our counseling staff has contact with students throughout their whole academic year, advising on coursework, making sure they're signing up for the SATs and so forth. They're pre-college advisers."
Counselors work with 209 students annually from the region encompassing the 15 high schools in Clinton, Essex and Franklin counties, and they go to those schools each day to be with them, Post said.
Part of the federal TRIO initiative, Upward Bound is an educational opportunity for high school students who have the potential to continue their education beyond high school. The program at SUNY Plattsburgh, continually funded since 1966, is the largest in New York state and 13th largest in the nation out of 967 programs.
"During a normal year, counselors do a lot of college visits with students; virtually last year we did 28 different events," he said.
Academic Enrichment
Students attend year round, receiving academic enrichment, counseling and leadership opportunities through graduation. Ninety-three percent of Upward Bound alumni go on to college; 59 percent graduate, compared to 21 percent nationally.
"It's all-encompassing. They work with them for three and a half years while in high school," Post said.
Owen Casler is what the program calls a "rising senior" who has participated for the last three years. He'll be a senior at Saranac Lake High School in the fall.
"Since the first summer, I came here for the people and I stayed here for the people, even last year when it was Zoom," Casler said. "The experience has been great; I'm proud to be here and excited to come every day."
Jenna Switzer, senior at Tupper Lake High School is also a third-year summer program participant.
"My first year I was nervous, but there were other people in my grade who were also going, and I started to click with everyone in my group," she said. "Second year was not that great because of COVID, but I'm really grateful this year even if we only meet two days a week."
Casler and Switzer, along with "rising sophomores" Kaylee Hazier from Peru High School and Lilah Kotsogiannis from Saranac High School, are in Karen Reynolds' public speaking class together where they're learning how to give explanatory speeches.
"I've enjoyed it so far," Hazier said. "This is a small class, so it's been good and we all get along."
'About Hope'
Reynolds, who teaches at Seton Catholic Central School in Plattsburgh who is also teaching a unit on debate, said Upward Bound is "about hope, the future and knowing that others believe in you, support you and wish you well."
"It's tough this year, only having the students twice a week," said Corey Mousseau, a Plattsburgh High School physics teacher who has been with Upward Bound for years. He's teaching sessions in 3-D printing, laser craft and physics review. "I usually have them for the full summer session, so we've had to scale back on the projects. But it's great. This is such a great class."
Targeted for students from lower-income homes whose parents are not four-year college graduates, Upward Bound encourages participants to attend education beyond high school. The summer program gives students a taste of the college experience.
"Senior year is the most intense," Post said. "Our counselors make sure they have their college applications in, help with financial aid and help students make decisions based on the best fit for them and their families. Then they're off and running at that point."
Leg Up on Freshman Year
The bridge curriculum, a subset program, gives current graduates a leg up on their freshman year in college by offering a for-credit course during the summer program.
"This year we have 10 students who are taking Psych 101 during summer program," Post said. This meets two goals: it gives participants a college credit heading into the fall semester and gets one of the gen ed courses out of the way, Post said.
Prior to COVID forcing last summer's program online, the final day is usually reserved for a formal banquet.
"This year, we'll do two separate barbecues on Memorial Hall field where we'll play lawn games and have a fun send-off," Post said.
For more information, visit https://www.ubplattsburgh.org/ or email Post at [email protected].