Jump to Footer
Third Age Adult Day Center Benefits from Teen's Generous Wish
---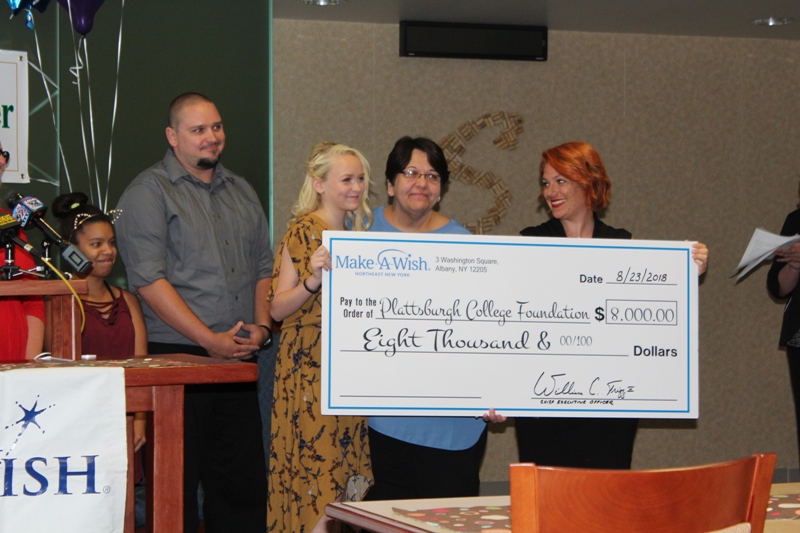 Sixteen-year-old Alyssa Fenton was told she could have anything, be anything, do anything or go anywhere she wanted, but instead of an iPad, or a trip to Disney, the Lewis teen decided to make a wish for others instead.
The Elizabethtown-Lewis Central School junior, who suffers from nephrotic syndrome, requested that Make-A-Wish use funds to improve an inner courtyard in Sibley Hall that is used by participants of and adjacent to SUNY Plattsburgh's Third Age Adult Day Center.
The Third Age Adult Day Center is a specialized program for people with dementia and/or memory loss akin to Alzheimer's. Third Age also provides services to physically frail elderly or aging individuals who require assistance with activities of daily living.
Fenton volunteers at the center and her mother, Jessica, works at the center as well as the Traumatic Brain Injury Center, both part of the Center for Neurobehavioral Health.
'Special Wish'
At a ceremony Thursday, Aug. 23 in Samuel D's where a ceremonial check was presented to Fenton and Third Age Program Manager Christine Ouellette and Program Assistant Jeannine Wilson, Make-A-Wish Northeast New York Chief Operating Officer Bob Bullock said Fenton's wish "could not have been more wonderful."
"Her special wish was to purchase outdoor furniture for a new courtyard so that the users of the center had someplace nice to gather in the warmer months," Bullock said. Make-A-Wish children and teens between 2 ½ and 18 meet with volunteer wish granters to select their wishes, he said. In rare circumstances, the child wishes to give back.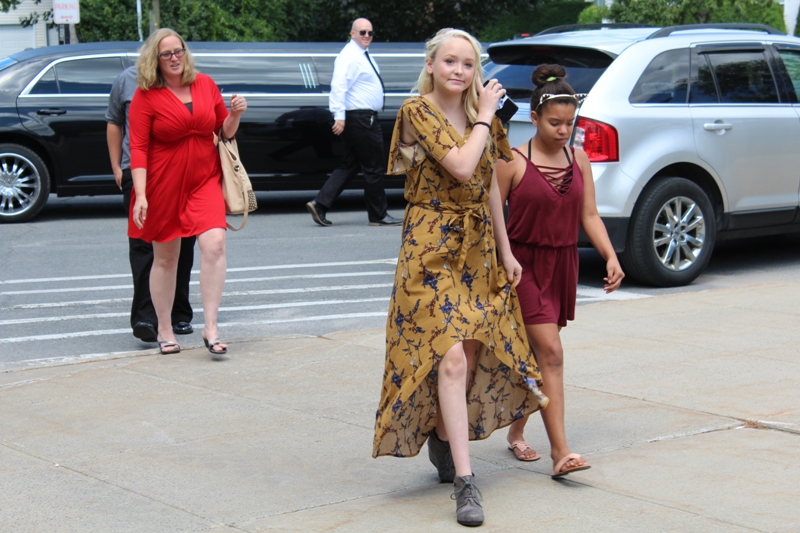 Fenton was treated to a shopping trip to pick out a dress that she wore to Thursday's presentation, had her hair and make-up done and was brought to the event in a limo. After climbing out of the luxury automobile in front of Samuel D's, Fenton and her parents were greeted by media as they entered the building. There, participants of Third Age applauded as they took their seats.
Ouellette said she actually tried to talk Fenton out of her generous wish.
"I told her she should do something for herself," Ouellette said. "This is how Alyssa is." And thanks to that wish, the courtyard will have upgrades that will provide a safe place for clients to walk and spend time. "I can't say enough what that will do."
Family Touched by Alzheimer's
Fenton's decision was made in part because of family. One family member died from Alzheimer's; a second suffers from it now. She began volunteering at Third Age at 13 and said she enjoys being with the participants.
"They're always just so positive, no matter what," she said.
Dealing with a kidney disorder for which there is no cure could have left Fenton angry and bitter — anything but positive. But her parents praised how she's handled the disorder and herself for someone so young. Fenton's philosophy is simple:
"Be thankful for what you have," she said.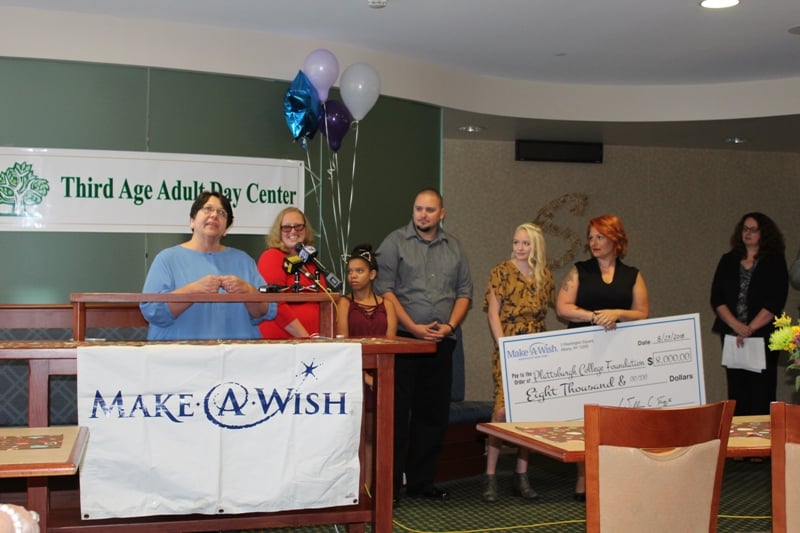 Dr. Michael Morales, executive director of the Center for Neurobehavioral Health, said he couldn't be more appreciative of Fenton's gift.
Courtyard Not Useable
"This is a special project, mostly because of the nature of Alyssa's wish request," he said. "Because of the generosity and selflessness shown by Alyssa, our Third Age participants will receive a new outdoor courtyard area in which to sit and enjoy our North Country summers."
Morales said the courtyard has not been useable for need of repairs, landscaping and outdoor furniture.
"Our program has not had the resources to even begin to think about improving the courtyard until now, and that's only thanks to Alyssa's wish for the center to receive funding to work on this area," Morales said.
Anyone wishing to donate funds to help with the courtyard project can do so through the Plattsburgh College Foundation, 101 Broad St., Plattsburgh, N.Y., 12901, by calling 518-564-2090 or emailing [email protected] in care of Alyssa's Wish.