Jump to Footer
SUNY Plattsburgh Students Join in Puerto Rico Recovery Efforts
---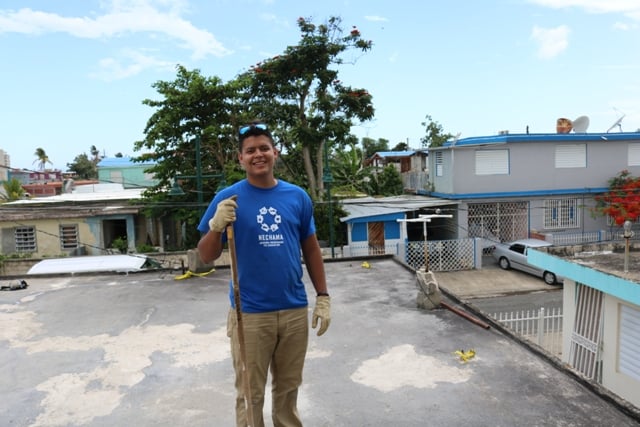 Three SUNY Plattsburgh students took part of their summer to assist with recovery efforts in Puerto Rico, work needed in the aftermath of damage wrought by last year's devastating Hurricane Maria.
Jerreka Turner-Lewis, a sophomore public relations major from North Baldwin, N.Y., Jah-Shea Sutherland, a sophomore majoring in English/adolescent education from Uniondale, N.Y., and Diego Martinez, a senior communication studies major from Forest Hills, N.Y, were among those who picked up hammers, put on work gloves and joined the effort.
The students worked with the NECHAMA — Jewish Response to Disaster, a volunteer organization that provides natural disaster response. Students worked primarily on repairing roofs, clearing off debris, removing excess concrete, and repainting and resealing roofs to make them waterproof.
Worked Long, Hard Hours
Martinez said the first project he worked on upon his arrival was such a repair for a 48-year-old woman.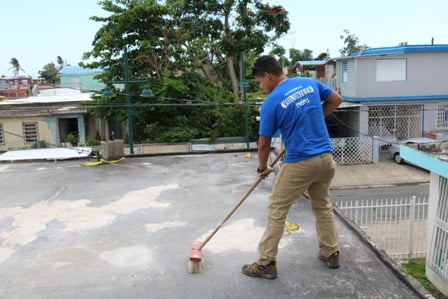 "The house had noticeable major damage caused by Hurricane Maria," he said. "When we met the woman, she explained that her roof had multiple leaks and major damage. She had lived in the house her entire life. She never though her home would be back to livable conditions again."
Martinez and his team began working on the project over the next few days.
"We worked long and hard hours to ensure that SaraLee's home was back to its original conditions. I will never forget her excitement when she was told that her roof would be completely fixed," he said. "She was so thankful and cried tears of joy. Seeing her ecstatic reaction and extreme thankfulness made me feel just as thankful."
In undertaking the effort, the students joined with peers from across the SUNY system to help. The SUNY Stands with Puerto Rico project was initiated by the state university system following New York Gov. Andrew Cuomo's New York Stands with Puerto Rico Recovery and Rebuilding Initiative.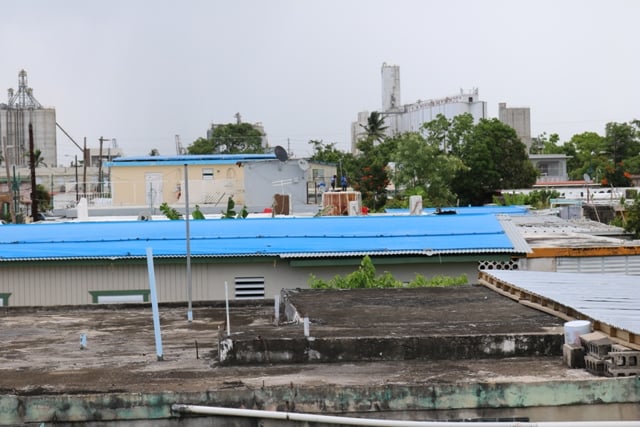 "Many homes have second stories that were damaged, so a lot of times, the students would clear off the second story, then make the floor into the roof, which meant resealing with a special concrete," said Peter Velz, assistant vice chancellor for external affairs, who spent seven of the 10 weeks overseeing the project on the island.
Students Invited to Apply
In the spring semester, students across the 64-campus system were invited to apply to participate. The SUNY Plattsburgh students completed the essay-based application in order to be considered for the relief initiative, for which they received tuition for the credits earned from the service learning experience, a stipend and travel reimbursement.
"This made the trip accessible to all," said Dr. JoAnn Gleeson-Kreig, associate vice president for academic affairs and professor of nursing.
The time was not only an amazing opportunity to help better people's lives, it was also a time to better the lives of volunteers, Martinez said.
"This journey has truly impacted my life and made me aware of the many privileges I have that should not be taken for granted," he said.
"Throughout this trip, I met people whose home and belongings were taken away from them suddenly. Many people had to suffer through unlivable conditions for months and, unfortunately, many people still suffer. I hope that with the help of SUNY Stands with Puerto Rico, we can help as many of these people as possible and continue to rebuild Puerto Rico back to its original state," he said.