Jump to Footer
SUNY Plattsburgh START-UP NY Business Assists Healthcare Workers
---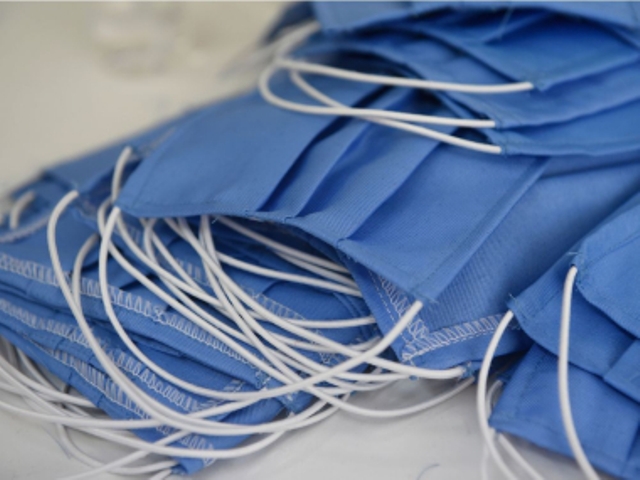 Insum Solutions, the Montreal-based custom software development company with a START-UP NY office in SUNY Plattsburgh's Redcay Hall, has launched a global online platform to connect healthcare providers in urgent need of Personal Protective Equipment with volunteers who can help meet those needs.
"Medical facilities can log their needs on https://covid19masks.info. This information immediately becomes available to organizations and/or volunteers that want to help donate, make or otherwise provide the equipment," said Martin Mailloux, a lecturer in computer science and an Insum consultant.
The site has seen a high volume of traffic since its launch on Sunday, March 22, as facilities face shortages of gowns, masks and face shields. Volunteers who have the ability to make masks, for instance, can see the need in real time and reach out to the facilities.

Insum Solutions began operations at SUNY Plattsburgh in summer 2016 as part of the START-UP NY program. The program helps new and expanding businesses through tax-based incentives as they partner with colleges and universities across New York. Insum took over office space on the second floor of Redcay and provides internships and employment to SUNY Plattsburgh students.
Three SUNY Plattsburgh graduates worked at Insum last year, Mailloux said. Although no SUNY Plattsburgh students or graduates worked on the covid19masks platform, he said the company will be adding developers to the project and some students may participate.
Insum employees out of the Montreal office have been working from home since the fall, but in light of the coronavirus, the company has since required that of all of its employees, Mailloux said, including those in Plattsburgh. The COVID-19 Rapid Response Team turned its efforts to the new platform as it became apparent the virus was depleting healthcare provider resources.
Any individual or organization that wishes to donate, manufacture or hand make needed equipment can find and connect to these facilities by using different search criteria: country/state/type of need, and more, said Anton Nielsen, Insum vice president and COVID-19 Rapid Response Team lead.
They can then commit to the need by indicating how much they are willing or able to provide.
"The news is full of hospitals, healthcare facilities or other groups of vulnerable people around the world struggling with the lack of protective equipment," Nielsen said. "We were also hearing of people wishing to help donate, make or even manufacture some of this equipment. We wanted to help connect these two groups.
"We're excited to see the platform being used so early on and already have many updates in mind," he added. "We'll be working on making the platform available in French and Spanish in the coming days. As we all know, France and Spain have been particularly hard hit; we're all in this together."