Jump to Footer
SUNY Plattsburgh Junior Builds Animatronic Head for Original Stage Play
---
Charles Marcheski and Kaleb Pecoraro with Pecoraro's animatronic head. Photo/Felicia Krieg
A SUNY Plattsburgh junior's original stage play incorporating an animatronic head he built and programmed has garnered award nominations.
Kaleb Pecoraro '24 wrote "Talking Heads on the Television," which was nominated for the Kennedy Center American College Theater Festival Region 1 Showcase.
"So hopefully, I will be performing this show again in January for the KCACTF Conference" held in Connecticut, he said.
A representative from KCACTF watched Pecoraro's play, which has received two merit nominations from the organization: artistic and design, and invited scenes — a performance event at the conference.
Climate Play Festival
Pecoraro, an individualized studies major from Plattsburgh, wrote the play as part of two classes: Dr. Shawna Mefferd Kelty's directing the play and Dr. Michael Walter's senior robotics lab. Kelty is an associate professor of theater and Walters is an associate professor and chair of physics.
Pecoraro was one of 24 students who recently executed the 10-minute Climate Play Festival, working on eight plays through directing, stage management or acting, Kelty said. A few community members acted in the play she directed as part of the festival.
The students performed the plays at various small businesses in downtown Plattsburgh.
Play Examines Climate Disinformation
The subject matter of Pecoraro's play is a timely one.
"It's about a scientist who is giving a presentation on disinformation in the media," Pecoraro said. "The scientist stands presenting next to a TV on which he plays quotes from public figures and politicians in the media and then disproves — with research facts — the myths about climate that they say."
Charles Marcheski, a sophomore theater major from Quincy, Mass., performed the scientist role at three recent performances in one evening at Lake City Coworking in downtown Plattsburgh. Marcheski was nominated for an Irene Ryan Acting Scholarship for his role in the play.
Irene Ryan was an actress best known for playing Grannie in "The Beverly Hillbillies," and Berthe in the Broadway musical, "Pippin," for which she received a Tony nomination. The Irene Ryan Acting Scholarship has been awarded by the Irene Ryan Foundation since 1972 for "outstanding actors who participate in the Kennedy Center American College Theater Festival."
Pecoraro said that while there were some technical difficulties, he and Marcheski handled them together, and the three consecutive performances for different groups of people were successes.
'Building My Own Place in Theater'
Pecoraro is interning at St. Michael's Playhouse at St. Michael's College in Colchester, Vt., this summer and hopes to work in the technical side of theater after he graduates.
"Theater is becoming more automated. There's just so many positions that are opening up that have never existed before," Pecoraro said. "So, it's building my own place in the theater world and fitting myself into it."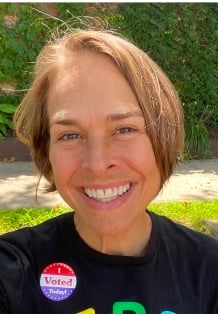 Kelty said she's never encountered another student who accomplished what Pecoraro did.
"Playwrights invent all sorts of interesting characters or technical challenges to be figured out by a team of directors and designers. Those are the riddles that engage and excite us as theater makers," Kelty said. "Kaleb decided to write his own riddle to solve (with the animatronic character), which is pretty amazing."
Robotics Program Has Integrated Art
Apart from students like Pecoraro, whose major integrates the arts and sciences, specific robotics labs at SUNY Plattsburgh have done the same.
Walters said he used to teach a robotics lab where students would use their robots to draw shapes based on equations, and then students would compare the drawing to the original picture to assess success.
"I also did a lab where you showed the robot pictures of geometric shapes and the robot would move according to what it saw. It allowed the robot to dance in a way that wasn't programmed traditionally but in response to visual cues," Walters said.
"Kaleb is the type of student we are trying to foster in the robotics program," Walters said. "We want someone who wants to extend robotics into new and exciting avenues, and I am proud of what he has done."
Play Festival Planned for Fall
While Pecoraro doesn't think he'll write another play, he will build more robots.
"I am already signed up for one credit in the robotics department to keep developing my animatronics skills," Pecoraro said.
Kelty said 2021 marked the college's inaugural publicly performed 10-minute play festival, performed virtually, "which asked us to get creative in new ways but also allowed us to work with students and alumni from all over the United States."
Kelty is planning a 24-hour play festival for October 2023 where students will write, direct or act in plays.
— By Assistant Director of Communications Felicia Krieg