Jump to Footer
'Suit Up' Event Helps Students Find Affordable Professional Attire
---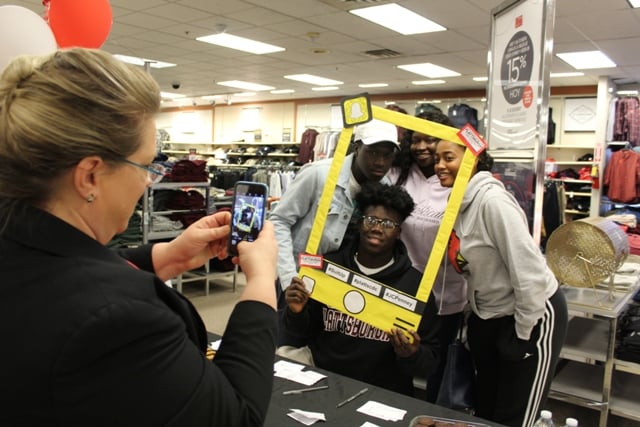 Nearly 270 students from majors across the spectrum spent a Sunday evening getting dressed for success during the Career Development Center's inaugural Suit Up event held afterhours at JCPenney at Champlain Centre.
Morgan Pellerin, career counselor and applied learning specialist with the CDC, said he'd been entertaining the idea for a while — to somehow sponsor an event where students could purchase clothing at a discount that would help them dress professionally for internships, interviews and the job market.
"I know professional attire is challenging for many students with the expense associated," Pellerin said. "so I had tried thinking of ways to help. Last year, I had heard about a similar event being hosted at SUNY Oswego where students received discounts on professional attire."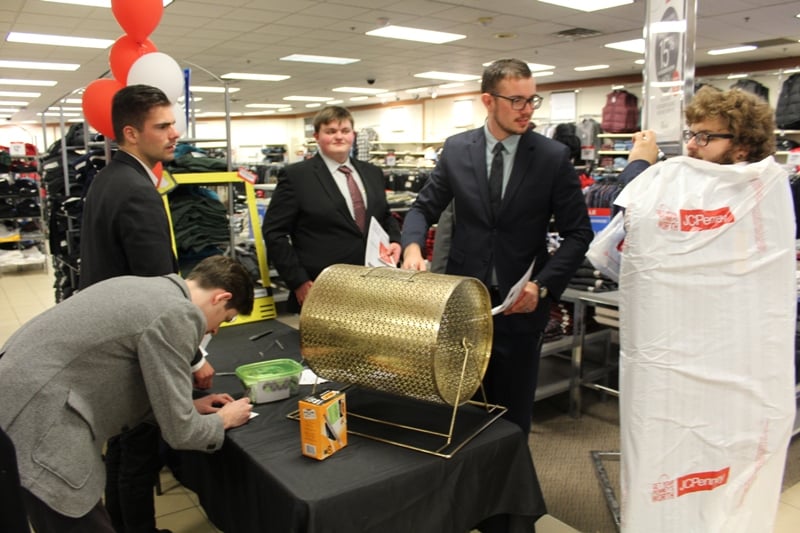 Pellerin reached out to Oswego's career center and learned that JCPenney had hosted the event.
"I reached out to our local JCPenney to see if they were interested in partnering with us, and they were excited to participate," he said.
'Now's the Time'
Lucas Draffen, a sophomore human development and family relations major from Canajoharie, N.Y., walked out of the event, which ran from 5 to 8 p.m. Sept. 30, with a suit coat, pair of paints and shirt.
"I can't believe it," he told his brothers from Tau Kappa Epsilon fraternity. "I only spent $100.87." The store gave students 40 percent off career clothing and shoes.
"You need suits to make yourself look professional in the business field," Draffen said. "I figured now's the time — I have to start thinking about dressing for internships, interviews, or even formal events with my fraternity."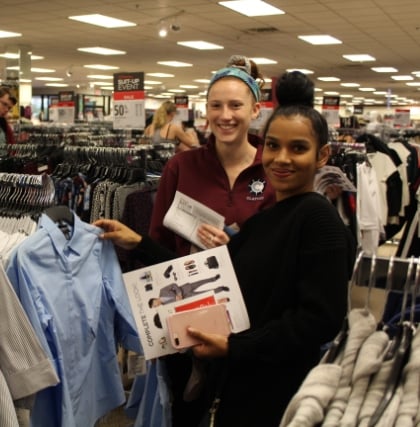 Tara Shreenauth, a graduate student in the education program from New York City found the 40 percent off a motivating factor.
"It's very useful, especially for students who don't have a lot of money," she said. "I'll be able to use these clothes for a long time."
'Just What We Needed'
"It's just what we needed so we can make ourselves presentable for job interviews," said her friend and fellow education graduate student Bridget Summerville of Albany.
Pellerin said the event brought in 268 students. The CDC provided a van that ran from 4:30 to 8:30 p.m. so students could shop. Staff from the college volunteered at the event to help store staff manage what at times saw dozens of students lining up at fitting rooms, asking personnel for help with measurements and coordinating wardrobe pieces.
"Both the JCPenney staff and our SUNY Plattsburgh students shared how much they appreciated seeing staff at the event helping out," Pellerin said. "The overall feedback from students has been positive. And the store staff made the event feel special to them. They liked having the store closed so it was open just for them, again, giving them that exclusive feel. Many students said they'd like to see it continue."
Pellerin said a follow-up meeting with JCPenney will be held at which time they'll discuss the possibility of continuing the event.
Kae' Chauna Sinclair, a senior criminal justice major from Syracuse, originally came to the store as a volunteer, "but I'm also looking for myself," she said. Her shopping cart was overflowing.
'Good Opportunity'
"We need professional clothing, and this is a good opportunity," said Ayesha Joseph, a senior broadcast journalism major from Brooklyn. "A lot of students here need professional clothing and for events, too." She and Sinclair are sisters in Theta Nu Xi sorority.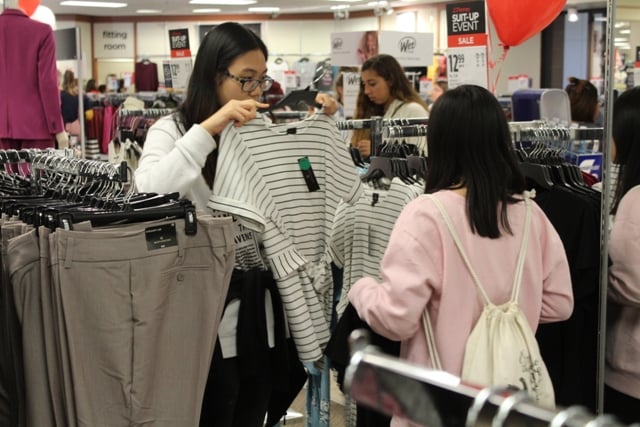 "It's been very beneficial," agreed Monica Carrasco, a senior in the human development and family relations program from Manhattan. "A lot of students need professional clothing for internships, jobs off campus. This is a chance to save money that we don't really have. We're having a good time, too."
Wanda Haby, adjunct lecturer in communication studies who was working at a sign-in station, said that faculty involved in the event "sent out emails, mentioned the event in our classes and made sure they knew this was going to be going on. It's great, the students are having a good time and they're getting some good clothing at a good price."
"It blew my expectations out of the water," Pellerin said.