Jump to Footer
Student Clubs Foster Involvement, Community, Well-being
---
SUNY Plattsburgh senior Kyle Visoky is an avid clubber.
Not that the environmental science major hangs out in the nightclubs. He's more likely to be found hanging out at SUNY Plattsburgh student clubs. Since his first week on campus, Visoky has found time to attend nearly a dozen clubs that interested him. At the end of his college career here, he finds himself on the boards of the Botany Club, Garden Club, Biketopia and Meditation Club.
"The biggest difference between college and home life was that at home, I had a family, and here I didn't," Visoky said. "What I found really valuable was finding a group of like-minded people through clubs on campus."
Visoky tends to focus his memberships on clubs that better his community and promotes wellbeing.
Biketopia is a good example.
"We fix bikes, we have a garage on campus where we have more than 40 bikes and spare parts that we have salvaged from bikes," he said. "Anyone can bring their bike here, and we will repair it for free."
Garden Club Promotes Service
The Garden Club promotes student involvement, community service and wellbeing, Visoky said.
"We are in charge of the campus garden: We do the weeding, planting," he said. They even hire summer workers to tend the garden when students are gone. Produce is donated to the food shelf and the Joint Council for Economic Opportunity. For his part, Visoky says it's the whole package — from providing bikes and bike repair and veggies for those in need — that make his involvement in the clubs worthwhile.
He's not alone. There are more than 100 clubs on campus sanctioned by the Student Association, from academic and major-based groups to recreational and cultural clubs.
Develops Skills
"In order for traditional-aged students to succeed in college, they need to connect with the campus both academically and socially," said Bryan Hartman, vice president of enrollment and student success. "Students gain not only a sense of belonging and personal relationships but also develop skills, learn about different societies and cultures and gain new perspectives."
Students have a chance to discover the various clubs on campus every fall during a club fair where members showcase what's available, from Accounting and Finance to the Zombie Defense League.
Visoky may be the exception rather than the rule when it comes to club memberships. Cori Jackson, director of the Center for Student Involvement, suggests "that students find a couple of clubs that really interest them instead of joining a dozen."
"For many, it makes sense to join one club related to their major and one or two clubs just for fun," she said.
Social and Scholarly
Jordon McCloud is president of the Galilean Society, a club whose members' interests and activities promote astronomy- and space-science education and that provides both a social and scholarly network. The environmental studies major said the society's board allows club members to create a list of topics that interest them that they want to discuss during the weekly Wednesday meetings in Hudson Hall.
It's a collaborative environment, McCloud said.
"Club members always vote on the topic," McCloud said. "We never just surprise them with anything."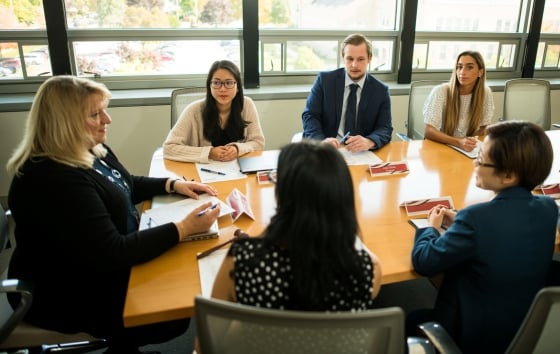 She said the club is comprised of students with an interest in astronomy, but they don't necessarily have any academic background in the subject since SUNY Plattsburgh doesn't offer an astronomy major or minor.
McCloud and a few other members work at the Northcountry Planetarium. As such, they can arrange events such as small, private showings of upcoming planetarium shows. She also uses her knowledge from working in the planetarium to enhance the Wednesday discussions.
Students can join clubs at anytime during the year. Some of the dozens of clubs students can join include:
Active Minds, which focuses on increasing awareness of mental health issues
African Unity, which promotes African heritage and cultural awareness
Colleges Against Cancer, which supports the programs of the American Cancer Society
Dungeoneer's Guild, where members play and explore the contents of various table-top role-playing games such as Dungeons and Dragons
Minor Adjustments A Cappella, which promotes and represents collegiate a cappella
Outing Club, which familiarizes students with outdoor recreational activities and outdoor culture
WQKE Radio, the college radio station, which provides instruction and training to future DJs while providing entertainment and information to students
If students don't find something among the dozens of offerings that interest them, they can look into starting their own club.
Stop by SA Office
"They can stop by the SA office, and we can provide a Club Recognition Form," said SA President Essence Hightower. Although the timeframe for submitting proposals has closed, Hightower said students should not be discouraged from exploring the process of starting a new club.
"Come in and see Melanie Wyand, the SA executive secretary," Hightower said. "She can help them out."
For Visoky, being social and involved is a priority.
"If I ever felt overworked or stressed about time management, I would have to reshuffle my cards because for me, my social involvement isn't going to change," he said. "I was afraid of being alone. I have a family here now."
For a list of clubs on campus and contact information, visit https://www.plattsburgh.edu/plattslife/get-involved/clubs-organizations/club-org-descriptions.html.