Jump to Footer
State-wide UP Officers to Don Breast Cancer Awareness Patch Designed by Local Investigator
---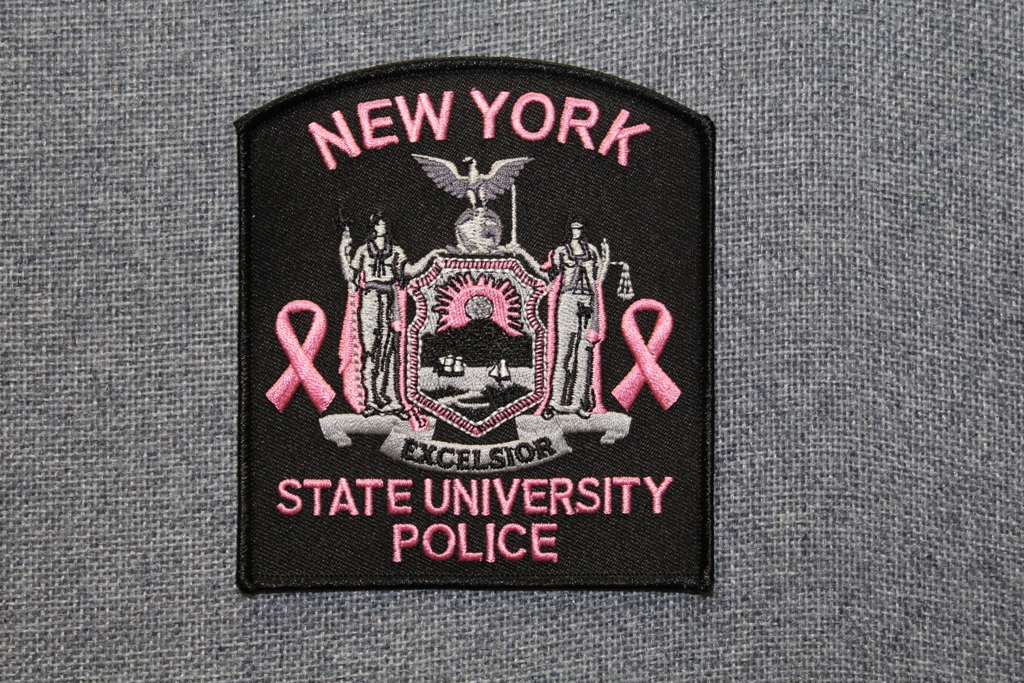 University Police across the state will be brining awareness to breast cancer during the month of October by wearing a patch designed by SUNY Plattsburgh UP Investigator Seth Silver.
"The Pink Patch Project started in California with their state police to support breast cancer awareness," Silver said. "I found out about it and thought that we could do this."
Patrick Rascoe, chief of SUNY Plattsburgh UP, said that "after last year's 'No Shave November,' which raises awareness for prostate cancer, we wanted to do something for breast cancer, too."
Decided on a Patch
"We had discussed pins and uniform bars, but ultimately decided on a patch," Rascoe said.
Silver designed the patch, which takes the New York State University Police logo and adds pink details along with the breast cancer pink ribbons on either side of the state seal.
"Seth personally funded its creation and subsequent purchases, even donating the patches for our uniforms," Rascoe said.
Silver was quick to give credit where it was also due to Investigator Jess Facteau and Lt. Eric Zielinski, who were involved in its implementation as well.
"I wanted to get the patch out to all the SUNY police so they could wear it on their uniform shirt during October," Silver said. Rascoe said the effort has grown legs with other campuses, many reaching out to Silver. Word reached the commissioner's office in Albany by way of the officers' union, the Police Benevolent Association of New York State.
Approved to Wear on Uniform
"Three weeks ago, an approval was issued for wearing the patches on our uniform shirts for the month of October," Rascoe said. Silver said plainclothes officers, who wear no sleeve patch, may wear the pink pin.
With some 550 University Police officers statewide, Silver said it would good to bring awareness to a disease that will kill nearly 42,000 women and 500 men this year, according to the American Society of Clinical Oncology and raise funds for breast cancer research at the same time during Breast Cancer Awareness Month.
"The union has registered the patch with The Pink Patch Project for advertising its fundraising, and they are also selling our patches to the public, with proceeds going to breast cancer treatment and research," Rascoe said. Beneficiaries will be decided upon by union membership in November.
For more information on the UP breast cancer awareness patch or to purchase patches, contact Silver at 518-564-2022. For information on The Pink Patch Project, visit https://pinkpatchproject.com/.