Jump to Footer
St. Lawrence Professor to Speak on North Country Black and Indigenous History
---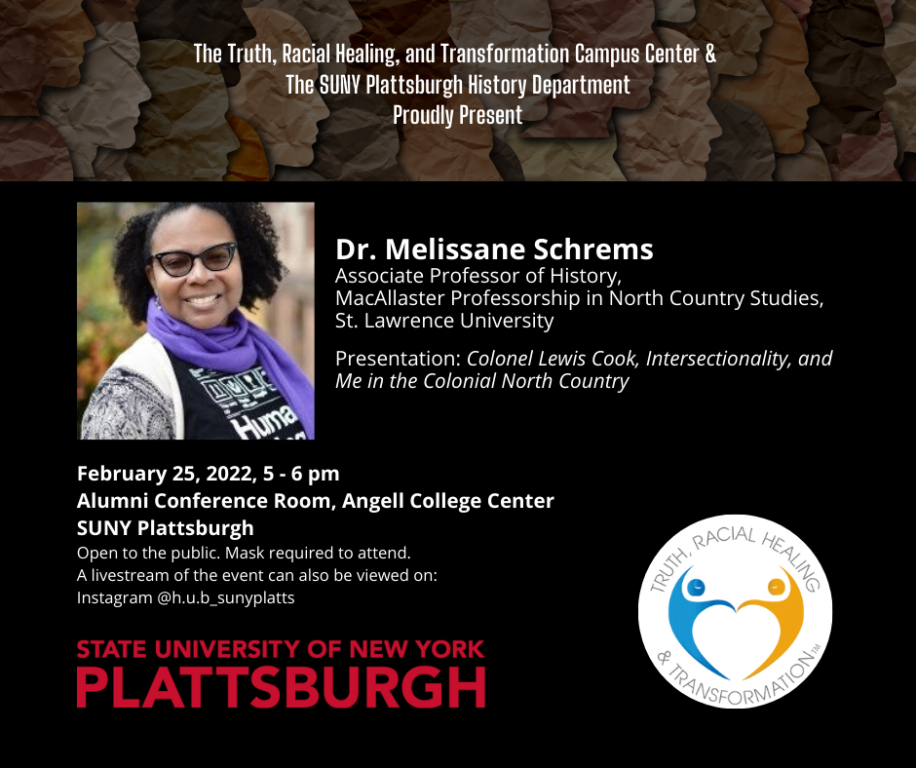 In honor of Black History Month, the Truth, Racial Healing and Transformation Campus Center and history department are hosting historian and St. Lawrence University associate professor, Melissane Schrems Friday, Feb. 25 from 5 to 6 p.m. in the Alumni Conference Room, Angell College Center.
Schrems, an expert on North Country Black and Indigenous history, will discuss "Col. Lewis Cook, Intersectionality and Me in the Colonial North Country."
The MacAllaster Professor of North Country Studies teaches American and U.S. histories focusing on the European discovery/invasion and continued colonization of present-day North America and the English-speaking Caribbean. She has taught courses on Native American history, colonial British America, African American Adirondack history, and more.
She serves as coordinator of the Native American studies program, the adviser to the Native American Student Alliance, and as a Black Laurentian Initiative Grant Review Committee member, among many other activities. Schrems is currently working on a piece for Humanities NY for its Land, Liberty and Loss Project, expected to go live this semester.
The SUNY Plattsburgh presentation is free and open to the public. Masks are required. It will also be livestreamed on Instagram at @h.u.b_sunyplatts.
For more information, contact Dr. Michelle Bonati, assistant professor in teacher education and campus lead, Truth, Racial Healing and Transformation Center, at 518-564-5123 or email [email protected].