Jump to Footer
Special Project Enables Students to Support Education in Prisons
---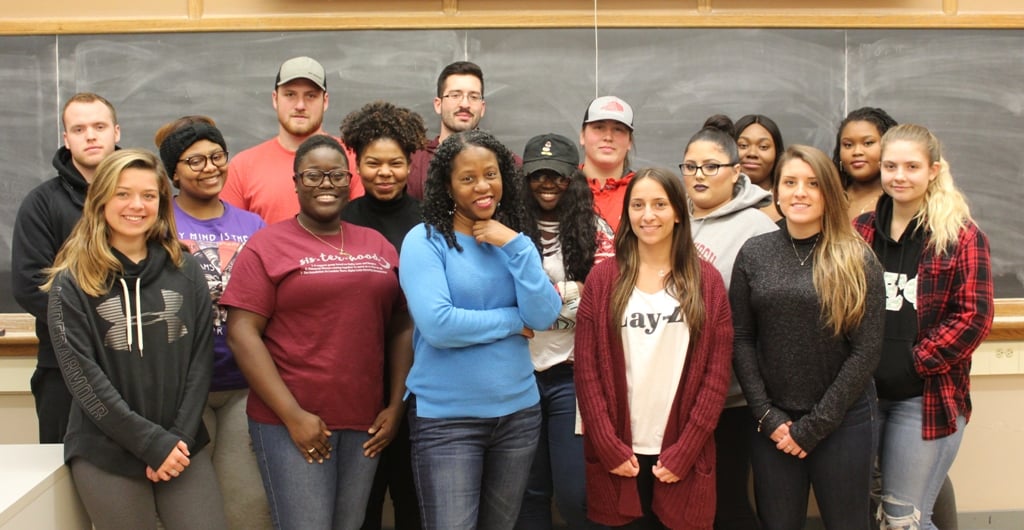 Education and incarceration was the focus of students in Dr. Breea Willingham's special-topics criminal justice course during the fall 2018 semester at SUNY Plattsburgh.
Their findings will be included in a national project that explores the roots of mass incarceration in our communities in the hopes of opening a dialogue — and some eyes — on the issue.
Willingham found education for the incarcerated is an answer to lowering recidivism and violence behind the walls.
"These people, who are basically cut off from humanity and from what people who are not in prison have access to, all deserve an education," said student Princess Odus, a senior criminal justice major from Brooklyn. "And they're not getting that."
Their work is part of "States of Incarceration," https://statesofincarceration.org, a project of the Humanities Action Lab. The lab, a collaboration of more than 800 students and others affected by incarceration across the nation, is a coalition of universities that work with organizations and public spaces to create traveling public projects on pressing social issues.
Understanding Misconceptions
In early 2018, SUNY Plattsburgh was named one of 10 new partners to receive Mellon Foundation funding for the project. As part of the partnership and class, Willingham's students will help create SUNY Plattsburgh's addition to the national "States of Incarceration" traveling exhibit. It will be on campus from November 2019 through February 2020.
Some of Willingham's students started the semester with what junior criminal justice major Courtney Bellanfante of Springfield Gardens, N.Y., called "the misconceptions that people have of prisoners."
Christina Bedard, junior criminal justice major from Morrisonville, was one of them.
"I came into this class thinking, 'why should prisoners get an education?'" she said. But she said through the class's guest speakers, lectures and Skype sessions with the formerly incarcerated, her thinking has turned around completely.
"My views at the beginning of semester to now have totally changed," Bedard said. "If everyone could get that, then (the state of prison education) could change."
Kenya Brown, a senior majoring in both criminal justice and sociology from Queens, agreed, saying she learned a lot from guest speakers.
"It really changed my perspective on education in prison," she said.
Veronica Faley, a senior criminal justice major from Carmel, N.Y., said the hands-on experiences of having people who worked in and with the incarcerated as well as those who had previously been incarcerated, not only made the class more interesting but also changed her perspective as well.
Bellanfante said the class spoke to someone who became an activist after leaving prison.
"Due to the education that he received, he taught himself and others," she said. There is a misconception about people who are incarcerated, "but education breaks down this misconception. Everyone understands education but not that everyone deserves an education."
Methods of Education
And the students said the "education" didn't have to be conventional, text-heavy classes. They said even the yoga and theater teachers they spoke with showed how the experiences helped those behind bars.
Gabrielle Elsbree, a senior psychology major from Hopewell Junction N.Y., said, "I feel what we've done shows how much people who are incarcerated are similar to those on the outside. The stories we've heard drives home the point that these are people just like us who have had unfortunate things happen."
Calling their contribution to the "States of Incarceration" project "Cuffs to Classroom: College in Prison," Willingham said it's her hope that the panel that will be on exhibit at SUNY Plattsburgh will help show the campus and community how a prison education can redefine incarceration in New York.
Willingham, assistant professor in the criminal justice department, is an expert in the impact of incarceration on families, higher education in prison, and women in the criminal justice system, among many other areas in the field. Her research examines the intersections of race, gender and the criminal justice system, particularly how it relates to women's pathways to incarceration, their experiences in and after prison.
She is the project coordinator of the Mellon-grant-funded partnership between SUNY and CUNY, exploring ways to increase higher education opportunities for incarcerated and formerly incarcerated people in New York state.