Jump to Footer
Slate of Concerts Set to Take to the E. Glenn Giltz Auditorium Stage
---
SUNY Plattsburgh is gearing up for a musical season with programs on tap for the E. Glenn Giltz Auditorium stage beginning Nov. 19 with the Gospel Choir.
Plattsburgh State Gospel Choir
The Plattsburgh State Gospel Choir kicks the season into gear with a Motown Soulful Christmas 2022 Saturday, Nov. 19 at 6 p.m. in the E. Glenn Giltz Auditorium in Hawkins Hall.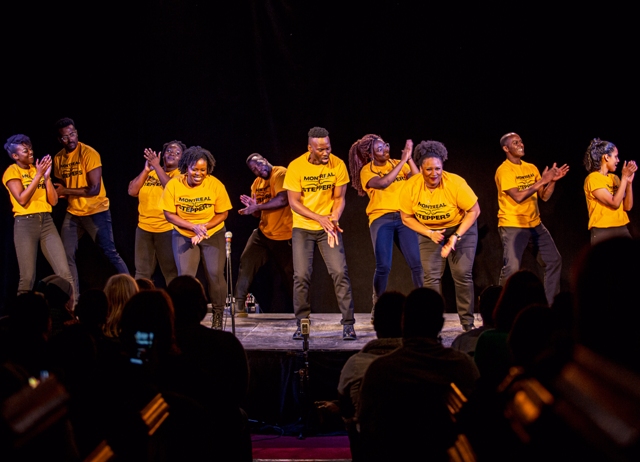 Special guests for the program include the Montreal Steppers Team led by Kayin Queeley, a SUNY Plattsburgh grad, Class of 2013.
Tickets are $15-$18 general admission and $5-$8 students in advance; $25 general admission and $10 students day of show.
Symphonic Band
The Symphonic Band, directed by Daniel Gordon, professor of music, will perform "Alterations" fall 2022 concert Friday, Dec. 2 at 7:30 p.m. in Giltz. The program features the debut of the Plattsburgh Community Clarinet Choir directed by Margali Grenier, 2010 grad.
The program title, "Alterations," refers to the musical alteration that each work has undergone, including works by Mozart, Erikson, Tchesnokov, Bill Pfaff, Wagner and more.
The concert is free and open to the public.
Champlain Valley Voices
Champlain Valley Voices returns to the E. Glenn Giltz Auditorium Sunday, Dec. 4 at 3 p.m. in its performance of a holiday favorite, Handel's "Messiah," directed by a Timothy Morningstar, adjunct lecturer in the music department. For ticket information, visit champlainvalleyvoices.org.
Concert Choir
Morningstar returns Friday, Dec. 9 at 7:30 p.m. in Giltz directing the Concert Choir as it performs "Sounds of the Season." The program is a mix of holiday choral music, including traditional Christmas carols and music celebrating Kwanzaa and Hanukkah. Other popular holiday favorites will include "The Christmas Song," "Winter Wonderland," and "Have Yourself a Merry Little Christmas." The program, which is free and open to the public, concludes with a musical set of variations on "Deck the Halls."
Concert choir is a non-audition campus choir with nearly 30 singers performing in the "Sounds of the Season" show. SUNY Plattsburgh alumnus Ryan Mahony '17 will accompany the chorus, and Luke Gerhardt, a freshman from Plattsburgh, will play percussion for the Kwanzaa selection.
String Ensemble
On Wednesday, Nov. 30 in Giltz, Marilyn Reynolds, adjunct lecturer in music, directs the college String Ensemble, which will perform "Bows and Strings." The ensemble will perform Peter Warlock's "Capriol Suite" based on English dance rhythms and forms., Grieg's "Elegy — Last Spring," followed by Arcangelo Corelli's "Christmas Concerto," with Dr. Karen Becker, professor and chair of music, on harpsichord. Additionally, students Kat Gill and Gabriel Perry will perform short solo pieces.
The String Ensemble is composed of SUNY Plattsburgh students and faculty as well as community adults and high school students. The program encompasses 20th century folk-based music, as well as 19th century Romantic and 18th century Baroque styles.
The concert is free and open to the public.
For more information on the SUNY Plattsburgh music department, contact Dwayne T. Butchino, program coordinator, at 518-564-2243 or email [email protected]. For tickets, visit www.tickets.plattsburgh.edu.
— By Associate Director of Communications Gerianne Downs