Jump to Footer
Quebec Summer Institute Opens Eyes of Recent Education Grads
---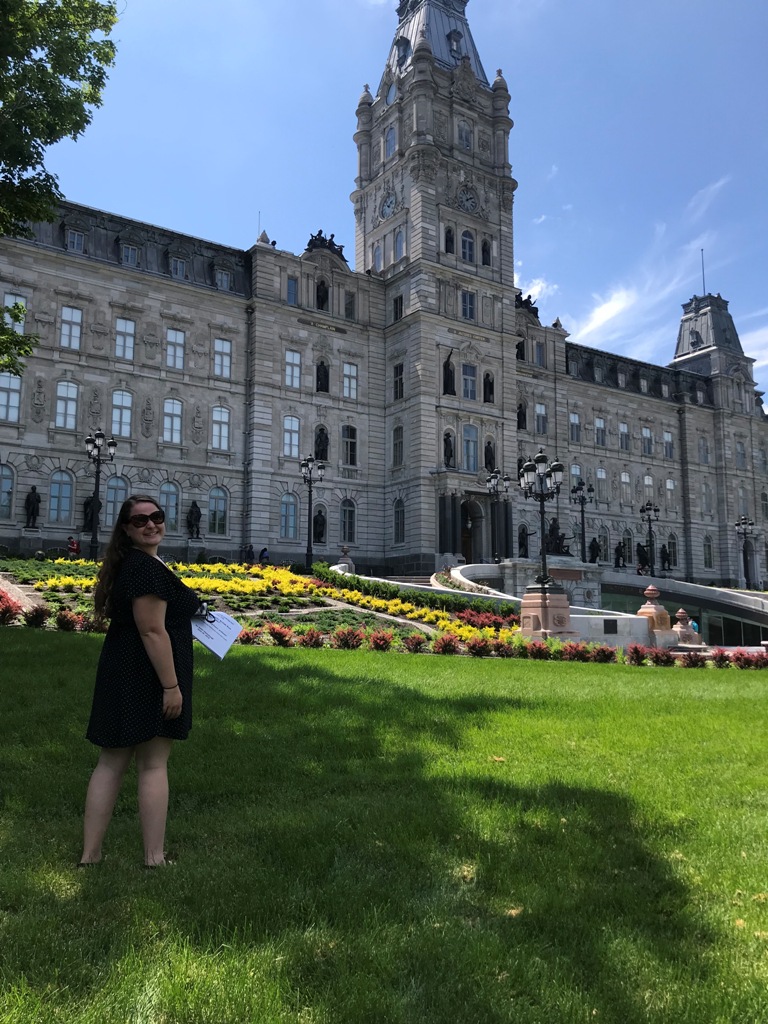 Teachers from across the country spent nearly a week in Canada, exploring the history, geography and cultures of Montreal and Quebec City as part of SUNY Plattsburgh's Center for the Study of Canada's annual Quebec Summer Institute June 23-28.
Sponsored by SUNY Plattsburgh and the University of Maine, the program was designed to support educators of comparative cultures, world, U.S. and AP history, North American geography, and French-language classes in particular.
Andrea Parness and Jessica Falace, both 2019 graduates with BS/MS degrees in education, attended the institute as soon-to-be-new teachers.
"Simply put, the Summer Institute has been the opportunity of a lifetime," Parness said. "I have such a unique experience that I can now share with my students and other educators at my school. During my student teaching experience, one of the main projects for the fifth graders in my 12:1 special-education classroom was to research a city in Canada and present information about that city. When discussing this project with my cooperating teacher, we did not know how to go about it because our knowledge of Canada was very limited. Now I feel confident and excited to take on this project with my students in the future, as well as help the other fifth-grade teachers in the school where I expect to teach."
Met Educators from Across Country
Falace agreed, saying the experience was "amazing and memorable."
"As a childhood education/special education major, it never occurred to me that this could possibly be an opportunity that would come my way," Falace said. The former Student Association president said it gave her the "privilege of meeting and collaborating with other educations and professionals from across the United States. From French teachers to social studies teachers, program coordinators to tour guides and speakers, I will be leaving this experience with a new lens for Canadian studies.
"I came to the Summer Institute with no knowledge about Canada," she said. "All I knew was that SUNY Plattsburgh was very close to Montreal. One thing that I was continuously amazed with here is the fact that I did not need to know how to speak French in order to culturally fit in. I am very impressed with how accepting and respectful everyone throughout the cities were. While in a restaurant, I complimented a young man's English and thanked him for being so helpful. His reply was, 'Of course! We all know English so that we can help all of our tourists.'"
History 'Shapes a City and Country'
Parness, whose student teaching experience was at a school in the Bronx, said she felt she learned about how history shapes a city and country.
"Throughout my time in Montreal and Quebec City, I noted that the energy was different from New York, and the way people engaged with each other seemed different to me, but I could not understand why or really put my finger on this difference."
It wasn't until a conversation with Associate Professor of History Sylvie Beaudreau that she realized a crucial element of Canadian history and society: "Canada never had slavery," Parness said.
"Dr. Beaudreau suggested that this could be the difference in the energy I was feeling all along. This is something that I will never forget. This is also something that I will remind my students when they ask me the dreaded question, 'Why do we have to learn about this?' It is important to learn about history because it truly does shape a nation forever."
Sharing what they Learned
Both said they're looking forward to sharing what they learned with their future students.
"The information that the guides and scholars have brought to us goes very deep into the roots of Canadian culture," Falace said. "This experience helped me grow as a teacher in ways I never knew were possible. New York is so incredibly close to Canada, and we should know more about it. In my classroom, I know I will be able to incorporate information about Canada into my lessons. I'm more culturally aware and cannot wait to share what I have learned with my students."
"I learned that there are many ways to incorporate Canadian studies into other grade levels and subject areas, and that there are many opportunities to compare and contrast the culture of New York City — in particular — with the culture of Montreal and Quebec City," Parness said. "It also reaffirmed my belief in hands-on learning. Being able to learn about the history of Montreal and Quebec City through tours, museums and more was invaluable and will stick with me for the rest of my life."