Jump to Footer
SUNY Plattsburgh Physics/Engineering Club 'Pumpkin-Chucks' Its Way to Glory
---
A group of SUNY Plattsburgh students placed third in a contest of ingenuity, engineering … and pumpkin smashing.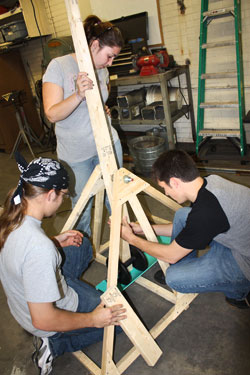 Members of the college's Physics/Engineering Club took part in the Second Annual Vermont Pumpkin Chuckin' Festival, held Oct. 3 at the Boyden Family Farm in Cambridge, Vt. The event was hosted by the Cambridge Area Rotary and raised money for the Lamoille Family Center.
A Centuries-Old Device
As the festival's name indicates, the competition involved throwing a pumpkin with the help of a centuries-old contraption.
"What we use to throw the pumpkin is a trebuchet, which is a medieval catapult, really," said Sam Wagner, a senior physics/engineering major. "It's nothing advanced, but it's still fun for people who enjoy physics to get to actually use some of the equations you learned and some of the concepts – to put it into practice."
SUNY Plattsburgh's trebuchet, dubbed "The Plattsburgh Golden Cardinal," claimed a trophy in the middleweight division, which comprised entries weighing 20 to 100 pounds. It threw a 1-pound pumpkin a distance of 97 feet, 5 inches.
Ingenuity + Skill = Good Chucking
Competitors were judged on the uniqueness of the design in addition to the distance thrown. Wagner added that a big part of making a winning pumpkin throw involves skill.
"Building it is what they say is the easy part," Wagner said. "You have to get it to let go of the pumpkin at the right time – otherwise it throws it into the ground or backwards."
Other students who took part in the competition included Randi Bassik, Nick Bayly, Tobey Betthauser and Reid Olsen.
Dr. Ken Podolak, assistant professor of physics, said his team intends to give it a hurl again next year.
"We look forward to competing for the top prize in future competitions," he said.