Jump to Footer
Morgan Hill '13 and Kelsey Hanrahan '14 : Psychology Program Laid Foundation for Graduates' Success
---
Interested in different areas of psychology, alumni Morgan Hill '13 and Kelsey Hanrahan '14 took different paths after graduation, one applying her knowledge of human behavior to autism intervention and the other pursuing social work.
Hill, a Rochester, N.Y. native, felt at home at SUNY Plattsburgh when she toured campus as a high school student.
"I went to go visit and I'm the type of person that I go a lot based on feeling and the sense you get where you're there," Hill said. "From the beginning, I got that feeling of welcoming and home and a place I could see myself for four years."
She didn't get that same feeling at any other school, she said.
Hanrahan, who grew up in Plattsburgh, hadn't seriously considered staying in her hometown for college, but after taking a tour of campus and researching the psychology program online, she decided to enroll.
"I was really amazed that you could do undergraduate research from your freshman year all the way to your senior year," Hanrahan said. "And you could go to conferences at the undergraduate level and you were paying the SUNY price."

Clinical Opportunities
In her time as an undergraduate at Plattsburgh, the research findings of Hanrahan and her professors were published in three scholarly journals. She presented some of her research at one national conference and one international conference. Her third paper was presented at another conference by a faculty member with whom she collaborated in the study. She also completed a practicum at Plattsburgh's Nexus program, which aims to develop the social skills of local children and young adults with autism through the context of games, gym activities and crafts.
The Nexus program is overseen by Dr. Patricia Egan, associate professor of psychology. Egan said the reason for Hanrahan's success goes beyond her intellectual aptitude.
"Kelsey challenged herself by continually being open to new experiences—and was kind to all," Egan said.
In addition to her academically oriented extracurricular activities, Hanrahan taught Zumba at the Fitness Center, an opportunity that enriched her psychology studies in a way she didn't expect.
In her time as an undergraduate at Plattsburgh, Hanrahan presented her and her professors' research at one national and one international conference. A third research project was presented at another conference by a faculty member with whom she collaborated in the study.
Groundwork for Growth
Hill was also highly involved outside of her academic study, also working in the Nexus program.
"Her conscientiousness made her stand out, and I invited her to collaborate with me as both a teaching apprentice and as a research assistant," said Dr. Renee Bator, professor of psychology. "I'm not surprised that her strong motivation and impressive work ethic have carried her far."
It c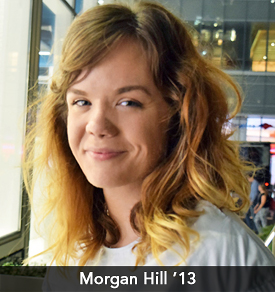 arried her all the way to an Ivy League school. With the help of Dr. Katherine Dunham, co-chair of the psychology department, Hill applied to graduate programs and was accepted to the Columbia School of Social Work at Columbia University.
She was well prepared for her studies there, Hill said.
"Plattsburgh laid that groundwork for me to grow as a student and as a person."
After graduating from Columbia in 2015, Hill began work as a licensed master social worker at The Bronx Defenders, a non-profit organization that offers innovative and client-centered criminal and family defense, civil legal services, social work support and advocacy to local residents.
"The organization really prides itself on its holistic approach and all that we work to accomplish with the community," Hill said.
"I feel really privileged to work where I do. I get to work alongside really resilient people and that inspires me to come back every day despite the dysfunction and the horrid things that happen in the system that their lives are entrenched in."
Hanrahan took a different route, opting to work one-on-one with children with autism after college. Her work in the Nexus program and increasing diagnoses of the disorder sparked her interest in the autism intervention field, she said.
In the spring of her senior year, Hanrahan went to the Career Development Center's annual Now-to-Next Career Fair where she spoke with a representative from the Howard Center in Burlington, Vt., a nonprofit organization that offers crisis and counseling services to people with developmental disabilities.
She applied for a job as an autism interventionist that week and was hired before graduation.
"I walked into the job with more knowledge than many other new employees in my position," Hanrahan said.
She opted to return to her alma mater in the fall of 2016 to start a master's in school psychology because of Plattsburgh's affordable price combined with the program's accreditation by the National Association of School Psychologists.
So far, her graduate studies have kept her busy.
"It's a very challenging program," she said, but it is made easier by the relationships she has with her former undergraduate professors and the support of her fellow students.
"It's so great to see all of the professors that I used to do research with in the same building that I'm in my grad classes in," Hanrahan said. "Some of them are even teaching my grad classes and I couldn't have asked for a more welcoming graduate experience as a first-year student."
It was taking the initiative to show faculty that she had a deep interest in the course material while also asking them for learning opportunities outside the classroom that led to these meaningful relationships and clinical and research experiences, Hanrahan said.
"They're kind of looking for those students who are looking for that next step."
And the faculty in the psychology program make it easy for students who are willing to seek their help and guidance to meet with them, Hanrahan said.
"Their doors are open," she said. "It's very easy to walk in and you can kind of talk about psychology in a more laid back situation than the classroom.
"They really love hearing student insight."