Jump to Footer
Pioneering Cardinal Women's Basketball Coach Honored with Endowment, Office Dedication
---
A name synonymous with women's athletics at SUNY Plattsburgh is being honored on campus with the naming of a coach's office and an endowment.
The Plattsburgh College Foundation has spearheaded the effort to raise $25,000 needed to fully fund the dedication of the women's basketball coach's office and to establish the Phoebe Sturm Endowment to benefit Cardinal women's basketball, which Sturm led for 24 years.
Once fully funded, the endowment will exist in perpetuity with interest raised being used to directly support women's basketball. The coach's office will bear Sturm's name, serving as a tribute to her legacy on and off the court.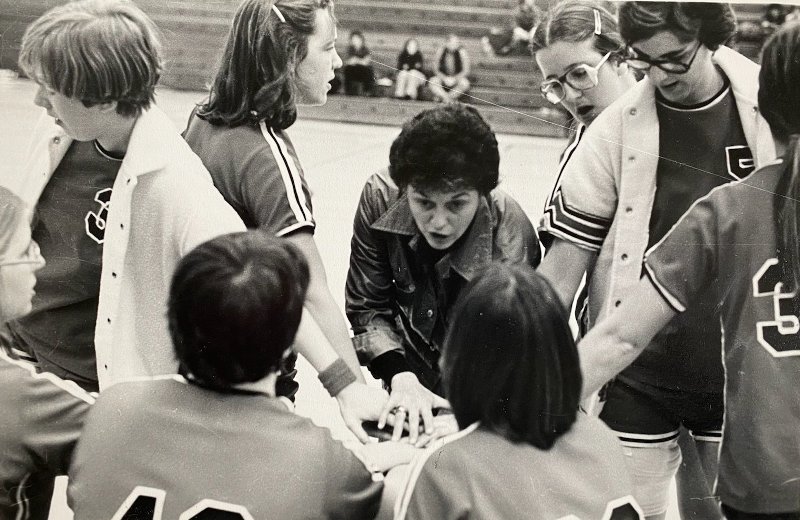 "I am so thankful for Phoebe and her drive to pave the way for women and women's sports," said Aimee Gomlak '90, who gifted $10,000 to the campaign. "I want Phoebe to know that it's because of her that she changed the present for so many women. Phoebe had a tremendous impact on me, and I want others to recognize that as well."
Ten other alumni, faculty, staff and friends each contributed $1,000 — giving the Sturm Endowment an 80 percent boost toward the $25,000 needed for both endowment and office dedication out of the gate. With a week left in the campaign, $2,500 remains to hit the basket.
"We know that together, we can raise the $2,500 needed to fully fund the dedication of Coach Sturm's office and establish the Phoebe Sturm Endowment to benefit Cardinal women's basketball," said Anne Hansen, executive director of the Plattsburgh College Foundation and vice president for institutional advancement. "We couldn't be more thankful for the support we've received so far. It's a true indication of Phoebe's legacy and impact on Cardinal athletics and the entire SUNY Plattsburgh community."
Sturm, who retired in 2008, joined the athletics staff as a physical education instructor in 1965 and was named assistant professor in phys ed in 1974. Although the first-ever SUNY Plattsburgh woman's basketball head coach officially retired in 2000, she returned to teaching in sports and wellness from 2001 to 2008.
To contribute by the Oct. 31 deadline, or for more information, contact the Office of Institutional Advancement, 518-564-2090 or visit alumni.plattsburgh.edu/HonorPhoebe.