Jump to Footer
David H. Levy Observatory Provides Educational Tool for SUNY Plattsburgh Students and Scientists
---
To one renowned astronomer, a longtime SUNY Plattsburgh treasure shines because of its darkness.
"It's one of the darkest spots in the United States," Dr. David Levy said of Twin Valleys Educational Center — SUNY Plattsburgh's multi-use outdoor education/ recreation center. The site, he said, is nearly as dark as it was 40 years ago, when he attended Twin Valleys science camps as a teenager.
The former science editor for Parade magazine, Levy has discovered as many as 22 comets in his career. He co-discovered Shoemaker-Levy 9, the comet that collided with Jupiter in 1994.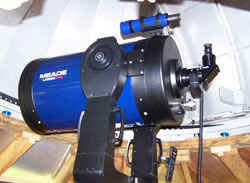 14-inch Telescope Connects to Campus Via Broadband
Twin Valleys' remote location in nearby Lewis, N.Y., has made it an increasingly valuable resource for astronomers because it's relatively free of light pollution.
And soon, young astronomers who hope to follow in Levy's footsteps will be able to enjoy the benefits of Twin Valleys without leaving the SUNY Plattsburgh campus.
The Gerard L. Cutting Pavilion at the David H. Levy Observatory — recently dedicated at Twin Valleys — houses a 14-inch telescope that will be accessible on campus via a broadband connection. It will make a nice complement to another great resource, the Northcountry Planetarium.
A Unique Classroom Resource
"It's real-time astrophotography," said Dr. Tom Wolosz, the chair of SUNY Plattsburgh's physics department and a professor of earth and environmental science. "We'll be able to hold evening labs, for instance."
Dr. Sue Spissinger, retired associate vice president for academic affairs and research, said the facility's scope won't be limited to astronomy. It has potential for interdisciplinary research as well, particularly in the fields of biology and animal behavior. (Spissinger is also a former member of the College Auxiliary Services board, which played a role in the facility's development.)
"The whole point of this …is to bring back what Twin Valleys originally was: an educational center for our students and for students in the broader context," she said.