Jump to Footer
Nursing Students Step Up, Administer COVID Vaccinations at Local Hospital
---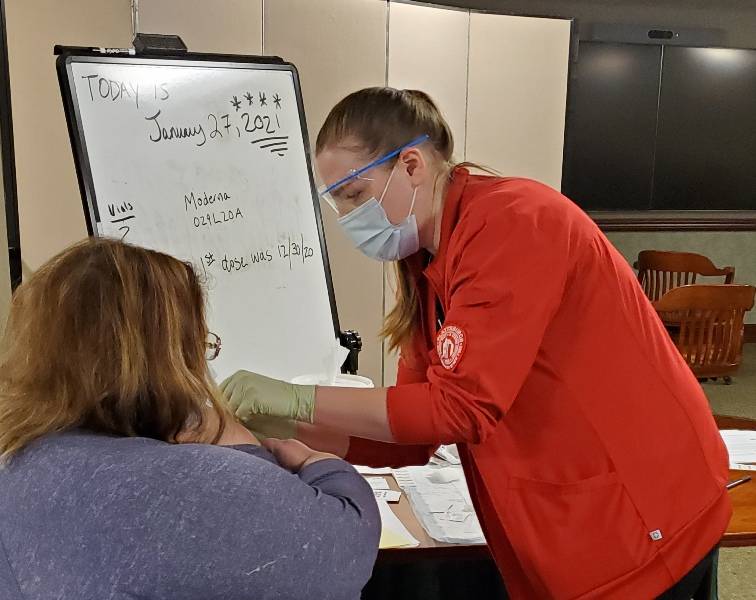 SUNY Plattsburgh nursing students are on the front line administering the COVID vaccine to healthcare workers, first responders and community members.
When Gov. Andrew Cuomo said student nurses could help with the effort to vaccinate New York, Cheryl Kabeli, assistant professor in the Department of Nursing, sent an email to her junior class looking for volunteers. Students responded quickly and Kabeli contacted Champlain Valley Physicians Hospital, the 300-bed regional hospital adjacent to campus where most students serve their clinicals.
"This not only assisted staff but gives valuable skills to students on detailed record keeping, therapeutic communication and injections," Kabeli said.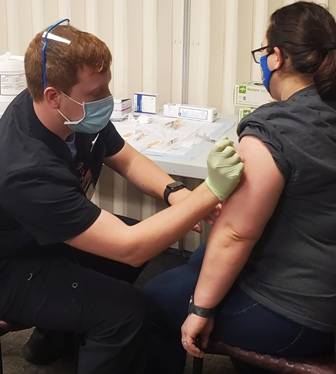 Commack, N.Y., native and junior nursing student Michael Bernzweig made the six-hour-plus trip back to Plattsburgh to assist.
"I didn't mind coming back early to help out," Bernzweig said. "I also wanted more experience, and this was a great opportunity."
He also wanted to make an impact.
"I may not (yet) be a registered nurse taking care of COVID patients myself, but helping vaccinate staff and the community was a great place to start with helping the effort of ending the pandemic," he said.
Dru Gravelle, a junior from nearby AuSable Forks, agreed.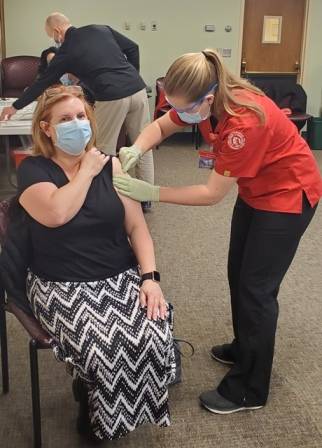 "I thought it would be a good opportunity to help the community and to get the experience and practice to keep my skills sharp," Gravelle said.
Stephanie Wawrzyniak made the trip up from her home in Burnt Hills near Saratoga to help.
"I was willing to volunteer because distributing and administering COVID vaccines in order to benefit the health of our society is the most important task right now," she said. "Improving the health of others is why I love the nursing profession, and I thought this was the perfect opportunity to do so.
Nursing — and teaching — during the pandemic has been challenging, Kabeli said.
"However, one thing that nursing teaches us is to expect the unexpected — in work and in life. Like many others, we quickly adapted curriculum and teaching techniques last spring to accommodate the pandemic. Our students were up to the challenge," she said. Last spring's seniors had a 98 percent pass rate on their nursing boards.
And this year, nursing faculty adjusted curriculum so that students "got into the hospital and changed our normal models for clinicals. We were able to attend live 11 out of the 12 weeks allotted for clinicals," she said.
In order to do so, Kabeli said she started teaching at 7:30 a.m. so she would have enough room for 55 students. Many of her colleagues did the same or a hybrid version of the same.
"Again, nurses are an adaptable group. We all made the best of a bad situation," she said.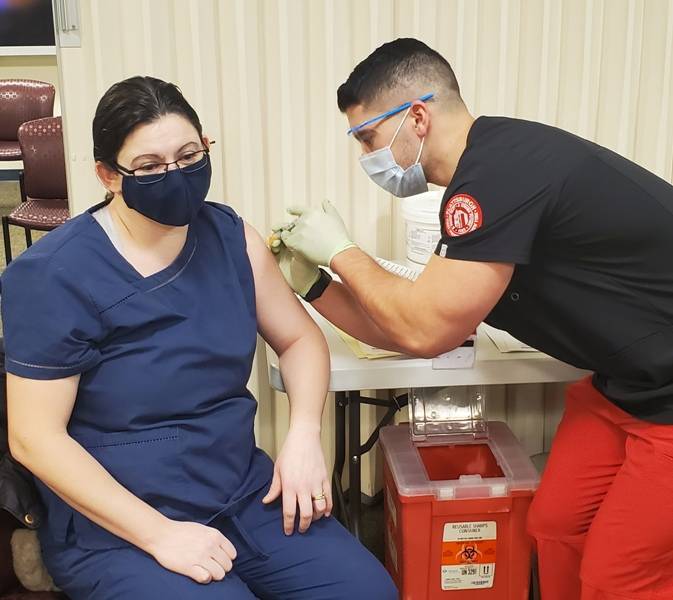 Wawrzyniak echoed her professor's words.
"The profession is ever-changing, and nurses need to be able to be adapt to uncertain environments," she said. "I think the pandemic and the many changes that we have been through lately has prepared us for that."
Gravelle said she is "determined to come out on the other side with new knowledge and experiences."
"I am doing what I love doing the most, so even with a pandemic in the mix, I wouldn't stop doing what I love to do," she said.
These challenges are what drives Hoff "even more to be a nurse."
"Now more than ever our job is so important. I love what I do — being able to make someone's healthcare experience easier or more enjoyable and knowing you've made a small difference — it's the most rewarding experience I have ever felt," he said.