Jump to Footer
New Rugar Woods Trail Highlights Area's Natural Habitat
---
A SUNY Plattsburgh faculty member in the Center for Earth and Environmental Science has spearheaded the creation of a nature trail that will benefit students and community alike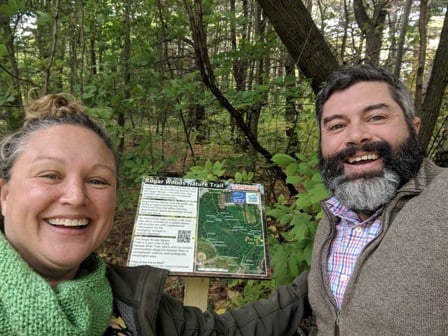 Dr. Danielle Garneau, associate professor of environmental science, created the Rugar Woods Interpretive Trail with the help of CEES colleagues, students and alumni, and nearly $8,000 in grants from the Campus Committee for Environmental Responsibility and the Lake Champlain Basin Program's Champlain Valley Natural Heritage Program.
Rugar Woods is a tract of SUNY Plattsburgh land behind the Field House, adjacent to Chip Cummings Field and the running track. The one-mile interactive loop, an easy hike through shaded woods along a stream, is signed for visitors who want to learn about the local habitat and get some exercise while maintaining social distancing during this time.
"Rugar Woods has always been an important part of my curriculum and research," Garneau said. "It was one of the draws to my position at the college — to know that I would be able to get my students into a natural area to learn and not have to drive a great distance."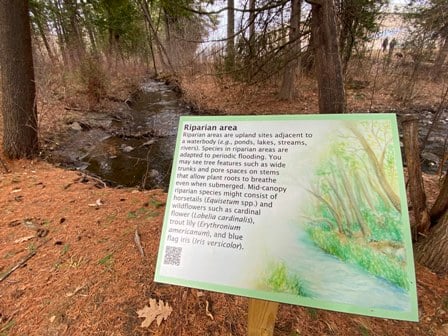 Funded by more than $5,000 from campus Green Grants and nearly $4,000 from the Lake Champlain Basin Program partnership, Garneau said it supports one of the core missions of the Center for Earth and Environmental Science through experiential learning opportunities.
And the idea came during a tour of the property with Dr. Ken Adams, distinguished teaching professor emeritus, upon her 2008 arrival on campus as a new faculty member.
Better Trail Markers Needed
"I was surprised by the trail complexity," said. "I recall wishing it was better marked."
At that time, Garneau was teaching Joshua Domenico, "one of the kindest, most outgoing students I have ever had the pleasure of teaching, and he had just spent the summer working as a trail steward," she said.
The pair developed the project's first Green Grant to support trail marking and mapping efforts.
"I was into the outdoors at the time," the 2011 wildlife and forest ecology grad said. "I was living in my van, going to school — it was all very outdoorsy. My main goal was to be able to walk through nature and be able to describe whatever I was looking at."
Domenico, who hails from Pennsylvania originally and now lives in Denver, Colo., took on the Rugar Woods project as an independent study in his final year with Garneau providing oversight.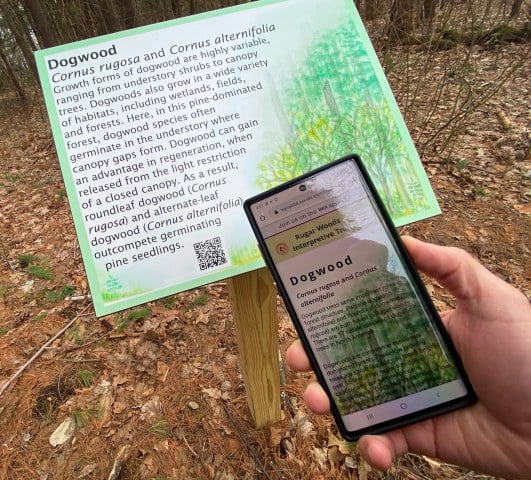 "I went through, marked the trails with different colors; then Dr. Garneau and Dr. Adams went through and we did the interpretive parts, picking certain plots, marking those down, putting them on the map," Domenico said. "We were going to order signs, but by then I was nearing the end of my schooling. That's when Jenny got involved to do the artwork."
Jenny Krech, a 2012 grad with a degree in art, biology and ecology, was brought on board through connections with Garneau.
Watercolor Illustrations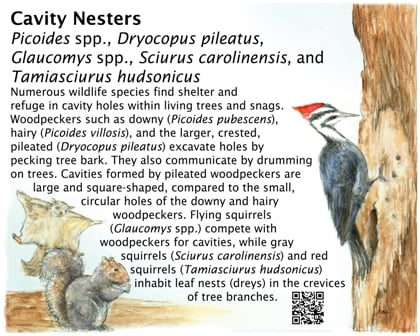 "Jenny used her incredible artistic talent to interpret through watercolor paintings the plants and animals at the site based on our photos and numerous hikes at the trail," Garneau said. Those watercolors grace the signs found along the interpretive trail and on the project brochure.
"Dr. Garneau was my ecology adviser, and she knew my interests in pursuing nature trail illustrations as a potential career opportunity," the Rochester, N.Y., native said.
Current student Carlee Koritkowski, a senior ecology major from Binghamton, N.Y., then took those original watercolors and incorporated them into the brochure.
"I asked Danielle if there was any way I could get involved, and she asked me to make the brochure," Koritkowski said. In addition to the watercolors, the brochure features seasonal highlights that can be found on the trail.
Class of 2019 graduate Stephanie Gray, who works at Fledging Crow organic farm in Keeseville, N.Y., designed the online content of the website, incorporating materials from signage and then supplementing it with deeper scientific content, Garneau said.
'Sense of Place'
"I feel this trail offers a further sense of place to our students," Garneau said. "They use Rugar Woods in labs, courses, independent research, as a means of escape from stress to go on a hike to clear their heads and become better naturalists. These signs formalize the trail and the importance of the plant and animal species that inhabit the woods."
The trail "is unique in that it is a beautiful reminder of the importance of nature, and it connects our campus to the greater region, as it is situated within the path of the Saranac River Trail," Garneau said.
"Rugar Woods is actually a very special place for me," Koritkowski said. "It has been a critical place in not only my education but also my love and appreciation for nature."
Working with Dr. Michael Burgess, associate professor in biology in the fall of 2018, Koritkowski surveyed the bird populations in Rugar Woods.
"It provided me with an educational opportunity to learn about birds, their biology and their behavior as well as the appreciation for the art of bird watching. It is my hopes that these woods can have the same positive impact on the community and future generations of students to come. It's a great educational tool that I feel very lucky to have been involved in," she said.
Campus Club Involvement
In addition to Burgess, CEES assistant professors Dr. Mary Alldred and Dr. Mark Lesser worked on developing final interpretation of signs, Garneau said. And along the way, campus clubs have helped with the project as well.
"They've helped do woods clean-up activities, the Wildlife Club erected bat boxes, the Botany Club has done nature walks for spring ephemerals and birds. 'Bioblitzes' have been fun events for our community and were hosted by CEES students across ecology, environmental science, biology and geology and were offered as a Wildlife Club event," Garneau said.
"Botany Club students have done some supplemental plantings in areas where wind or other disturbances have removed vital specimens included in the signs themselves. Ecology labs stop along the way and use the trail to learn tree identification. And wildlife class drags for ticks in our greater region survey to test for Lyme disease," she said. "Clubs continue to be stewards of the trail."
Garneau is particularly proud that the project was supported in part by Green Grants, which "are funded by student-supported optional green fees on their tuition bills," she said "This trail is a reflection of the appreciation our students have for nature and sustainable initiatives on campus. They should feel proud. We do."