Jump to Footer
New Interdisciplinary Music Arts Management Major Gives Students Campus-wide Opportunities
---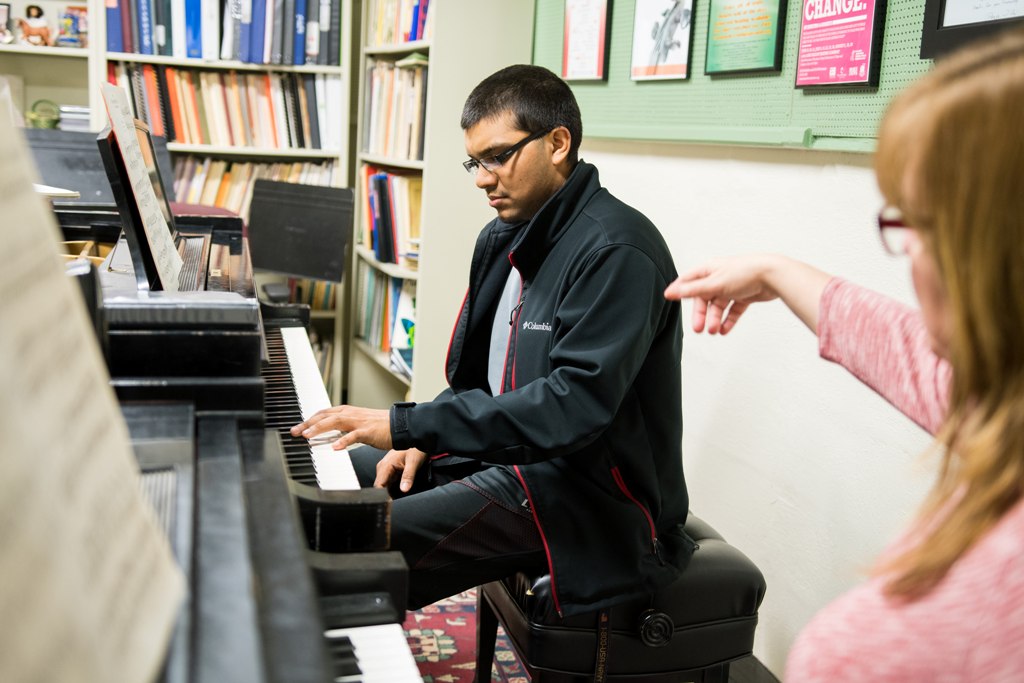 Students looking at a career in the multi-faceted music industry need look no further than the new music arts management major at SUNY Plattsburgh.
The interdisciplinary program connects students to virtually every department on campus. So in addition to the current standard music B.A. option, students now have the choice of combining music, business, and other management skills into a music management degree.
"We came up with a slate of courses that work well together," said Dr. Karen Becker, professor of music and chair of the music department. "The major fits into public relations, marketing, business and accounting, event management, digital audio production — all of those areas are a solid foundation. Students will cross into the School of Arts and Science and the School of Business and Economics."
Career opportunities abound, Becker said. Students with a degree in music arts management can lead to careers in:
Public relations
Grant writing
Recording technology
Arts organization administration and management
Venue management
And many more, Becker said.
"The program also has many internship possibilities," she said. Internships with music companies, opera companies such as Glimmerglass Opera in Cooperstown, and Opera America in New York City, the Flynn Center for the Performing Arts in Burlington, the Strand Center for the Arts in Plattsburgh, the Albany Symphony and many more.
Students Are Excited
"It was a long time coming," Becker said. "The students wanted it. They're excited. We have a number of students who are double majors with music in things like accounting and supply chain management, accounting and business majors with a music minor. This program can steer students in any direction. That's really valuable in today's music and entertainment markets where you have to be multi-skilled."
Becker began the process of creating the major nearly two years ago.
"This comes from my life. I've worked as a music and arts person in the private sector longer than in academia," she said. She has had extensive input from the College Music Society, where she participated on numerous panel and forum discussions on curriculum development at the regional and national level.
Interaction with Departments Across Campus
"'Creating Musicians for the 21st Century' has been a topic of focus nationwide in college music," Becker said. Dean of Arts and Sciences Andrew Buckser had supported her endeavors with funding so she could travel to conferences to be part of the discussion.
"This process has given me the opportunity for hands-on interaction with people across campus I've never been able to work with," she said. She approached Dr. Rowena Ortiz-Walters, dean of the School of Business and Economics. "She opened her faculty up to me without reservation. 'How can we help?' she said to me."
The program already has students enrolled for the spring semester, Becker said.
"And we have a few undecided who may want to declare the music arts management major. My hope is students will enroll and as more are exposed to it, it will pique their curiosity. It's a win-win for departments all over campus."
For more information on the music arts management major at SUNY Plattsburgh, visit https://www.plattsburgh.edu/programs/music-arts-management-major.html.