Jump to Footer
Fall 2010 Move-In Day at SUNY Plattsburgh
---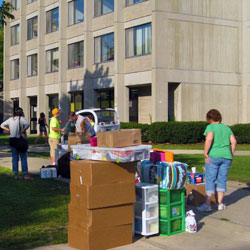 Amid lines of cars and piles of boxes, SUNY Plattsburgh welcomed its fall 2010 freshman class to campus on Saturday.
Most of the 1,015 new freshmen were among the 2,830 students moving into the college's 12 residence halls under a sunny August sky. Dozens of helpful upperclassmen greeted the new arrivals and helped them carry items into their rooms.
Most Diverse Class Yet
This year's freshman class is SUNY Plattsburgh's most diverse yet, according to fall college admissions statistics. And even though it's slightly smaller than last year's, the fall 2010 freshman class exceeds the enrollment goal of 975.
"They represent less than half of the overall number of applications," said SUNY President John Ettling. The total number of undergraduate applications, in fact, was up by 10.3 percent over last year; yet the college has capped enrollment to ensure small class sizes and a quality education.
"We're trying to limit the size of the student body here because we believe that there is a point beyond which things start to come apart; they start to deteriorate," Ettling said.
In addition, more than 20 percent of SUNY Plattsburgh's incoming freshmen come from minority backgrounds. It's a number that's been steadily climbing as well: It was about 17 percent in 2009 and about 16 percent in 2008.
A Place of Opportunity
Among the new freshmen is Jenn Kane, a political science major from Somers, N.Y.
"I would like to get an internship in the state government, and eventually I'd like to work on Capitol Hill," she said. "I picked Plattsburgh because it was really affordable, and I think I have a good chance to have opportunities here."
Welcoming Kane and other new freshmen were residence hall advisers like Nicholas Cappon, a senior political science major from Rochester, N.Y. He's loved his SUNY Plattsburgh experience, he says, because of the diversity of opinion and the support that students get from the academic staff.
"There are plenty of opportunities to make something of yourself here," he said.
Read about how opening day 1964 changed a life and listen to audio from past opening day and convocation presentations at http://bit.ly/EdwardRedcay .
Contact Information
For more information about SUNY Plattsburgh, please contact:

Admissions
Phone: 518-564-2040
E-mail: [email protected]

Unable to retrieve file contents for https://www.plattsburgh.edu/news/news-list.php
Warning: count(): Parameter must be an array or an object that implements Countable in phar:///var/www/staging/_resources/scripts/brei.feedmanager.ext/Filtering/FilteredObject.php on line 126