Jump to Footer
LGBTQ+ Graduates Honored at SUNY Plattsburgh Lavender Ceremony
---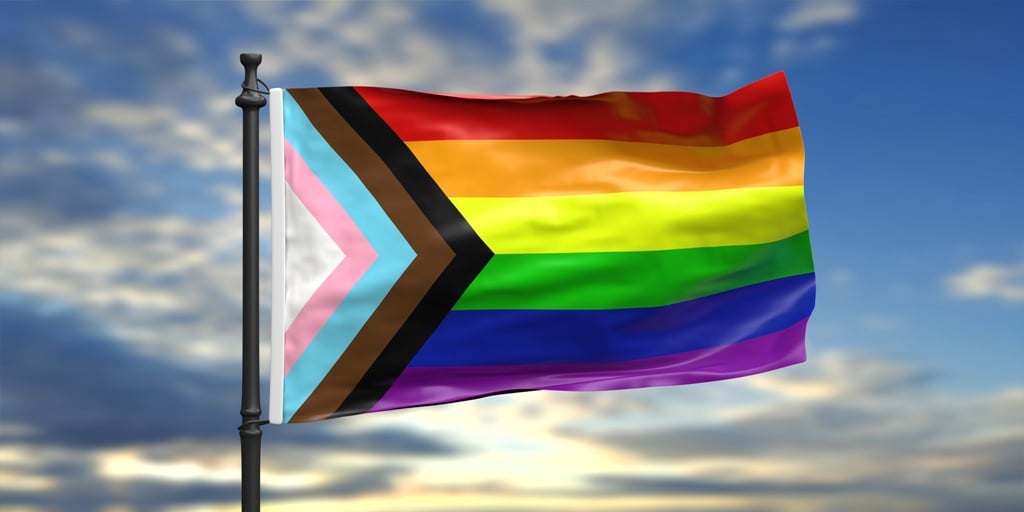 SUNY Plattsburgh honored eight LGBTQ+ graduating seniors in a special ceremony the week leading up to spring commencement.
Lavender Ceremonies are held at numerous colleges and universities across the country to celebrate the achievements of LGBTQ+ students and their contributions to their campus communities.
The co-chairs of the college's LGBTQ+ Resource Committee, comprised of faculty, staff and students, organized the event where graduates were presented with lavender cords to wear with their caps and gowns.
'Show Students They are Safe Here and They Matter'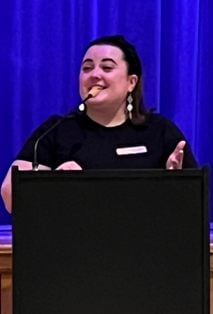 "It's a tough time to be queer — as if it's ever been easy," said Regan Levitte, co-chair of the LGBTQ+ Resource Committee and assistant director of the Claude J. Clark Learning Center. "I feel like the moments of queer joy that we get, that we can celebrate, matter.
"The (college) president's speech spoke of the struggles for students to return home during the height of the pandemic for fear of having to disclose their identities, but it's also that you just don't know how your roommate will react to you or instructors or other peers. It's important to show students that they are safe here and that they matter."
Leah Sweeney, co-chair of the LGBTQ+ Resource Committee and director of events management, echoed Levitte.
"It's important to celebrate the good, but it's also important to celebrate these students and their accomplishments/achievements in the face of all the challenges they experience for being queer," Sweeney said.
Allies Across College Departments
"One of the main strengths of the LGBTQ+ Resource Committee is that it's composed of a lot of different folks across divisions at the college, so we bring together a lot of expertise in a room," Levitte said.
"It's truly a committee that shows the best of our college with all of our colleagues working together in addition to our student reps Lindsey Connor and Taylor McCabe."
Dr. Allison Heard, vice president of diversity, equity and inclusion, and Megan McGreevy, academic advisor and member of the LGBTQ+ Committee, helped organize the ceremony.
'Many Challenges' for LGBTQ+ Students
Roscoe Duquette of Plattsburgh graduated this semester with a bachelor's in studio art with a concentration in painting.
"There are many challenges unique to the queer experience that can make completing a degree difficult," Duquette said. "For example, not having a supporting family, transitioning, etc."
Duquette said he plans to continue working locally as a pharmacy technician while pursuing exhibition opportunities for his art.
He offered advice to LGBTQ+ students who will start at SUNY Plattsburgh this fall: "Take every day one at a time. If you find yourself struggling, be honest to yourself and others about it. The Health Center has counselors who can help if you are struggling mentally."
Speaker from Local Organization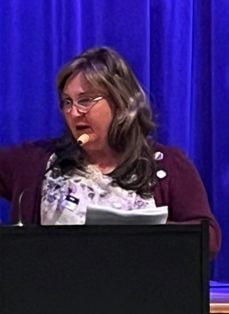 Kelly Metzgar, executive director of the Adirondack North Country Gender Alliance, was the featured speaker at the Lavender Ceremony.
This isn't the first time Metzgar has supported the college's LGBTQ+ community.
To mark Transgender Day of Visibility in March, she worked with the LGBTQ+ Resource Committee to plan a slate of events like a panel of local trans residents and trans trivia for students.
For more information about LGBTQ+ resources at SUNY Plattsburgh, go to www.plattsburgh.edu/plattslife/health-safety/title-ix/lgbtq-resources.html.
— By Assistant Director of Communications Felicia Krieg